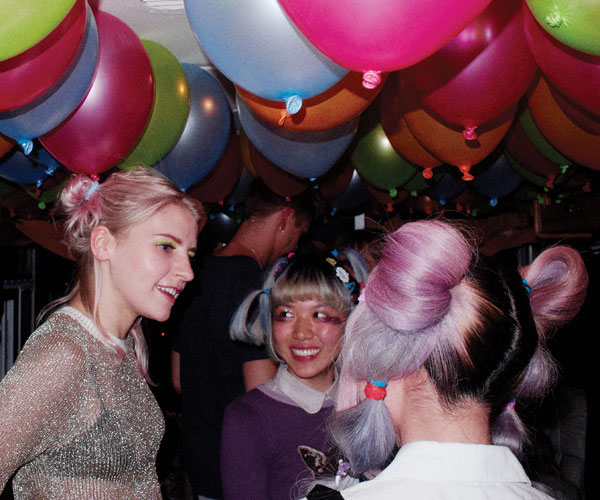 When Sam Teasdale greets me at the door of Bleach London, the salon she co-owns with best friend and hairstylist Alex Brownsell, she's holding up a tattered scrapbook bursting with glitter, glue and chunks of hair stuck on every page. "Look what our new stylist made!" I'm quickly distracted, however, by a girl in the corner chair getting green highlights in her hair, which has already been dyed gray and reaches down to her waist. "She looks like a swamp monster," I tell Teasdale. "Of course she does," Teasdale says in her sing-songy Yorkshire accent. "That's why we call that look the Swamp Monster!"
If you've ever been to their salon, in the East End's booming Dalston neighborhood, or sauntered up that long stretch of street called Kingsland Road on which Bleach is parked alongside a dozen new bars, pubs, clubs and restaurants that have suddenly sprung up in the past few years, then you've probably seen more than a few boys and girls wearing what has become not only Bleach's defintive 'do, but pretty much the signature hairstyle of post-naughties London. And if you haven't had a chance to spot the rainbow-highlighted anime hair they call "the dip-dye" in person, then perhaps you've seen it on the runways at Jeremy Scott, Prada and Topshop Unique, or on a slew of trendsetting celebrities such as M.I.A., Alice Dellal and this month's cover girl, Ellie Goulding. Not coincidentally, of course, since they -- and pretty much every other It girl in town -- has had a turn breathing in the fumes at Bleach.
Founded two years ago, Bleach was originally envisaged as what Brownsell calls a "Dalston dive-bar hair party" -- a two-chair pop-up salon in the back of a nail shop -- but has quickly exceeded the girls' initial expectations with its expansion into a full salon and the opening of its second location inside Topshop's flagship Oxford Circus store. Their client list includes everyone from the aforementioned It girls to the boys of One Direction and beyond.
Tonight, Brownsell is busy manning an RV outside Opening Ceremony, where she's doing makeovers for shoppers at the store's Fashion's Night Out party. A line of girls files around the block as they await their turn, and one by one they emerge throughout the night from the Bleach RV with Crayola-colored makeup and hair done up in twisted shapes with bits of blue and yellow braided in. "It's inspired by K-pop!" Brownsell tells me, pointing at a poster of a cartoon Korean band taped to the mirror while sipping on a drink that's the same shade of neon blue as the girl whose hair she's just finished doing.
Afterwards, when Brownsell has to head home to work out what the hair should look like for her client Florence Welch's performance the next day, Teasdale  and I take a black cab back to Dalston for a party just down the road from the salon, at the dimly-lit Bardens Boudoir, where the boys from Palace skateboards are blasting hip-hop and celebrating something -- a new T-shirt line, an art installation, Thursday night, existence. It's just another night out in Dalston, really, but as we enter the bar and wade through a sea of My Little Pony hair and Lisa Frank looks thrown together like a collage in a 13-year-old's scrapbook, I can't help feeling that the girls from Bleach played a part in making these sorts of London nights just a little bit brighter.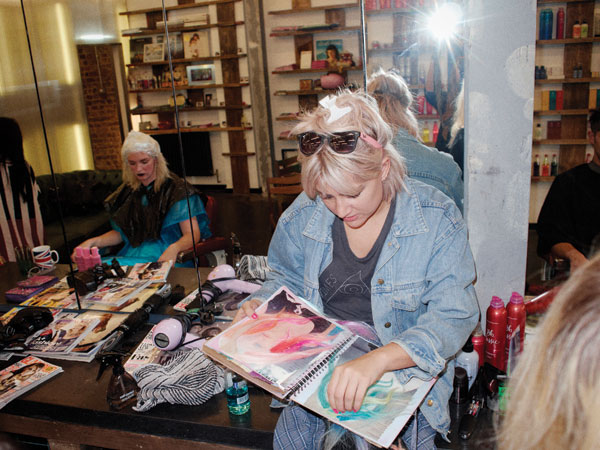 Sam Teasdale. Top photo, left: Alex Brownsell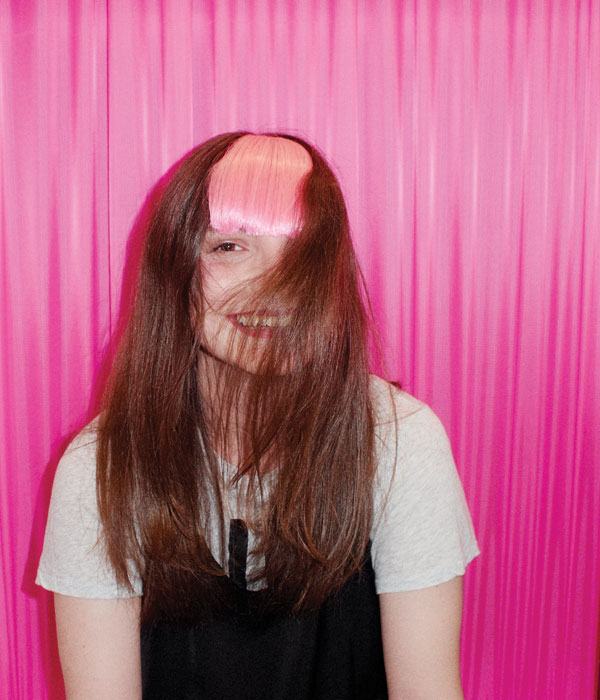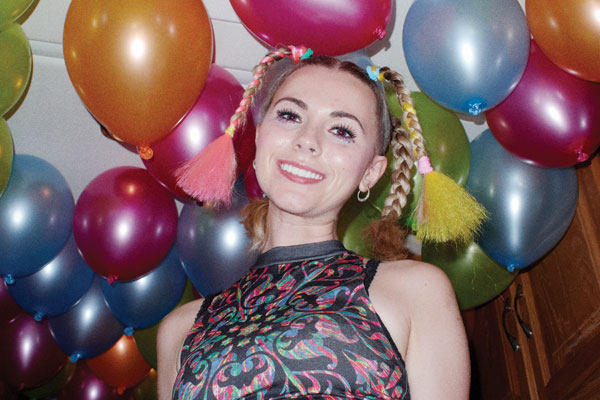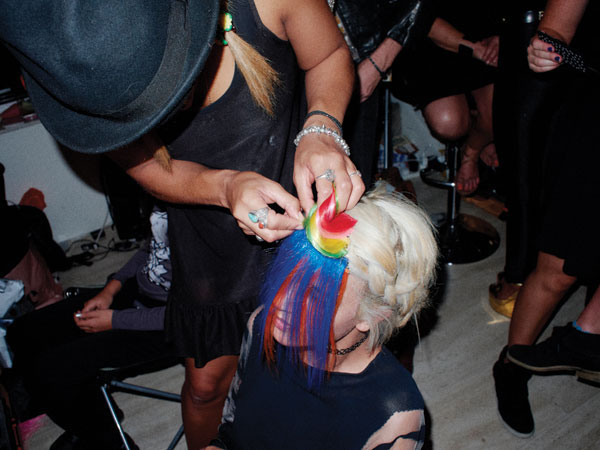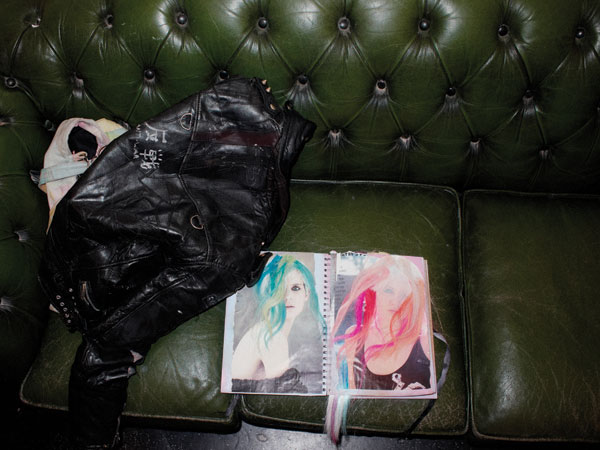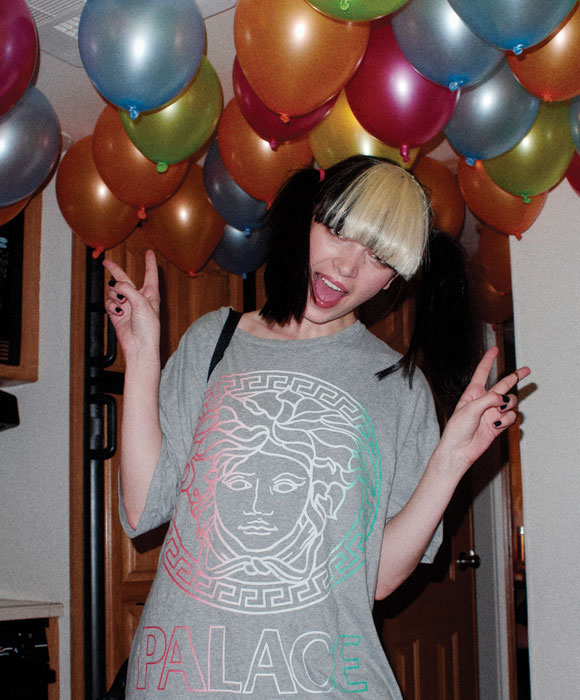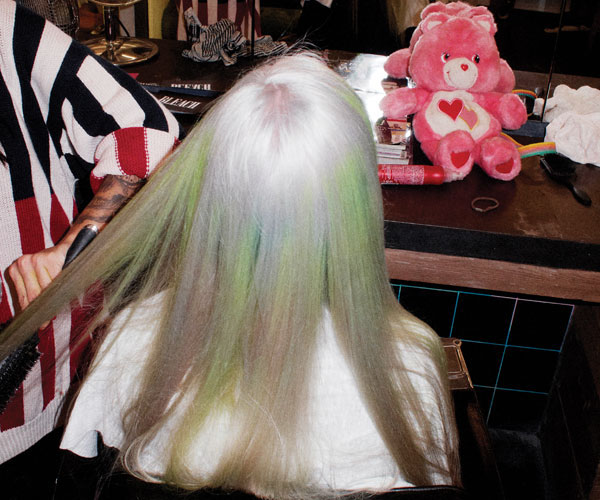 BACK TO RAINBOW BRIGHT NIGHTS