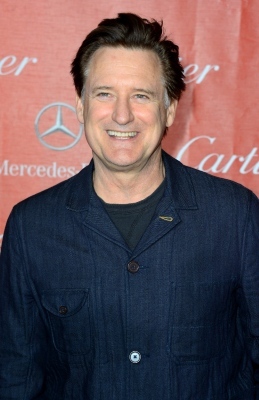 Presidential sitcom
1600 Penn
hits NBC next week, but star Bill Pullman has been on his own bully pulpit, protecting the "Hollywood" sign from heavyweight developers and popularizing the new L.A. trend of outdoor harvesting parties he calls "picking kitchens." Pullman has a personal stake in both issues: he owns a 2 ½-acre orchard below the sign and has been a fresh fruit activist since he was five, a fact that caught the attention of Canadian director Young Chang, who features Pullman in his new documentary
The Fruit Hunters
.
What's the highlight of growing your own fruit?
Anyone that I've ever spoken to from anywhere around the world, all seem to share the biggest joy when they are finally sitting down to feast on a meal with loved ones. The true value of homegrown food is registered by the company you share it with. No one is trying to be an agricultural genius, we just want quality food and relationships.
Any secret fruity remedies?
You want all my secrets don't you? We harvest and juice home-grown lemons, then pour the juice into ice trays and freeze them up. I use them in ice water daily and if I'm feeling a little sick, I pop a cube in some hot tea with a little apple juice, honey and a sprinkle of cayenne pepper. It makes that sore throat disappear.
Have you ever grown marijuana?
Um ... No, that is a very complicated subject. I think it's a good experiment and if it's done responsibly, sustainably, and informatively in small farms it could be beneficial.
What angers you the most about the food industry?
When I hear people say, 'Oh I can't eat that, it's just growing on a wild tree.'  It actually makes me sad and pisses me off. I feel like we are getting further and further away from nature. When people won't eat a piece of fruit because it isn't in Saran wrap, I'm not sure if that's because of not being educated or if it's just the commercial world taking over.
Did you climb trees when you were little?
I still do. When I was a little boy we had this amazing old apple tree in the backyard. I remember making a sign that said "The Reading Tree," and I would lay back on a thick branch, munch an apple and read a book.
You started a new trend in L.A. What exactly is a "picking kitchen"?
That's the real core of the magic. We all meet up around 9 a.m., split up into groups of six and go around harvesting fruit off trees in different neighborhoods and along freeways. While we start gathering bags and piling them on corners, trucks come pick them up then take them to the pop-up kitchen, which then washes and separates them. We have a little community feast and then donate the rest to local food banks.
You've played the president before and you're doing it again in 1600 Penn. Any tips to playing the most powerful man in the world?
You recently shot Beyond Apollo. Are you down with commercial space travel?
Oh man yeah, put me on the next flight! There is an addictive nature to space; some of the things astronauts talk about when they come back are so mesmerizing. Tom Jones (not the singer) says the two most amazing things about space travel are the teamwork it takes to make it happen and the pure aesthetic of that vast visual world. Every second your eyes are staring out into space is spectacular.

Photo by Frazer Harrison/Getty Images