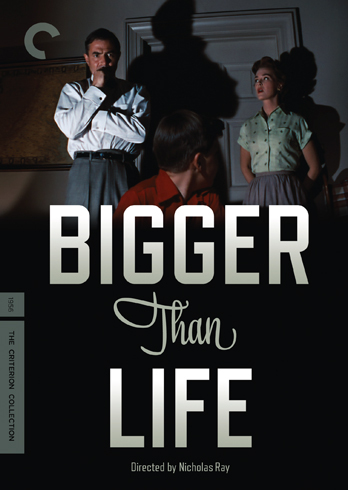 Out this week on DVD is:
Bigger Than Life
(Criterion).
James Mason
plays a married man/teacher/cab driver trying to makes end meet for his family in the 1950s when he suddenly comes down with fits of painful spasms. His doctor prescribes cortisone and it transforms this
Father Knows Best
into a tyrannical, messianic, psychopath who terrorizes his wife (
Barbara Rush
) and son (
Christopher Olsen
) turning the American Dream into a living nightmare. It's one of the truly great films from
Nicholas Ray
(whose list of greats like:
Rebel Without A Cause
,
In A Lonely Place
,
On Dangerous Ground
,
Johnny Guitar
is long). Criterion has done the film proud releasing it in it's widescreen Technicolor splendor. A real rarity -- never before even on VHS -- this truly subversive work on conventionality and 50's normality is even better than I remembered.
Jean-Luc Godard
was so right when he said about the director: "Cinema is
Nicholas Ray
."