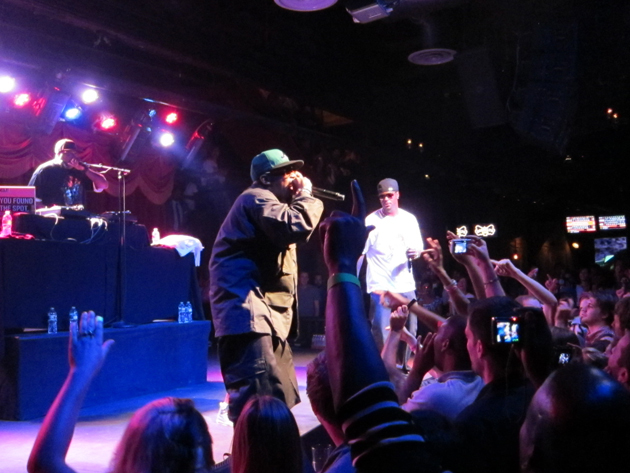 Those who attended Big Boi's concert last night at Brooklyn Bowl for his New York leg of his "Son Of Chico Dusty" tour will probably take issue with a couple of things.
The first: Big Boi took what felt like forever to hit the stage. The second: his set was only 50 minutes long. Those who paid $40 a ticket were probably none too pleased they waited longer listening to other people's music than they did Big Boi's. Somehow, this isn't so to say that Big Boi's show was as great and as fun as a live show could be.
The fact is, from the moment he hit the stage, Big Boi performed hit after hit after hit after hit. This was Big Boi's time to shine, and the man could have very well performed more selections from his excellent new album,
Sir Luscious Leftfoot: The Son of Chico Dusty
.  Instead, Big Boi mixed things up with current hits like "Follow Us", "General Patton", and "Shutterbug," as well as representing the side of career he is best known for: as one half of OutKast.
Not only did Big Boi kick off his brief, but intense, set with "ATLiens" the title track from the 1996 OutKast album, he went into more OutKast songs than solo Big Boi songs. From "Skew It On The Bar-B" featured on the 1998 album,
Aquemini
to "Ms. Jackson," the hit single off OutKast's 2001 highly acclaimed
Stankonia
album, Big Boi's set ran the gamut of the OutKast discography. And in a way, it served as a reminder how opposite him and Andre 3000 are as partners.
Whereas Andre 3000 has always been more reclusive both personally and professionally, Big Boi has never strayed so far from his fans.  Big Boi knows OutKast fans are his fans. So until the duo gets together to make another album, Big Boi will be more than happy to keep them entertained and as the sold-out audience proved last night, one-half of OutKast is better than no Outkast at all.
Set List for Big Boi's show at Brooklyn Bowl
"ATLiens" (OutKast song)
"Skew It on The Bar-B" (OutKast song)
"Rosa Parks" OutKast
"So Fresh and So Clean"
"Ms. Jackson"
"General Patton"
"Follow Us"
"Daddy Fat Sax"
"Royal Flush"
"Ghetto Muzik"
"The Way You Move"
"B.O.B. (Bombs Over Baghdad"
"Southernplayalisticcadillacmuzik"
"Players Ball"
"Elevators"
"Shine Blockas"
"For Your Sorrows"
"Shutterbug"
"Kryptonite"
"Ain't No DJ