I'm outside Bistrot Margot, a stylish yet cozy little restaurant in Nolita, waiting for Chloë Sevigny. She shows up toting a shopping bag, and by the time we go into the restaurant and sit down, I'm convinced that I'm with the wrong Chloë Sevigny. I'm expecting the avant-garde darling of alternative film; the style icon who wears Balenciaga thigh-high boots with shorty overalls from the Darien, Ct., Goodwill; Chloë the legend. Instead I get the new, "accessible" Chloë; the fun Chloë who doesn't want to make movies that change the world; the Chloë who just wants to watch reruns of Friends.
I feel that I've witnessed the making of the Chloë myth in its entirety, so the substitution of the Chloë I'm expecting with some happy-go-lucky twin is a little surprising. I remember the first time I saw Chloë Sevigny in person, in 1993. Although she was still a teenager then, she was already big news in the downtown world. I was shopping in the now defunct but seminal store Liquid Sky around 6 p.m., when the door to the backroom opened. Out sauntered a sleepy-eyed Chloë, sporting a very unique modified Buster Brown haircut and an orange, asymmetrical, one-shoulder top. She certainly wasn't your typical girl. Actually, the whole thing seemed like a scene in a movie, one that marked the on-screen debut of a very important star.
Then came boyfriend Harmony Korine, an upstart auteur who seemed to generate as much controversy through his shocking off-camera shenanigans as he did celebratory praise for his movie projects. The first, Kids, written by Korine and directed by Larry Clark, made Korine and Chloë instant downtown superstars when it opened in 1995. Their reputation as the Woody Allen and Mia Farrow of the offbeat film world was cemented by his later efforts Gummo and Julien Donkey-Boy. By this point, the Chloë myth of the too-cool-for-school star and style visionary was well developed.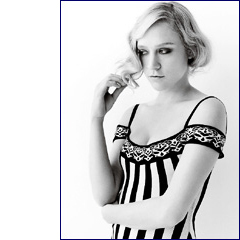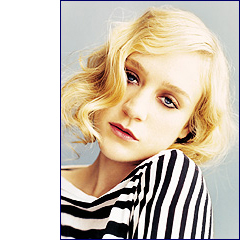 "Some things the press just perpetuated were never true to begin with," she tells me. "I think a lot has to do with me and Harmony being together. They liked to package us as a pair. And he was a lot more avant-garde than me." Avant-garde or not, Chloë, now 28 has certainly had her brush with mainstream Hollywood fame, having been nominated for an Academy Award for her remarkable performance in Boys Don't Cry, the true story of Tina Brandon, a girl who lived as a boy and romanced the unsuspecting Lana, a small town girl (played by Sevigny). But does Chloë consider herself unHollywood? "I think other people perceive me as unHollywood, "she says. "I've never made a studio picture; I've only made independent movies. That's pretty unHollywood. I live in New York; I don't have many friends in Hollywood, so that's pretty unHollywood."
I ask her if she deliberately chose to have an alternative film career, and would she be horrified if she were offered the lead role in a romantic comedy, like Sandra Bullock's role in Two Weeks Notice? That's when the Chloë myth really begins to unravel. "No. And I did audition for the sidekick," she says, referring to the part of the young lawyer on the make who woos Hugh Grant. Chloë tried out for a part in a romantic comedy? "I'm trying to make that crossover, " she explains. "I just haven't found the right one yet." She'd really like to do a mystery or a horror film, she tells me, something like The Others. She starts to giggle and admits, "I'm really excited about the new musical revival!" Okay, now this is too much. Chloë's excited? About musicals???? And Chloë -- GIGGLES?
"I'm so excited by everything. I don't think I'm a snob, but romantic comedies are the riskiest." Part of the change, no doubt, comes from a change in her film diet. "I've started going to see commercial films a lot more," she explains. "When I was a teenager, I would only watch obscure films from Kim's [Video] or Film Forum." She pauses, then adds, "I just want to be entertained. I just want to go to the movies and have fun."
Which brings us to Friends. "I love Friends. I love Will and Grace. I love Everybody Loves Raymond. Those are my top three." We agree, however, that we don't particularly like Will or Grace. "I don't like the way they talk to each other."
Our food arrives. She's having chicken salad. "I'm starving," she says with a smile. "I'm on a no-bread thing, and you're always hungry." She goes on to relate her experience at the Vanity Fair Oscar party the year before last. "All the actresses were so skinny. I went with my girlfriend Natasha [Lyonne], and she said, 'Chloë, I always think you're really skinny, but not next to these girls.'"
I ask her if she considers herself ambitious in her career. "I think I wasn't for a long time," she says thoughtfully, "but now, finally, I am." Upon further reflection she adds, "I made a lot of mistakes, turned down a lot of projects that would have helped propel me to a better place. But I thought, 'I don't want to do something that commercial,' or 'Not with that star.' Now I'm willing to take the risk."
By this point, I'm fully in love with the new, accessible Chloë and ready to be her gay sidekick if she'll have me. We start talking about her latest projects. In addition to the upcoming Lars von Trier movie Dogville, starring Nicole Kidman as a rural Rocky Mountain resident; Shattered Glass, about deceptive journalist Stephen Glass; and Three Needles, in which she plays a nun fighting AIDS in Africa, she's just signed to the top-secret Woody Allen movie filming in September. But our immediate topic is Party Monster, the film adaptation of Disco Bloodbath, James St. James' juicy true account of club kid Michael Alig's 1996 murder of drug dealer Angel Melendez. Chloë plays Gitsie, a perky, impressionable girl who meets Alig and his kooky clubland cohorts when they pass through Texas. Starstruck, Gitsie moves to New York with Alig and descends into a world of club parties and drug addiction. Given Chloë's history as a nightlife celebrity, she seems an obvious choice for the film. But when her brother, DJ and A.R.E. Weapons band member Paul Sevigny, called them to suggest Chloë for the part, the filmmakers initially thought she wouldn't want to do it. "I had to meet with the directors in LA," she says, "because they thought I wasn't peppy enough. So I had to go in and be really peppy and sell myself." A big thing that attracted Chloë to Party Monster was her love of New York. "If there's anything I can do to perpetuate this bizarre New York nightlife scene and document it," she says earnestly, "I'll do it."
It was this love of all things eccentric and New York that led her to make Vincent Gallo's The Brown Bunny, a film that Chloë characterizes as "a love letter to America." Gallo, the visionary personality behind the gorgeous if slightly self-indulgent film Buffalo '66, has been on the receiving end of a vicious attack from critics since the film was screened at the Cannes Film Festival. Recalls Chloë: "They said, 'Oh Chloë was crying. She walked out. Everyone walked out.''' She sets the record straight: "We had a 20-minute standing ovation at the end of the screening. Everyone loved it. Press isn't even allowed into the official screening, so where did those rumors start?" She goes on to say, "If it was a French romance, I'm sure they would have loved it." She sticks by Gallo. "He's so eccentric and not afraid to be outspoken in a world in which everyone plays it so safe. He's one of a kind, a true American original." She thinks for a moment, then sums it all up: "You take risks. Sometimes you get nominated for an Oscar; sometimes people shit on you."
Since she hates film festivals, Cannes wasn't the most pleasant experience for Chloë. "The premiere is the most fun because you get to get dressed up and go to the parties. But they make you get up really early. You have junkets all day long, get judged and critiqued all day long and get your picture taken all day long." Still, she went to Cannes to support Gallo and The Brown Bunny, and it gave her a chance to give fashion bessies a thrill when she showed up on the red carpet wearing Lanvin by Alber Elbaz. ("Those paparazzi shots will be around forever, so I wanted to wear something a little more timeless.")
Chloë made her fashion mark from the very start, and people have come to expect a certain kind of look from her. "I've always really enjoyed fashion," she says. "I have friends in fashion. I think that's where it all came from in the beginning." In an entertainment world filled with starlets borrowing the same designer dresses, Chloë stood out as an individual even as she grew into a photo-op-savvy professional with a varied repertoire of looks, from grungy casual to Versace. "I'd rather be cutting edge," she explains. "I don't want to be bland." Chuckling, she adds, "But now I'm the approachable Chloë, and when I meet studio heads, I think that I can't wear some of my real outfits. I try not to seem as 'wacky' or whatever adjective you want to use." And despite having her own fashion vision, she's not immune to trying to make a good impression on the press. "I don't know why having my picture taken affects me so much. I wish I didn't give a fuck, but I do. I think, 'People from Vogue are going to be there. What are they going to say?'"
Now that I know Chloë thinks about Vogue, all my illusions about her are shattered. Still the cherry on the cake is her almost-best friendship with an icon whom Chloë and I both adore, Donatella Versace. A few seasons ago Chloë was whisked to Paris for the Versace couture show, where she was photographed cavorting in a purple-sequined Versace mini-dress with the likes of Elizabeth Hurley and P. Diddy. What on earth could the star of Kids be doing there?
"I just love Donatella as a personality. I was hoping I'd get to hang out with her. She's incredible. It was just a nice thing." Then, smiling, she adds, "And I got to keep the outfits."
Hair by Jeff Francis * Makeup by Feride Uslu for usluairlines.com at Art Department * Stylist's Assistant: Jessica Fisher