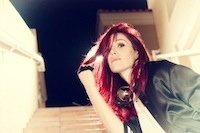 In this weekly column, MC/DJ Hesta Prynn pairs pop culture stories with an original playlist.
This week Mayor-Elect Bill de Blasio and his family surprised no one with the announcement that they'll be relocating from their $3300/month Park Slope brownstone to the Upper East Side's Gracie Mansion. What this means for a mayor whose every fifth word is "Brooklyn" remains to be seen, but in the meantime it's clear that some adjusting will have to be made. This week's Five 'n' Five showcases some of the hardships the family will face, pairing them with lyrics from the new album by a woman who knows a little something about luxury.
1. Fros -- "Pretty Hurts"
"Brush your hair, fix your teeth / What you wear is all that matters"
The location is different, yet the hairdo remains the same. Dante will be pleased (read:mortified) to learn that his look is all the rage with Upper East Side stoner kids who wear shell necklaces and have Pink Floyd blacklight posters on the walls of their bedrooms -- of their Hamptons house that is.
2. Breakfast Pastries -- "Drunk in Love"
"We walk up in the kitchen saying, 'How in hell did this shit happen?'"
The Mayor-Elect has spoken at length about how he will miss the
daily croissant
he buys from his Park Slope bakery on the way to the gym every morning. He can still expect to enjoy a delicious pastry for breakfast on his way to work, except uptown it comes complete with smoked fish, capers and a senseless amount of raw onion. Bon appetit!
3. Exercise -- "Mine"
"We're taking this a little too far"
The de Blasios have spoken at length about their love for working out at the Park Slope YMCA. Fortunately the 92nd Street Y is not too far from their new digs. Moving forward, the family will be able to get in their workouts whilst enjoying live Klezmer music and lectures by such notables as Joan and Melissa Rivers.
4. Subway Rides -- "Partition"
"Driver roll up the partition fast / Over there I swear I saw them cameras flash"
If I read one more article outlining Dante's longer subway ride (plus 30 minute walk!) to Brooklyn Tech from his new home I'm going to barf.  As if Dante de Blasio is taking the subway ever again?
5. Judgment From Hipsters -- "Blue"
"Sometimes these walls seem to cave in on me"
This may be the hardest pill to swallow. Yes you'll enjoy eight full bathrooms to your current one. Yes every meal you eat will be prepared by a full time catering staff and yes the outdoor space is bananas. But will the de Blasios ever be able to regain their Brooklyn street cred post-Gracie Mansion?