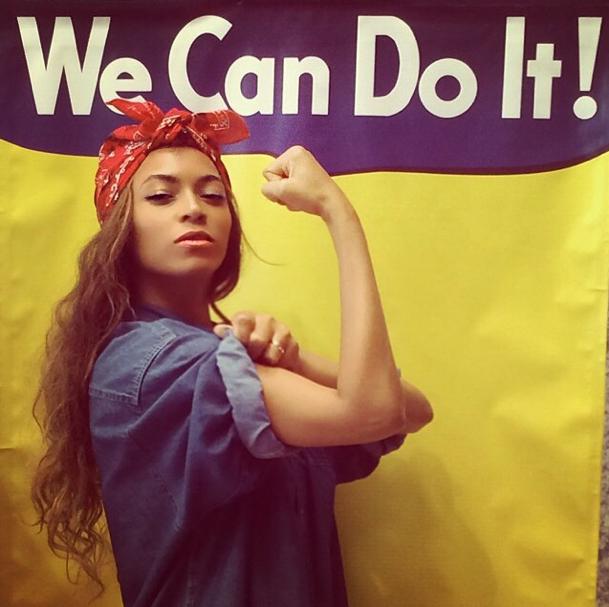 via
Instagram
When Beyoncé's dropped her self-titled album in December, it wasn't just a gift to teen girls and
grown women
everywhere. The surprise release even inspired Beymania in the least likely of places, Harvard Business School.
The fact that Beyoncé managed to keep a major release a secret -- and keep it from leaking on the Internet -- completely baffled the Ivy League bros.
Beyoncé
sold 600,000 copies in its first three days and while the simple answer to her success is THE ILLUMINATI, a class at Harvard decided to take a closer look at Beyoncé's formula for success. The authors of the study shared their findings with
Billboard
and here's what they learned:

Beyoncé never sits down:

We always imagined that Beyoncé travels by a gilded palanquin that's carried around by tanned, shirtless men.
But according to the Harvard study (titled,
"Beyoncé")
,
the performer prefers walk-and-talk meetings.
"[Beyonce] doesn't often sit in her office," Lee Anne Callahan-Longo, the general manager of Beyoncé's company, Parkwood said in the study. "She usually walks from one office to the other, speaking with the staff. She'll come to my office and talk to me, or she will sit in the back and give notes on projects we are working on... She has got a really good sense of the business side, but she doesn't like to live there always."
Albums are best made in Hampton mansions:
In the summer of 2012, Beyoncé rented a house in the Hamptons that served as production HQ. Sia, Hit-Boy, The-Dream and the rest of Beyoncé's team worked collaboratively by the beachside. Callahan-Longo said, "We rented a house for a month. Everyone would have dinner together every night and break off into different rooms and work on music. She had five or six rooms going, each set up as a studio, and would go from room to room and say things like 'I think that song needs that person's input.' Normally you would not see songs have two or more producers, but it was really collaborative."
Beyoncé put her faith in the Internet:
And, from #surfboart memes to
emojis
, the Internet embraced her with open arms.
Beyoncé
was originally slated to be released on November 18th, but due to the album's essential video component the release had to be pushed back to December 13th.
"Normally albums come out on that day, so they can be tracked by Billboard for a full week," Rob Stringer -- who runs one of the biggest radio stations in the world -- said in the study, "but then the boss asked 'Why does the record need to come out on a Tuesday? We're not putting it in stores, so do we care?'" While the iTunes digital exclusive on the record did cause retailers like Target to refuse to carry the album, with the Internet on her side, Beyoncé didn't bat an eye.
In other words -- she's not a businesswoman. She's a
business
, woman.