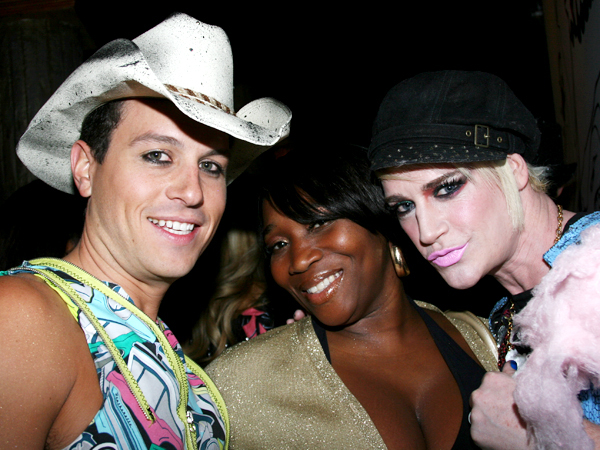 When I die, I want an after-life party, but not just any party -- I want cotton candy and pink popcorn served; I want an open bar with pretty pink concoctions; I want everyone to show up decked to the nines, girls with their faces beat, enough makeup to rival any drag queen; men suited and booted; major music; I want an extravaganza! Well, last week at the unveiling of the M.A.C/Heatherette line, I thought I had died and gone to heaven!
How could Richie Rich, Traver Rains and John Demsey know what would make me happy? It was like they read my mind! They served up all of the above encased in glitter -- glitter makeup inspired by a disco ball. And there was no discreet dusting of sheen for them -- no, we are talking chunks of shiny metallic madness. Think arts and crafts glitter glue for your face, and don't be scared!!! As if that weren't enough, they are giving you lashes, but not just any lash, patent leather lashes. They come in two versions, "She's Good" and "She's Bad," and guess which one Ms. Bevy loves? "She's Bad" has a fishnet texture, so you know I had to have them! Leave it to the boys to continue the madness with their packaging. Remember good ole Bubble Tape, the bubble gum that came in a faux measuring tape container? That's the container for their pressed powder compact. Genius! How's that for taking the old hood saying "all you want is hard d*#k and bubble gum" to a whole new level!
I've always appreciated M.A.C Cosmetics because they live for the Brown children (no, not Bobby Brown's kids, people of color)! They not only make foundation and colors that suit "us," they do so without making a big deal about it. They also pay homage to the fact that "urban" culture is pop culture, serving up over the years Missy Elliot, Eve, Mary J Blige, Lil Kim, etc. M.A.C uses the mocha-hued girls in their "general" market (aka white) advertising and they don't even blink one of their beautifully made-up eyes when doing it! They made a customer for life in Ms. Bevy when they opened up a store on 125th street (no more makeup emergencies where I have to settle for a Duane Reade Apt# 8 lipgloss because there's no lipglass around). John Demsey, the debonair man in charge at M.A.C, continued his vision by having Ms. Teyana Taylor of Harlem perform at the event!
You may have heard about her, but you really need to get into Ms. Taylor. First things first, she's fierce; secondly, she's a major fag hag; third, and most importantly, she's uber-talented. Singing, dancing, rapping, voguing -- honey, she's bringing all that uptown swag downtown. We haven't had this kind of talent coming out of Harlem since Sammy Davis Jr.! That's right, I said it, she's a 21st Century female Sammy! Just like Sammy, Teyana has been groomed since she was a child by her mother Nicki (a gorgeous, vivacious woman in her own right)! Nicki told me, "Teyana's been like this since she was a child. She came out ready to perform." I know that's what most "momangners" say, but once you meet the spicy and sassy Teyana and see her perform you know it's the gospel -- this girl is the truth!
Well, my truth is after four cocktails (pink and frothy) a stick of cotton candy (artfully spun by Asian child/goddess Jun) and a ball of pink watermelon popcorn, (hard as a rock yet tasty -- not the first time I've had that combination) I was done! I went home and realized I was drunk and on a sugar high (very Coney Island circa 1986, drinking Pink Champale on the D train). What a way to end a night! I hope that the guests at my "funeral after-party" have as much fun there as I did at Heatherette's M.A.C party! Here's an idea, John Demsey, why don't you have M.A.C sponsor my official "after life" party?
xoxo,
Bevy
Photo above, of Traver Rains, Beverly Smith and Richie Rich, by Caroline Torem Craig