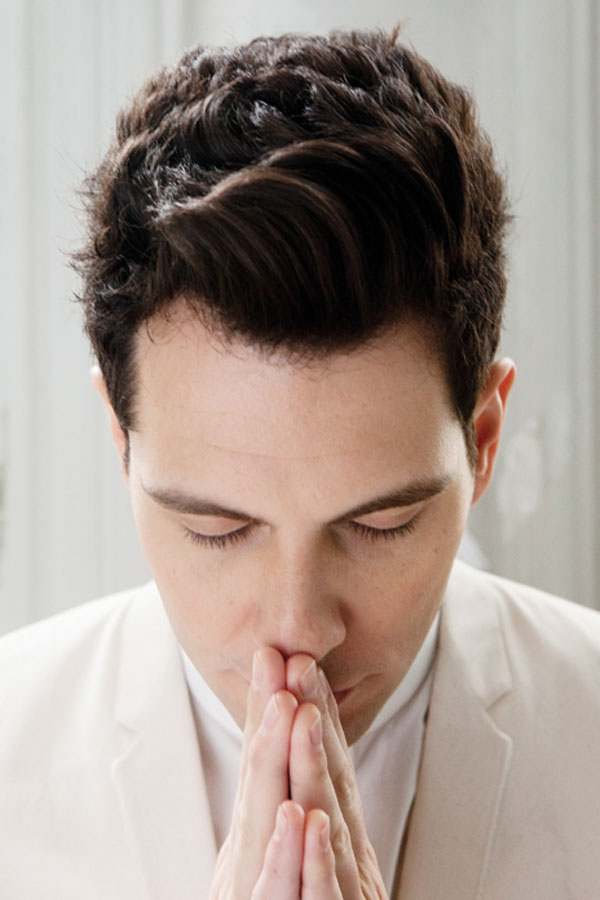 The universe is speaking to Gabe Saporta, and he's listening. Over an afternoon snack of heart-shaped cookies from Billy's Bakery -- a Valentine's Day gift from his girlfriend, designer Erin Fetherston -- the lanky singer from synth-rock all-stars Cobra Starship explains as much. "I've been doing this for 10 years," Saporta says. "I'm just like, 'Man, I work so much harder than other people, I'm smarter, I'm nicer -- why don't I get more successful?'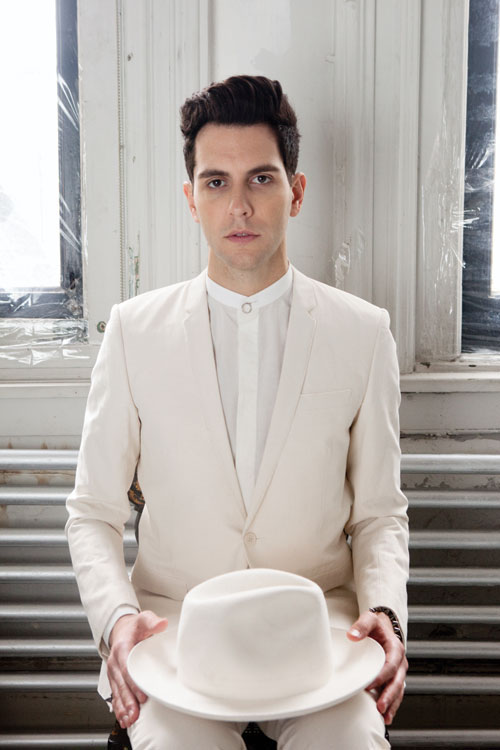 Jacket, shirt, pants and hat by Dior Homme and bracelet and ring by Eddie Borgo.
Then I realize there's no way the universe will allow me to be more successful at this juncture. If I were to be more successful, I would lose the desire to keep going. Other people quit, you know? I persevere because I feel like it's not enough."
Saporta is a living, breathing contradiction -- simultaneously bombastic and humble, worldly and spiritual, a hardcore kid who grew up at defunct clubs like Coney Island High and CBGB and went on to play power-pop anthems at last year's Macy's Thanksgiving Day Parade. He's so comfortable with his music that he makes the concept of selling out seem arcane, a threadbare relic of the pre-digital world, where success -- and the fakery that inevitably went along with it -- was something to be embarrassed about. Saporta is not embarrassed. He isn't faking it, either. He and his band toured with Justin Bieber and they loved it. "Yeah, it was awesome," the 32-year-old says, grinning. "Punk is dead."

Cobra Starship's fourth full-length, Night Shades, was released late last summer, a collection of radio-friendly jams that includes the double-platinum single, "You Make Me Feel... (featuring Sabi)" and Saporta's favorite, "#1Nite," a seize-the-day style invective about living in the now. The band played Dancing with the Stars, appeared on Leno, Live! with Regis and Kelly and 90210, and has music in rotation on MTV, VH1, Logo, Fuse and, of course, YouTube. (The band's video for "Good Girls Go Bad," featuring vocals and an appearance by Gossip Girl's Leighton Meester, has been viewed more than 13 million times.) Saporta's good looks have made him a natural for print campaigns (Macy's and American Rag), fashion spreads and the tabloids. Us Weekly voted him one of the most stylish New Yorkers. He's commonly credited with being the guy who taught emo kids to dance. He looks sharp in a suit. He enjoys what he does. Increasingly, that adds up to one thing: being Gabe Saporta.

For a guy who's just recently passed into the rock-star stratosphere, he's remained remarkably level-headed. "It's such a blessing to do music for a living. I don't take it for granted," he says. "But people have to listen to it and like it. There's a whole bunch of people whose jobs rely on being able to sell my product. I have to take that into consideration. As much as I never wanted music to be a business, it is." Part of that business is putting in appearances, and not just on the music channels and talk shows. Saporta is a regular at New York Fashion Week shows, which is partly due to Fetherston's influence. He's a fan of his girlfriend's clothes -- "I'm just bummed I don't fit into any of them," Saporta jokes -- but when it comes to his own personal style, he's conflicted. He says he has a love-hate relationship with fashion. "I'm careful about getting sucked in too much by the things that I own. You know, the things that you own start to own you. I grew up listening to punk music. I remember listening to this Fugazi song called 'Merchandise.' The lyric was 'You are not what you own.'"
He also understands the importance of nurturing and maintaining his devoted, in some cases rabid, fans. "My manager always says that if there aren't girls in the crowd, you know the band's never going to last," Saporta says. "Dudes want to get out some angst, but af- ter that angst is gone, they're over it. Girls want to learn the lyrics, sing along forever. They love it in a different way. They nurture it."

Another part of the business is in myth making. There, too, Saporta has proven adept. The apocryphal Cobra Starship genesis narrative involves the singer traveling to the Arizona desert in 2005, smoking peyote and going on a Native American "vision quest," during which he came up with the concept for the band. The story might have been appealingly rife with rock 'n' roll-isms, but it was a lie -- a fiction that helped Saporta get played on the radio without a record deal, and helped him record a song for the soundtrack of Snakes on a Plane, the band's real debut. Later on, however, after their third album, Hot Mess, in 2009, Saporta's search for spirituality actually did become hallucinogenic. "I was having a real tough time. I didn't know if I could continue making music," he recalls. "So I went down to Brazil. I stayed down there for 10 days and did this thing called the diéta, where you just don't eat anything for 10 days except rice and you drink different herbs from the Amazon, one of them being ayahuasca. Total spiritual cleanse. You see things about yourself, and you see how you relate to everyone around you and the universe."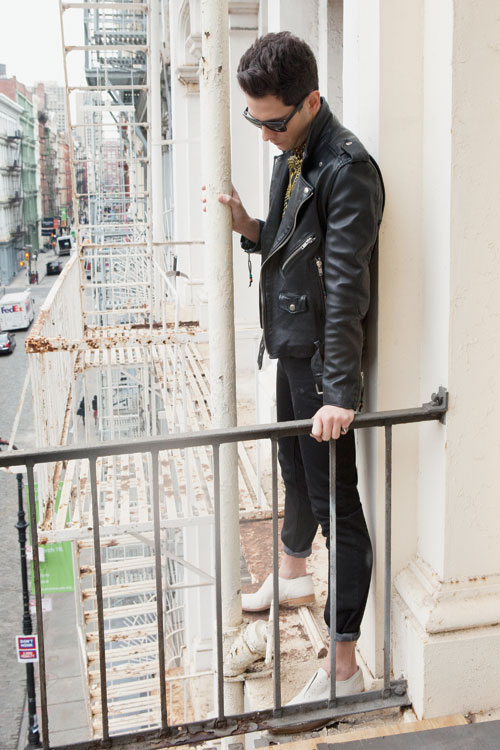 Jacket and jeans by Blk Dnm, shirt by Burberry, shoes by Louis Vuitton, sunglasses by Warby Parker and rings by Eddie Borgo.
He says the ayahuasca gave him the clarity to bring him back to Cobra Starship's roots --  music that, above all, was fun to dance to. Roots are important to him. Born in Uruguay, Saporta moved with his family to Queens when he was four, and lived in New Jersey growing up. He was really a city kid, though, spending time on St. Marks Place, admiring local punk bands like the Casualties and going to tons of shows. He still can't see himself leaving New York. (He's a part owner of the Alphabet City bar Angels & Kings with his friend Pete Wentz, and has a stake in the West Village's Employees Only and Smith & Mills in Tribeca.) Saporta lives in the East Village, in a modest one-bedroom apartment with a mezuzah on the door. He's Jewish -- his grandparents settled in South America after fleeing Nazi Europe -- and attended Jewish day school growing up. Religion wasn't important to him then, but he's recently become interested in some of the more spiritual tenets of Judaism. (His publicist took him to a Kabbalah Center class, and it stuck -- he wears the red string bracelet and owns the
Zohar
.) "I felt no connection to being Jewish whatsoever other than the fact that my grandparents escaped the Holocaust," he says. "But I've been into spirituality since I was 15. When I went to the Kabbalah Center, it seemed very rudimentary to me. I tried to get into an advanced class. The teacher said, 'No, take the beginner class. It'll be good for your ego.' Right there he called me out on my bullshit."
Reconciling his artistic instincts and commercial drive hasn't always been easy, but Saporta says approaching his career with humility helps. He says that the most important thing for him is to continue writing music he enjoys. Criticism, both of the professional variety and the unpaid, flame-war-blog-commenting-sort, gets in the way -- "People tear it apart... I try to ignore it as much as possible" -- so the challenge is to rise above the fray. "If I do a song and it's super commercial, someone's going to say, 'You're a sell-out,'" he says. "But you've got to back yourself. If you can't back yourself, it doesn't matter who backs you or doesn't back you -- you'll fall apart."
MEET THE REST OF OUR 2012 BEAUTIFUL PEOPLE