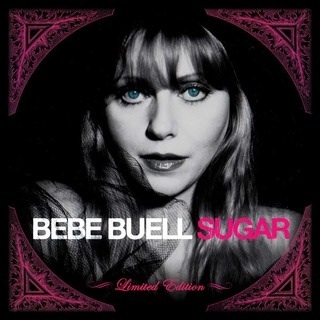 Bebe Buell
is my kinda rock chick. She's a musician, an artist, a grandmother, and still looks like the same blonde bombshell who had a ton of '70s rock stars wrapped around her finger. Buell and I are friends and former neighbors -- I used to babysit her daughter,
Liv Tyler
-- and she recently caught up with me about her crush on Oscar Wilde, her secrets to staying young, and her upcoming show in New York City at  Hiro Ballroom.
Miss Guy
: Who was you first crush?
Bebe Buell
:
Oscar Wilde
. I saw a photo of him in one of my mom's books about his works and instantly fell in love. His look, his style... all of it. Then
Mick Jagger
after that.

MG
: Who was your first love?

BB
: A boy in high school named Harvey Arnold. Then
Todd Rundgren
.

MG
: What was your first concert?

BB
:
The Rolling Stones
in Virginia Beach. It was the summer of 1966 and I was 12 years old. I also saw 
Frank Sinatra
with my mother when I was five.
MG
: What was the first record you ever bought?

BB
:
Roy Orbison.
MG
: How did the New York scene in the 1970's differ from the scene in Los Angeles?
BB
: The New York scene was more arty. Max's Kansas City was a breeding ground for all creative outlets -- film, photography, music, art, fashion, performance art. I didn't go to LA for the first time until 1973. They had their haunts like The Continental Hyatt House (The Riot House), The Rainbow, Rodney's English Disco, etcetera.  But the urban feel of NYC was uniquely its own. New York had
Andy Warhol
and
Jayne County
. LA had
Kim Fowley
,
Rodney Bingenheimer
and
the GTOs
. And the divine
Runaways
,
of course! I can't wait for the new Runaway's movie!
MG
: Tell me about your first time on stage. 
BB
: It was 1980 at The Ritz in NYC opening for
Rick Derringer
. A packed house - baptism by fire!
MG
: I know your favorite band is
The Rolling Stones
, who is your favorite male singer? Who's your favorite female singer?
BB
: My favorite male singers tend to be the ones with attitude more than perfect technical skill.
Mick Jagger
,
Iggy Pop
,
Lillian Berlin
from
Living Things
,
Bowie
,
Ian Atsbury
,
Todd Rundgren
, and
Costello
. My favorite female singers are
Ronnie Spector
,
Debbie Harry
,
Patti Smith
,
Wanda Jackson
,
PJ Harvey
,
Eartha Kitt
,
Janis Joplin
, and
Enya
, to name a few.
MG
: Who are your favorite movie stars, male and female?
BB
: I adore
Johnny Depp
. He is so versatile.
Kevin Bacon
,
Mickey Rourke
,
James Franco
,
Edward Norton
when he's "on" and
Frank Sinatra
-- he was such a great actor! Bowie too.
Jessica Lange
,
Uma Thurman
,
Meryl Streep
,
Liv Tyler
,
Liv Ullmann
,
Ava Gardner
to name only a few. I have so many!
MG
: Your favorite movie?

BB
: Right now it is
Avatar
! But the one I always return to is
My Dog Skip
.
MG
: What does fame mean to you?
BB
: I've never measured anything by fame. Only by personal peace.
MG
: How did having Liv change your life?
BB
: She gave me the sense of purpose and responsibility. She taught me what pure love is. Unconditional love.
MG
: How did Liv having a baby change your life?
BB
: More people to love and spoil! I am over the moon with the addition of Milo in our lives. He keeps me young and happy. He is a dream and a lovely child. Liv is a wonderful mother.
MG
: You're an exceptional beauty. Do you have any beauty secrets to share with the readers?
BB
: I love to go and get scrubbed at the Korean bath houses. Sitting in the steam and hot tubs. Stretching and at least two miles a day on the treadmill. I am in love with good face creams and I do not eat red meat.
MG
: Who's your favorite designer?
BB
:
Marc Jacobs, Anna Sui
and
Calvin Klein
-- his cuts are the best for my body.
MG
: How do you feel about fashion? What about the combination of rock 'n' roll and fashion?
BB
: Fashion has always been a huge part of pop culture and music. The British Invasion really affected the way I look at clothes. I like the 'anything goes' attitude of some of the musical greats, the way they can take a street look and make it unique. I also like the cuckoo expressions from someone like
Lady Gaga
. Black will always be the universal color of rock 'n' roll roll. That and leopard! Leopard's my favorite color.
MG
: Your new CD is called
Sugar
, what was the inspiration for this record?
BB
: This record is almost like a book, like a bio. I had a lot of stuff to get off my chest. A lot to say. It is also filled with tons of love, not only for what I do but for the people who are the subjects. There is a song for
Joey Ramone
, "Black Angel," and my beloved deceased dog, "Grey Girl." It is a very personal offering. It is my soul laid out for all to see.
MG
: You do an amazing cover of "Air Kisses For the Masses" by downtown legend
Dean Johnson
, and the video is incredible. How do you choose what songs to cover?
BB
: I always know when I can make a song my own. I feel a connection with the lyrics and the story. I also cover "Untouchable" by
Johnny Thunders
. With "Air Kisses," I was drawn to the genius of Dean's lyrics -- so topical and current even though he wrote the song years ago. My cover choices find me, I don't always find them.
MG
: What is your secret to longevity?
BB
: Sending love to others. Keeping your intentions and ethics honest and true. Not thinking about age as a number but as a step closer to your spiritual quest and life lessons. I believe in re-incarnation. The life of the soul.
MG
: How excited are you about your Hiro Ballroom show? I know I am!
BB
: I love the place. It's one of the best rooms in NYC and has a great atmosphere and vibe. The secret to my shows is my connection with my audiences -- they fuel me and I think they can feel how much I love what I do.
MG
: Describe a Bebe Buell show in five words.
BB
: Intense, uplifting, fun, exciting and in-your-face-rock-'n'-roll.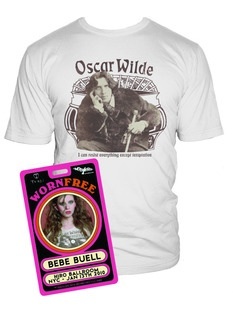 Bebe Buell and Miss Guy's GoonSquad play Hiro Ballroom Wednesday, January 13. Advance tickets are $10 and available here, or $20 day-of. The folks over at Worn Free will also have their new Oscar Wilde t-shirt, modeled after a shirt famously donned by Bebe in the early 80s, for sale at the show. Buell's new album, Sugar, is available in stores and on iTunes now.