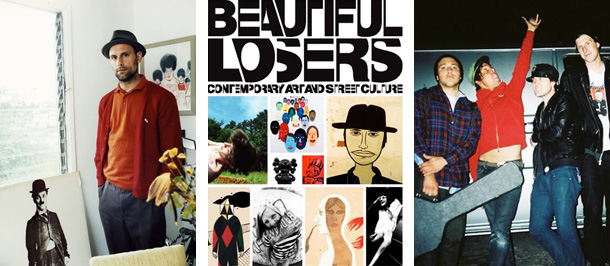 My OC friends from RVCA have been in and out of town for the past few weeks, and I'm so excited that they are bringing their amazing energy and fun to our coast. Last week Pat Tenore came by for some take out dinner with his friend, artist David Cho. Pat is the visionary co founder of the RVCA brand. He is not only an artist himself, but an art fanatic and enthusiast and a huge supporter who puts his money where his mouth is, sponsoring artists, musicians, filmmakers in the same way other brands sponsor sports figures. He was in town to meet up with Opening Ceremony, as he's producing a line with model and smart left coast skater girl Erin Wasson, and will sell the stuff there -- which is RVCA's first break into "fashion." Tenore just came off of a huge show he curated consisting of Barry McGee colab Cinelli bikes which he sold in his San Francisco shop, along with one of a kind bikes designed by every artist, from KAWS to Phil Frost.
Speaking of KAWS and RVCA, I also ran into Brian Donnelly (a.k.a. KAWS) and my favorite RVCA girl Liz Rice (Pat's right hand woman!) at the opening night of the film Beautiful Losers. Aaron Rose (see photo above, left) who directed the movie is also the co editor of my favorite mag ANP (Artist Network Program), the super special, oversized, free mag that he and Brendon Fowler have been creating for years now with funding from RVCA.
This movie was GREAT. I was SO impressed, as it was Aaron's first film, and I watched that whole Beautiful Loser movement so closely, I thought the film really captured this motley group of super brilliant talented friends and how they went from kids getting drunk and making mischief and art into (accidentally) spearheading a large, important and highly influential art movement that still has legs and has passed onto a couple of new generations. It reminded me so much of the early hip hop movement that had art, film, music and style all attached to it. The Beautiful Loser movement was really about skating and surfing and all the art, film, music and style that came along with it. And it all started with artists like Mike Mills, Espo (Steve Powers), Geoff McFetridge, Thomas Campbell, Ed Templeton, Harmony Corine, Barry McGee, the late Margaret Kilgallen and the amazing Chris Johanson and his wife Jo Jackson; who all came together in a storefront gallery founded by Rose called Alleged. Believe me, I spent a lot of time shopping and getting inspired big time in his gallery in the old days to have a wonderful collection of these artists' works (and make some friends out of it, as well). GO SEE THIS MOVIE. It's only at IFC until August 28. Aaron did an amazing job and his influence has not stopped there.
Afterwards, a lot of kids were heading on a big bus to Montauk that night for artist Alex Knost and his band Japanese Motors' big performance at the Surf Lodge. If you want to see the offspring generations that the Beautiful Loser movement has inspired, RVCA is on the tip sponsoring a tour of the wild surfer slash artist Alex Knost's (who Aaron would no doubt be showing if Alleged still existed!) crazy band The Japanese Motors, who will be jamming this Thursday with the cute girls band Modrocket at Glasslands in Williamsberg, Brooklyn (289 Kent Ave.). It will follow a showing of Knost's new film at Mollusk (my favorite surf shop also on Kent Street). I promise the night will be super fun and you'll love the music.