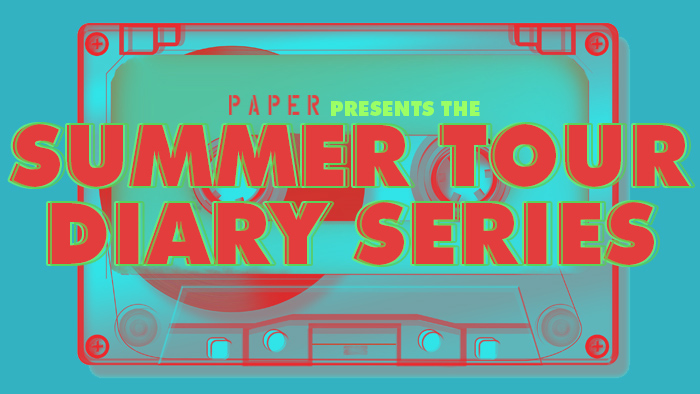 Throughout the summer, we're following around some of our favorite bands and DJs as they head out on tour. In each installment, these road dogs will be sharing a photo diary and sharing stories about what they do, see, and hear and eat while criss-crossing the country and the globe. Next up: NYC-via-Mississippi garage rockers, Bass Drum of Death. Singer/guitarist John Barrett tells us about shitty bar food, pre-tour hangs with his cat, and driving by "Drake's house."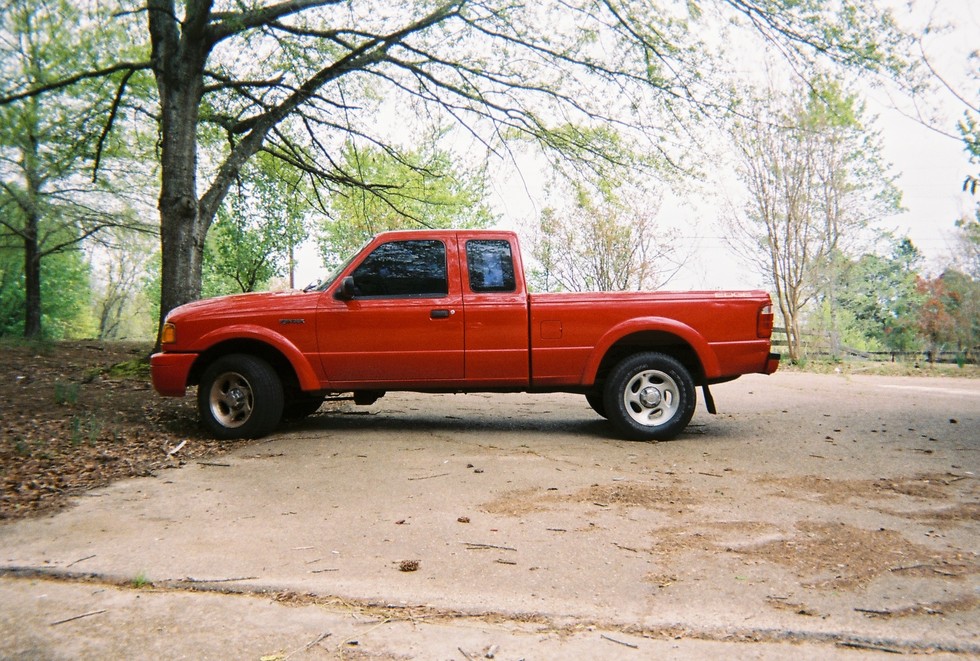 This is in Oxford, Mississippi and is a shot of my old roommate, Andy's truck. I think Ford rangers are the funniest truck that exists. And of course Andy has one. When you think of a truck, you think of something big and hyper-masculine or whatever but the Ford Ranger is the opposite of that.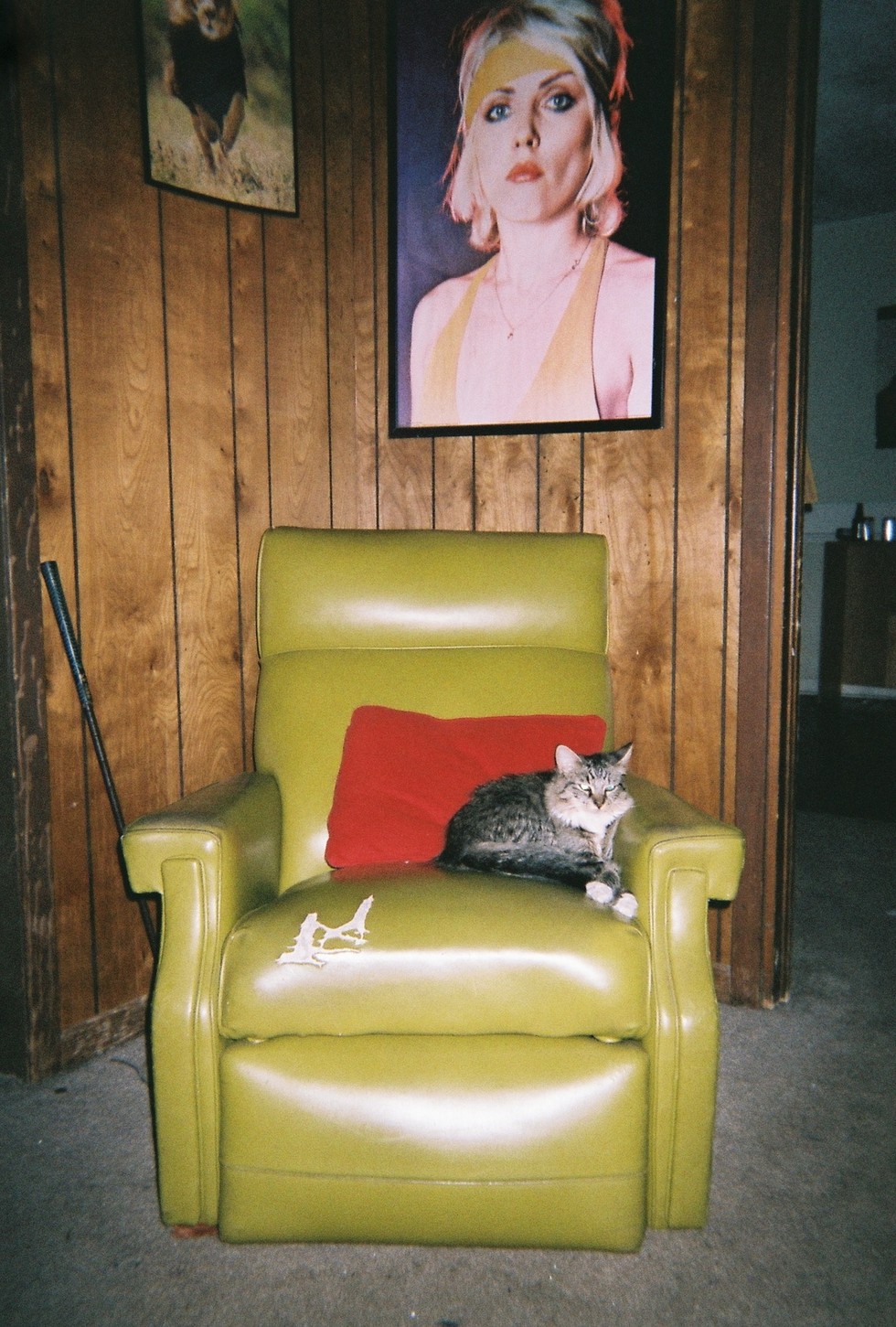 This photo was shot right before we left [on tour]. I live in New York now but this is the house I lived in for three years in Oxford, Mississippi. It was commonly referred to as the 'dude ranch.' It's a 5000 sq. ft. ranch house and I still pay rent on a practice space in the house because the other guys are still based in Mississippi. Before tours, I fly back and we practice for about a week. And that's our cat, Lily. She's a little baby angel who would always crawl up on that chair. I figured I would snap a photo for posterity's sake.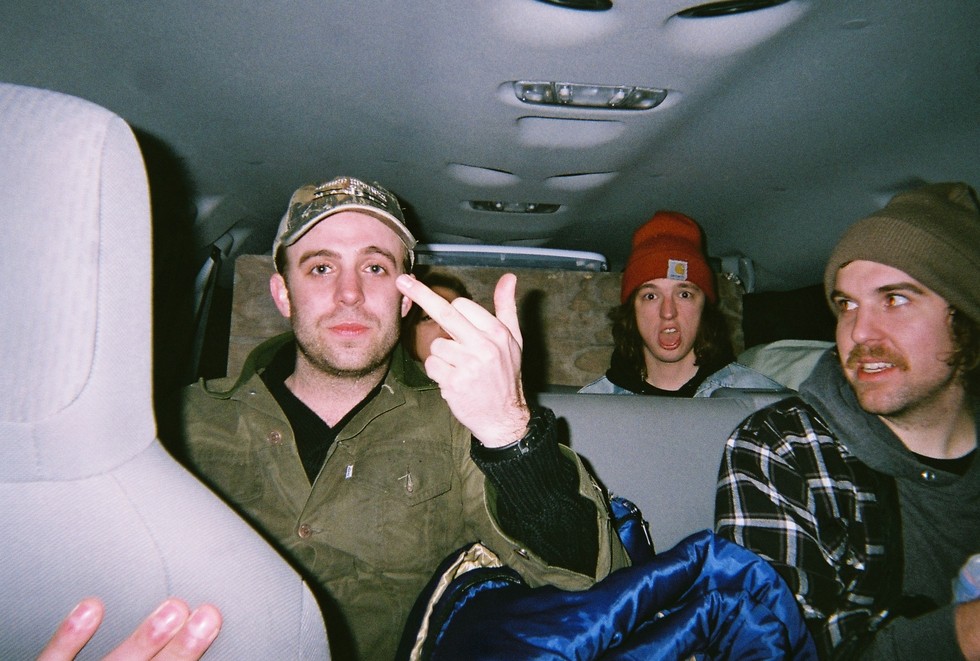 This was after a show one night in Cleveland, I think. The show went super well. I think we're probably going to the hotel in this photo -- we stayed in some weird Travelodge. It was a bit sketchy. Other than that, it was a pretty unremarkable tour night.
In general, we're pretty big drinkers and like to party and hang out with people so we do that as much as possible. The problem with that, though, is if you play at like 10:30 or 11pm and you're not loaded out until 1am and then you go out somewhere until 3 or 4am and get home, go to sleep and then need to be in the van by 11, it starts to take its toll. I've learned after a lot of experience that if you don't take care of yourself when you're on tour, it's no fun. We try to pick our tour spots [where we won't really] drink and instead go back to the hotel and watch Comedy Central and get a solid 8-10 hours of sleep. The guys like Comedy Central but I'll leave
SportsCenter
on 24/7 because it's something light that I don't have to think about.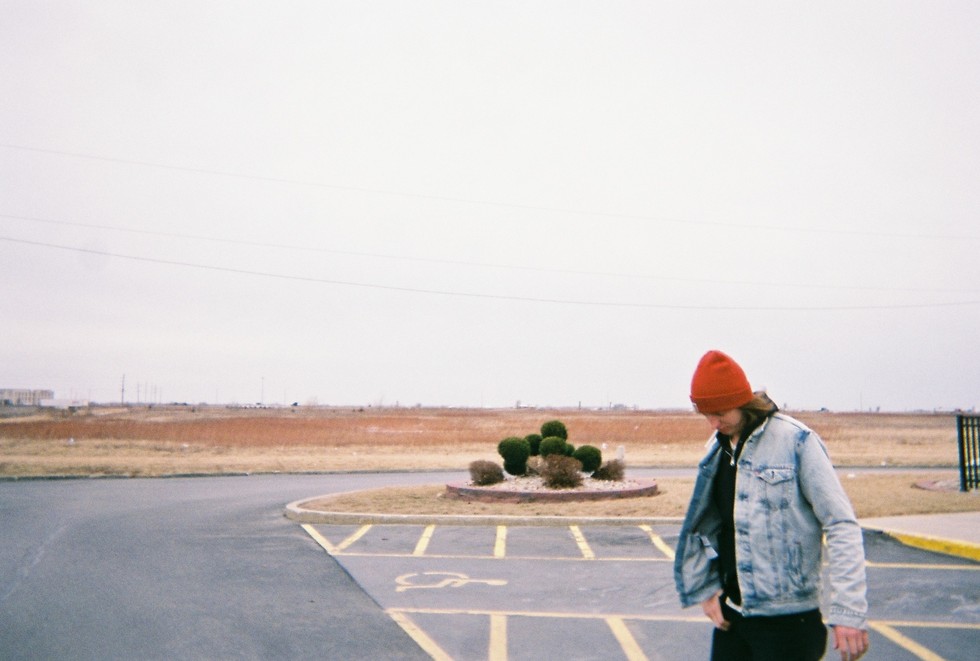 This is a dumb picture -- I'm pretty sure it was taken at a truck stop somewhere in Illinois. Someone snapped it of me and we're in the middle of fucking nowhere Illinois and it's cold as shit. I'm just walking back to the van. Of course it snowed everywhere we were and being from Mississippi, none of us had proper coats so I'm wearing a denim jacket and t-shirt and hoodie. I did buy snow boots just for the tour because I knew it was gonna be gnarly. It was quite a good investment. I never got sick.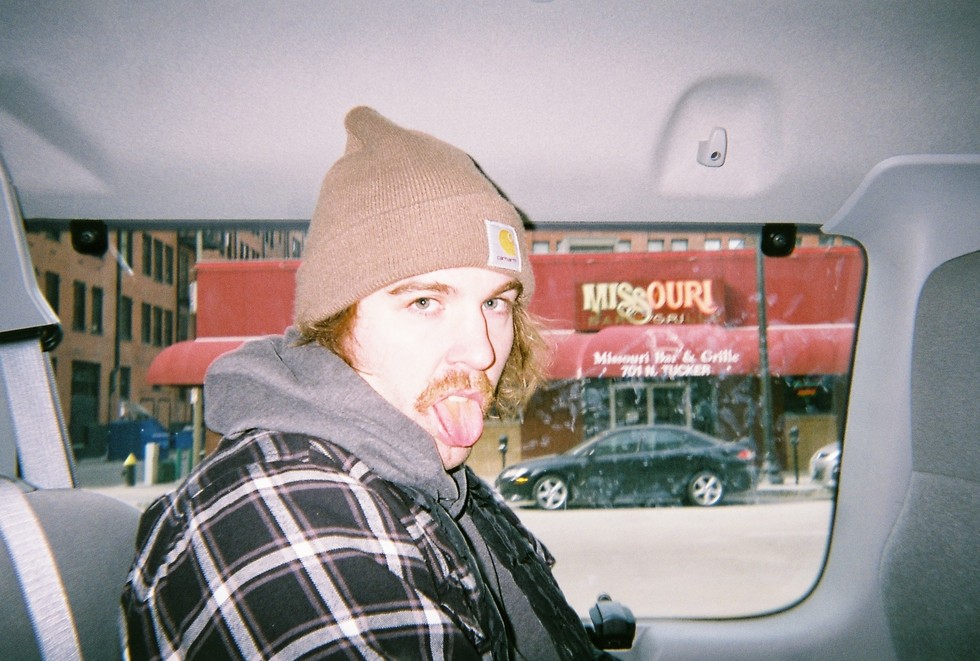 This is definitely in St. Louis. We have a friend who has a really, really sick apartment that he let us stay in while he was out of town. It's a loft apartment down this alley and the best way I can describe it is that it's like one of those apartments you used to see watching '90s sitcomes set in New York City. It's like 'no one actually lives in these types of places' but my friend in St. Louis actually does. So after our show at the Firebird, we were like, 'Let's go back to the loft and play PlayStation and drink beer!"
This shot is when were getting in the van the next day after having been to the Missouri Bar and Grill the night before. Everyone got bar food --  I got a patty melt, which was great -- but someone ordered something you should never order at a dive bar like pasta and it was the worst thing ever and they were very pissed.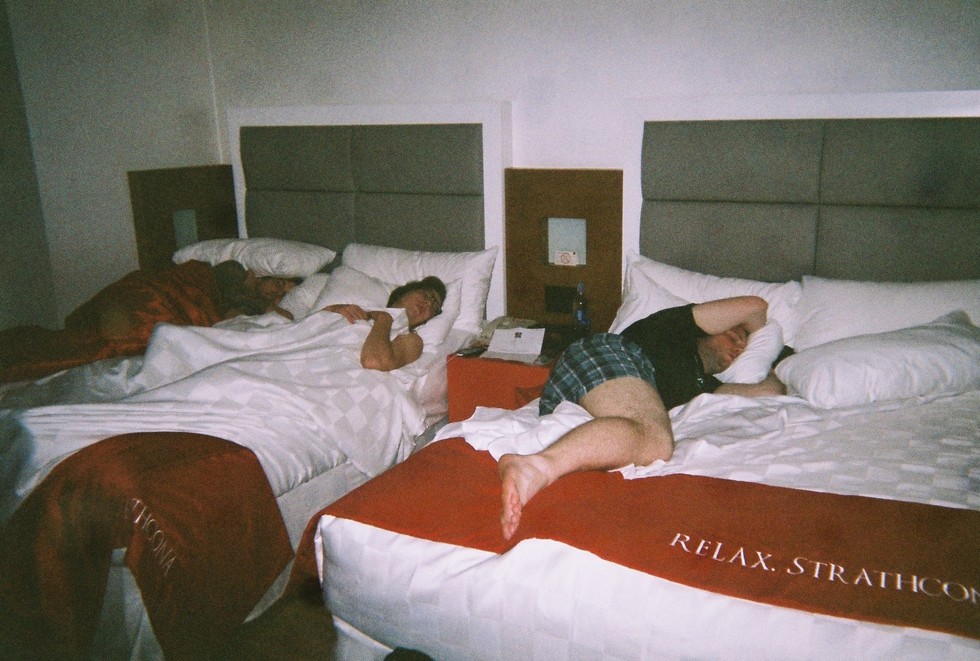 This is in Toronto. During some of these tour dates, it only makes sense to get one hotel room because if a show goes late and we have to get up early in the morning, everyone is tired and it doesn't matter where you sleep. This is us just passed the fuck out ten minutes after getting to the room.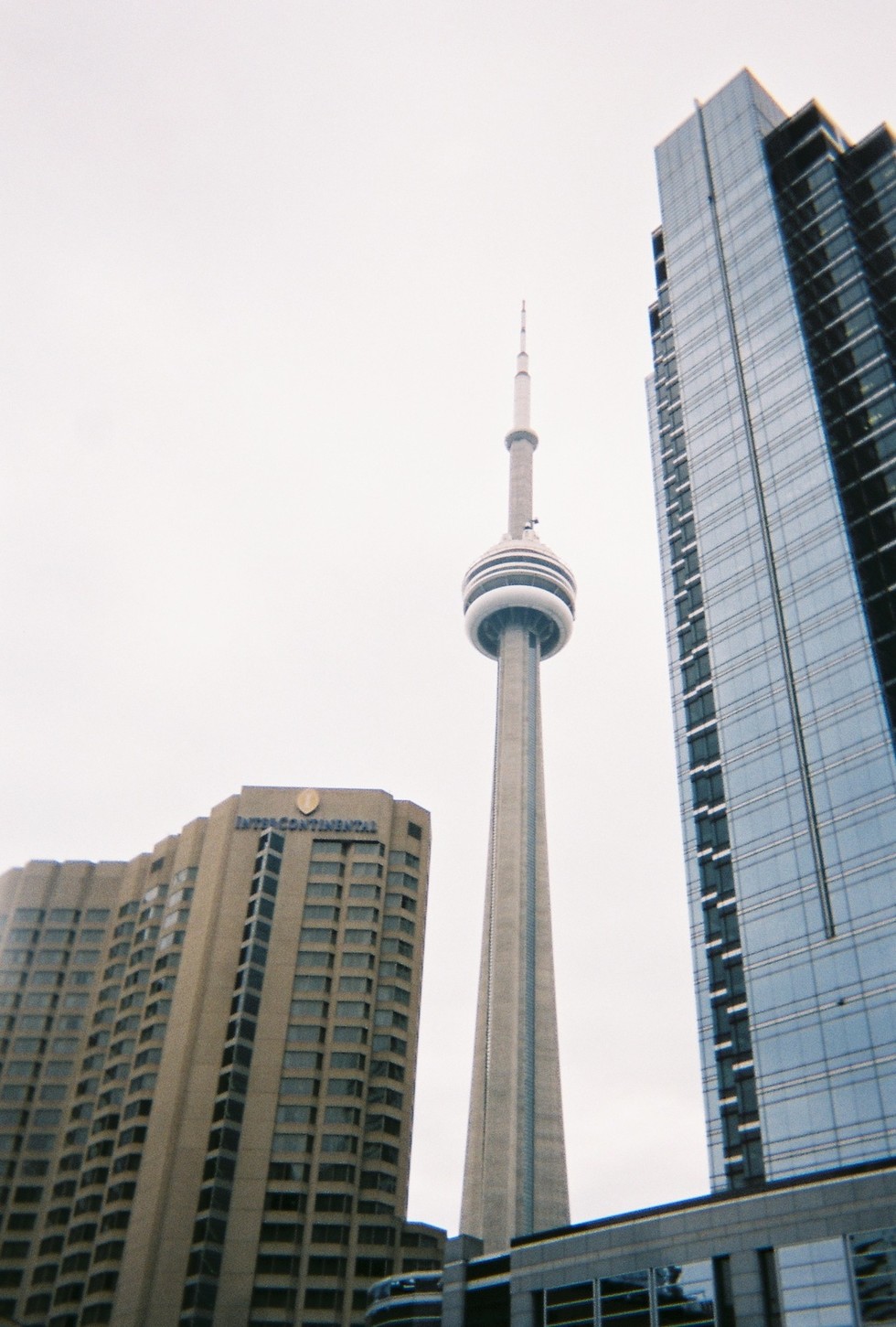 This is the CN Tower in Toronto, which we like to call 'Drake's house.' I'm super fascinated with tall buildings and have been my whole life pretty much. I pitter-pattered around the idea of going to architecture school when I was in high school until I figured out how much work you have to do so I was like 'fuck that, I don't like it that much!' But I hate heights, which I don't understand how that works. Recently we played a couple shows in Calgary and went to a smaller version of the CN Tower. It had  a bar on top and it had one of those clear, glass bottom viewing decks and I refused to go on it because the concept freaks me the fuck out. I can't do that.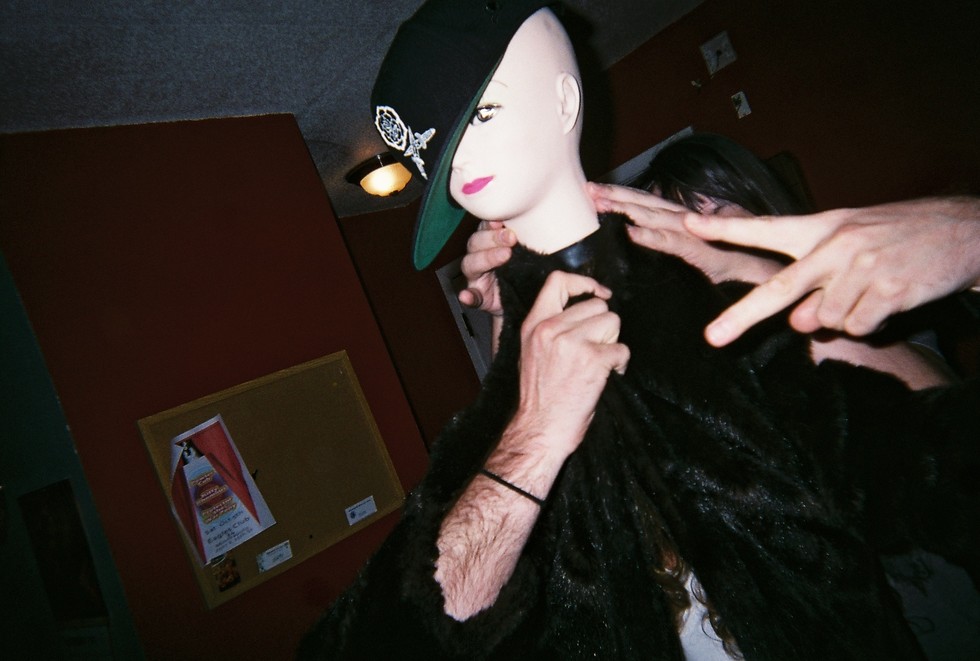 I think we were in Minneapolis here.  We did a limited-run of snapbacks that had our logo on the front and then the outline of the state of Mississippi on the back next to the snap part. It's our brief foray into street wear, if you will. That was one of those nights where we were drunk and playing dress up and being stupid.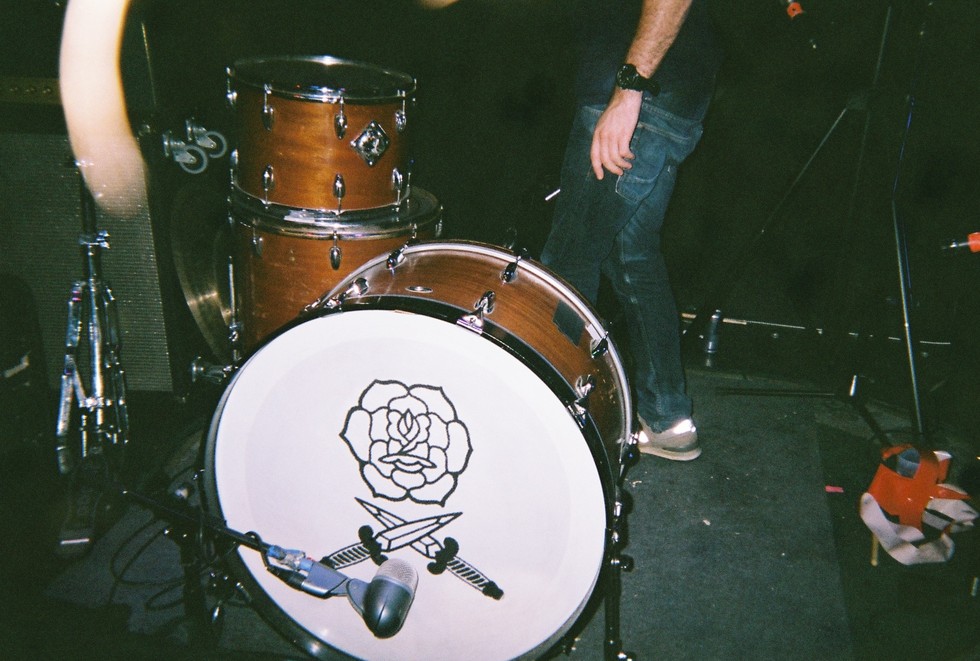 I don't know where this shot was taken. It could've been anywhere. I'm pretty sure this was taken during a break down after we were finished with our set. Our logo has evolved over a couple years. The source material is from this British football club called Sheffield United that one of my friends is a huge fan of. I thought their logo was fuckin' awesome and decided to put my own take on it. The Sheffield logo is a rose and blades and I wanted ours to be a Mississippi version with a magnolia and two daggers.

For more on the road shenanigans from BDoD, peep their short tour doc, "This Isn't Your Moms Game," below.