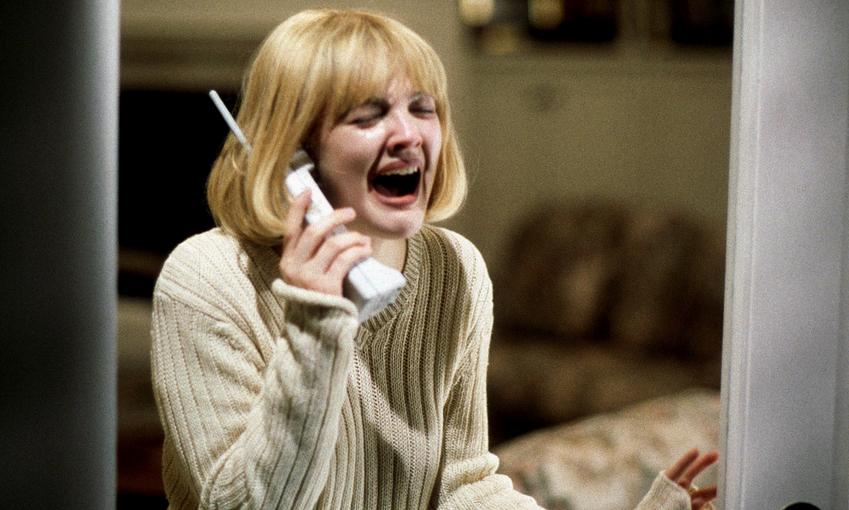 Drew Barrymore in
Scream
If you're the good guy of a horror film, nobody cares what you're dressed like.
Within the horror and/or slasher film bubble, victims, heroes, and red herrings are dressed like everybodies. They'll wear non-descript t-shirts, sweatshirts, denim, and shoes; we'll see a v-neck or a form of athleticwear. At some point, a weather-appropriate jacket will work its way into the mix -- but only to obscure the view of whoever's trying to escape, or to act as a narrative turning point.
"That's So-And-So's™ jacket," a character will say at some point in a movie, likely near tears, and assuming So-And-So's™ dead. And we'll believe this character because they just told us, and certainly not because the jacket is nice, cool, or even something we own.
The true fashion hero of horror? The villain. Because when we think of our favorite and/or most iconic horror films, we immediately recall the trademark pieces of the knife and/or axe and/or hook-wielding antagonist. We remember Freddie Krueger's striped shirt, Carrie's blood-soaked prom dress, and Ghostface's mask and dark cloak. We'll never forget how Jason Voorhies ruined hockey masks, or how gross Tegan's increasingly-stained nightgown became in
The Exorcist
. Raincoats, despite their usefulness, will always be tainted by the idea of the hook-brandishing psychopaths in
I Know What You Did Last Summer
. And if I ever see any of you in an apron, I'll assume you're Leatherface from
The Texas Chainsaw Massacre
and call the police immediately.
In fact, the wardrobes of horror movie villains are as important as the villains themselves. They act as their own characters, warning the viewers of imminent danger by reminding us all of what the wearers of these pieces are usually capable of. The actors and characters may come and go (does anyone even remember who Ghostface was in
Scream 3
?), but the costume remains. Unlike horror movie victims, whose lack of style helps them blend into the story and helps us insert ourselves in their place, villains are defined by their specific pieces which keep them separate -- almost non-human. Our so-called heroes are just secondary characters.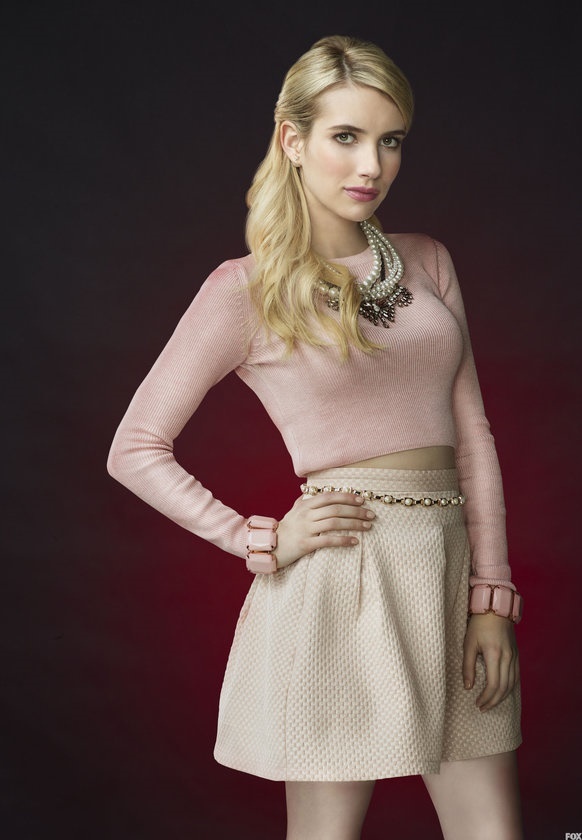 Emma Roberts as Chanel on
Scream Queens
I'd forgotten about this trend until
Scream Queens
, the brainchild of Ryan Murphy, Brad Falchuk, and Ian Brennan, debuted two weeks back. A tribute to campy and B-movie horror typically reserved for sequels and straight-to-DVD endeavors, the series revolves around a dysfunctional sorority with a slew of secrets who find themselves being hunted by a murderous mad-person. (Enter: The Red Devil -- and his mask, cape, and red garb -- who's next in a long line of the genre's aesthetically-concerned fictional killers.) But while Ryan Murphy continued his habit of focusing as much on the hair, makeup, and wardrobes of his antagonists as on the story itself,
Scream Queens
even saw him branch out: while the Red Devil serves as the series' resident maniac, Emma Roberts as her sorority's queen bee (a sociopath named Chanel) earned even more style attention as she established herself as the type of villain most of us have come up against. Her signature pieces? A twin set by her namesake, pastel pumps, fingerless gloves, more than a few pastel furs, quilted tube tops, pearls, and the types of florals you'd expect to see on Lucille Bluth if she were in college.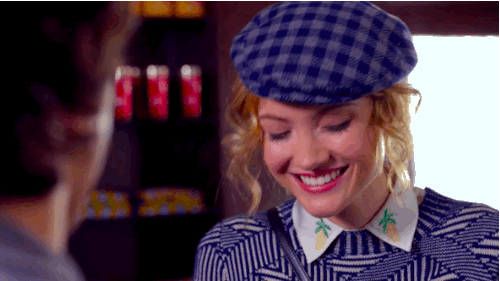 Skyler Samuels as Grace Gardner on
Scream Queens
And while she doesn't have a signature "costume" (yet), she's cultivated enough of distinctive look that she's immediately kept at arm's' length from the rest of us, the way all good villains are: we cannot morph into her, relate to her, or imagine ourselves as her. Which is an even more powerful message to send when the wardrobe of series' hero Grace Gardner (played by Skyler Samuels) changes with the scene around her, ultimately acting as the blank slate onto which we can project exactly what we need. When she's investigating her sorority, she dons newsboy hats. When trying to fit in amid murder and mayhem, she borrows from the book of Jamie Lee Curtis, paying tribute to '70s-era every-girls in bellbottoms, button-ups, and pullover sweaters. To survive (and to go unnoticed while uncovering mysteries), she has to blend in -- which is what her "normal girl" threads allow her to do. When we're busy paying attention to Chanel's sunglasses, our "hero" is breaking into basements unnoticed, following breadcrumbs to cold cases. (Even though in real life, everyone would notice somebody who keeps wearing questionable hats.)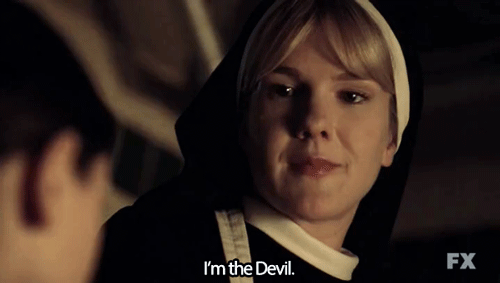 Lily Rabe as Sister Mary Eunice McKee in
American Horror Story: Asylum
This is something Murphy actually does super-well. By drawing our attention to wardrobe-based details in each season of
American Horror Story
, he revives the formula of the horror tropes we grew up with. Kathy Bates' Victorian-era dress in
Coven
, Lily Rabe's habit in
Asylum
, and the leather onesie in
House
are arguably on-par with the Krueger stripes,
Carrie
dress, and
Scream
masks of the '70s, '80s, and '90s. And as in those movies, we don't remember most of what the victims dressed or even looked like. (Again, I think Connie Britton once wore a hat.)
If we could remember, it'd mean we couldn't put ourselves in their places, or invest so much in their outcome. Brandless, statement-less clothing acts as a blank slate, allowing us to emotionally invest in characters' situations while aligning their personalities with our own. By not making a character stand out or seem special, we remind ourselves that what's happening to them could happen to us; that we could find ourselves in their metaphorical jeans and t-shirts, trying to outrun a killer. (Kind of like a terrible game of
The Sims
.) It's the opposite of what makes a show like
The Walking Dead
so scary: the zombies' clothes are non-descript, tattered, anythings -- which means we could also be one of them.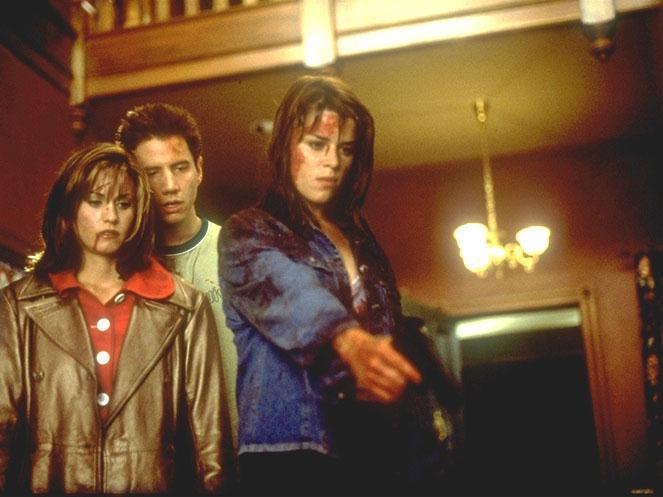 Neve Campbell as Sidney Prescott in
Scream
So does this mean that our affinity for Drew Barrymore's
Scream
sweater is a testament to how boring we are? No. (All of us are very interesting, and I'm proud to know you). But it is a testament to the power of nostalgia, considering how fashion un-forward most horror movies are. In
Halloween
, Jamie Lee Curtis is an era-appropriate every-girl -- but her pieces (a sweater, button-up, trousers) are more suburban chic than they are a symbol of the decade's lust for change. In
Scream
, Neve Campbell's black jeans and denim jacket could be found in anybody's closet (whether you were a middle schooler or mall-frequenting mum), while naughties franchises like
Urban Legend
decked its characters out in basic, solid-toned pieces that chronically seemed a few years behind. Whatever "I should buy that" feelings we have while watching these movies now are fueled only by what prompted some of us to download
Rated Next
: it reminds us of being kids again.
Of course, there are exceptions. Movies like
The Craft
and
The Sixth Sense
are huge players in the wide world of horror. And while they are scary, unnerving, and emotionally scarring, they -- and their great wardrobes -- still don't constitute the type of horror we've been talking about. That's because the rule here is simple: if a plot expands to involve self-reflection through psychological, or even supernatural horror, secondary characters will become distinct, and we consume the story differently, seeing it from their perspectives. Classic and slasher horror works the way it does because we're supposed to envision ourselves as the victims and never identity with the cartoon-like villain.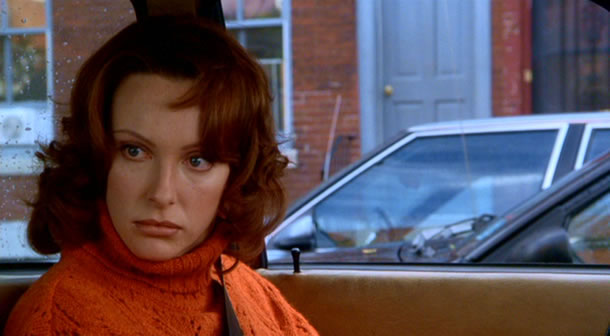 Toni Collette as Lynn Sear in the
Sixth Sense
In films like The Craft, we, despite fearing Nancy, still understand her. In The Sixth Sense, the dead are stuck in their sad, outdated last outfits: a deceased housewife confronts Cole in her pink bathrobe, a little girl shows up in his hideout tent and vomits on her white nightgown, and Bruce Willis (spoiler alert) is stuck in his trousers, button up, and trench coat, styling them differently to keep us off his case. And while Cole's mother's wardrobe is one we can file under interesting and even eccentric, her green velvet top, orange turtleneck sweater, and feather collar still aren't "trademarks." They're just indicative of her open mind -- especially compared with the muted tones around her. This helps us understand her (and her position as a social outsider). None of us here understand Freddie Krueger. Or at least, I certainly hope not.