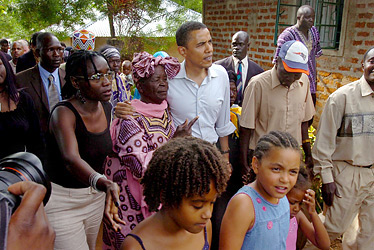 Barack Obama makes much of his Kenyan ancestry both in his writings and on the campaign trail. Yet he has been largely silent on Kenya's recent presidential elections and its aftermath which resonates for me with recent American history and how we in America reacted to a similar situation.
In Kenya, rioting has broken out following the disputed results which declared
President Mwai Kibaki the winner despite trailing opposition leader Raila Odinga in all the opinion polls and early counts. What's the Obama connection? Kibaki is from the Kikuyu tribe which has long held power. Odinga is a Luo as is Obama. Most observers say the election was stolen. In my more paranoid moments, I wonder if the powers that be here would ever fudge the election to make sure that Obama would not win -- and what would we do about it. The last time it happened -- remember Gore? -- we let the Supreme Court decide in favor of the thieving, lying George Bush and Dick Cheney. Should it happen again, will we lie down and take it. Or will we take it to the streets?
P.S. As a declared Barack Obama supporter, my feelings for the man only increased after reading his first book, Dreams from My Father: A Story of Race and Inheritance. No, it wasn't his openness about smoking pot and "doing some blow" that endeared him to me. It was his intelligence and ability to step back and take a look at himself and his life. The last section of the book reports on his trip to his ancestral home in Kenya, where he went to connect with his past (his father was Kenyan) and to chart his future. We know the rest and in a few days, after Iowa, South Carolina and New Hampshire we'll know a lot more about how successful his Presidential campaign will be.
Photo of Barack Obama with his grandmother in Kenya.