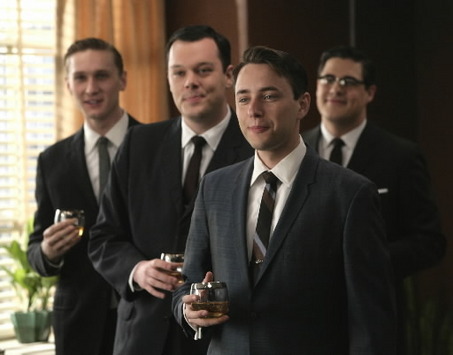 It's hard to miss the five-martini lunches and constant scotch drinking on the fantastic AMC drama series Mad Men, but plenty of classic cocktails, from the Old Fashioned to the Brandy Alexander, have also made cameos. To honor these hidden stars, we asked good sports Toby Maloney, noted barman and cocktail consultant, and Alex Kelley, Brandy Library spirit sommelier, to tell us what each character's poison reveals about him or her. Here's a look at a few of these cocktails and the best places to drink like one of Mad Men's irresistibly troubled characters!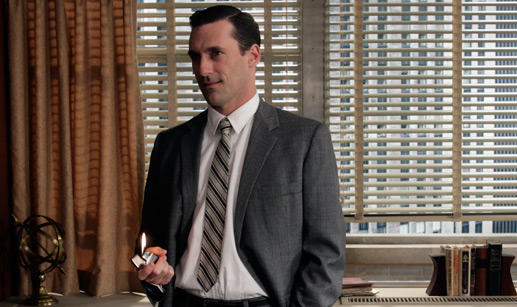 OLD FASHIONED
WHO: Don Draper, creative director and partner at Sterling Cooper ad agency; identity thief; slightly ashamed cheater to the max.
WHAT: Rye, bitters, sugar, soda (and, depending on the bartender, an orange or lemon slice and a maraschino cherry)
WHEN: At the office, Don takes his his Rye straight, but the Old Fashioned is Double D's drink when he's out and about.
IS DON WHAT HE DRINKS? Yep! "Someone who drinks an Old Fashioned is about manipulation," Maloney says. "You know the whole James Bond thing, 'Shaken, not stirred?' That wasn't because [Bond] was suave, it's because he was kind of an asshole and wanted to make the bartender work harder. With an Old Fashioned you are the master of that cocktail. It's a sugar cube and three dashes of bitters, and then you tell them how many ice cubes you want. You tell them if you want a lemon, or an orange. It's all about control."
WHERE TO FIND IT IN REAL LIFE: Little Branch and Smith and Mills make excellent classic renditions, but the fresh ginger in the Ginger Old Fashioned at Carroll Gardens' Brooklyn Social nicely complements the depth of the bourbon.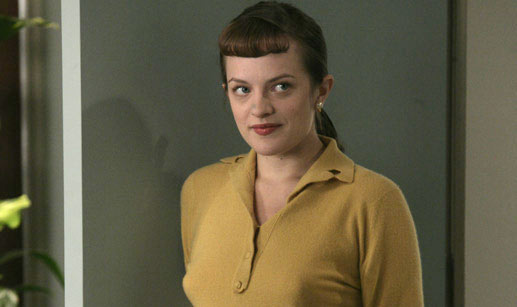 BRANDY ALEXANDER
WHO: Peggy Olson, an innocent Bay Ridge girl who starts at Sterling Cooper as a secretary and quickly gets promoted to copywriter (and knocked up by Pete Campbell).
WHAT: Cognac, dark crème de cacao, heavy cream
WHEN: In season one, Peggy has a Brandy Alexander on her unsuccessful date with Carl the truck driver.
IS PEGGY WHAT SHE DRINKS? Yep! This drink is rich and sweet but, as Kelley says, it means business. "It looks pretty, but it's mostly booze. It's not a girly drink." He also noted that, "the flavor isn't potent, but the effects certainly are" -- an apt description for this once unassuming but increasingly empowered young woman.
WHERE TO FIND IT IN REAL LIFE: Brandy Library's Alexanders come with a sugar cookie garnish -- a nice snack for studying up on their comprehensive collection of cognacs and calvados.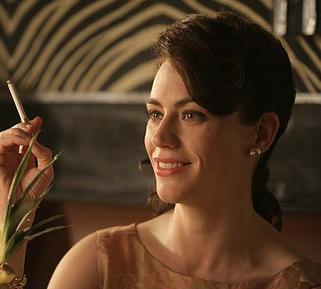 MAI TAI
WHO: Rachel Menken. She hires Sterling Cooper to revamp the image of the department store she heads, becomes one of DD's season one ladies, and is perhaps the most grounded character on the show to date.
WHAT: White run, dark rum, orgeat (an almond-based syrup), uraçao (orange liqueur), bitters
WHEN: On the series premiere, Rachel has a Mai Tai when Don takes her for drinks
IS RACHEL WHAT SHE DRINKS? When we asked Toby what's appealing about this drink, he said, "It's a drink you could have sitting on the beach, or you could drink it on a winter day in New York and use it for that escape."
Rachel smartly declines Don's ill-conceived plan to escape to California, and, it would seem, is the exact opposite of the Mai Tai drinker.
WHERE TO FIND IT IN REAL LIFE: According to Maloney, it's the curacao and orgeat, ingredients originally used by Mai Tai creator Trader Vic, that takes the drink above and beyond. "Unless a bartender really does their research, they're going to put in pineapple and grenadine and turn it into a syrupy mess." The Rusty Knot (where Maloney designed the cocktail list) and Employees Only both stick to the drink's authentic recipe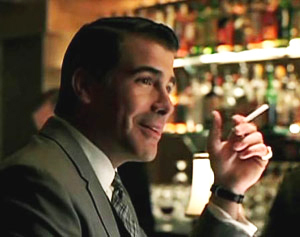 CAMPARI AND SAMBUCA CON MOSCA
WHO: Salvatore Romano, art director for Sterling Cooper, closeted gay.
WHAT: Campari, an herbaceous aperitif, and sambuca, an anise flavored liqueur, are both from Italy. According to Maloney, the three espresso beans in a Sambuca con Mosca ("Sambuca with flies" in Italian), represent "health, wealth, and luck. That's where the idea comes from that there can never be an even number of anything in a cocktail."
WHEN: Season one, Sal goes to drinks with Elliot Lawrence, a salesman for Sterling Cooper client Belle Jolie. His night starts with a Campari with a twist and ends it with a Sambuca con Mosca and an invitation to Elliot's hotel room.
IS SAL WHAT HE DRINKS? Yep! "Campari is for a sophisticated palate, probably drunk by someone who's spent some time in Europe," Maloney says.
Sal's handsome, speaks Italian, and his always-debonair three piece suits make him, by far, the most sophisticated Mad man.
WHERE TO FIND IT IN REAL LIFE: Lots of bars carry Sambuca and Campari, but the classic Negroni, equal parts gin, Campari and vermouth, or the Americano, Campari, vermouth, and club soda, are always options, too. Clover Club adds club soda to create their frothy Negroni Swizzle, and The Hideout's Unusual Negroni substitutes the less alcoholic bitter Aperol, for a less medicinal effect.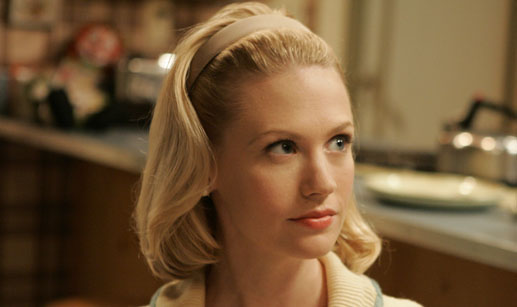 TOM COLLINS
WHO: Betty Draper, a picture-perfect housewife with an unused diploma from Bryn Mawr and an increasingly evident disdain for her husband and children
WHAT: Gin, lemon juice, and simple syrup
WHEN: Don and Betty's young daughter, Sally, has been bartending for her parents this season, making her mother a Tom Collins when the neighbors come for bridge night.
IS BETTY WHAT SHE DRINKS? Yep! Like her drink, Betty is a polished surface with underlying complications galore. According to Maloney, the Tom Collins is ordered by people who "want clean lines, things kept simple and straight forward, and that complexity from the gin." He also said it's a tough drink to get right: "it's one of the litmus tests of a good bartender, to see how someone can take just a few basic ingredients and use gestalt to make something much better than the sum of its parts."
WHERE TO FIND IT IN REAL LIFE: Branch out from Pegu Club's martini! Their extensive collection of gins, with over twenty specialty lables, from California to Holland and France, can instantly punch up a TC.