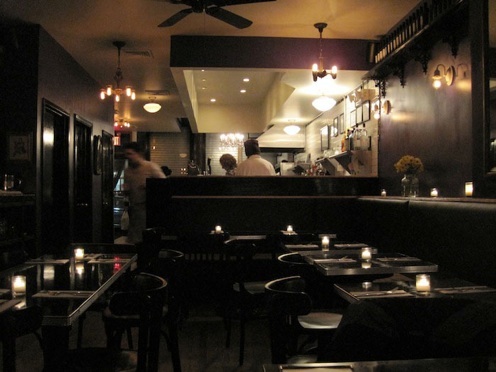 We're hoping most of you aren't in the market for a kidney or
a "Gucchi" monogram bag. So it's a good thing that the East Village's
new Black Market deals less in organs and tacky accessories, and more
in mixologized cocktails alongside simple, but luxe eats. Johnny T of
Niagara and Bowery Electric has quietly opened his latest venture in a
perpetually shuttered storefront on Avenue A but the shady vibe ends
there. Black leather tufted banquettes, deep purple walls, and antique
chandeliers strike a look that's decidedly more swanky than a
rat-infested alleyway. The cocktail menu, crafted by Hotel Delmano's
trusted Sam Anderson, features the tart but smooth Ring of Fire
cocktail (fresh lemon, yellow chartruese, rosemary-infused cachca,
with elderwood-smoked salt), and the 'yer Blues (fresh lime,
peppercorn syrup, silver tequila, cucumber) which satisfies a
margarita craving with extra class. Just as well thought out is the
food -- or at least the Pat La Frieda cheeseburger. At a very reasonable
$11, the burger, while not to be missed, is sized accordingly.
Oysters, a tuna roll (think lobster roll minus the lobster), and a
seasonal salad round out the short but concise menu, with nary a
kidney or liver -- human or not -- to be found.
Black Market
110 Avenue A
East Village
(212) 614-9798