UPDATE: The organizers of the Afropunk festival in London have released a statement following headliner M.I.A.'s controversial statements over the Black Lives Matter movement.
They've defended the rapper, and say she will remain as one of the headlining acts.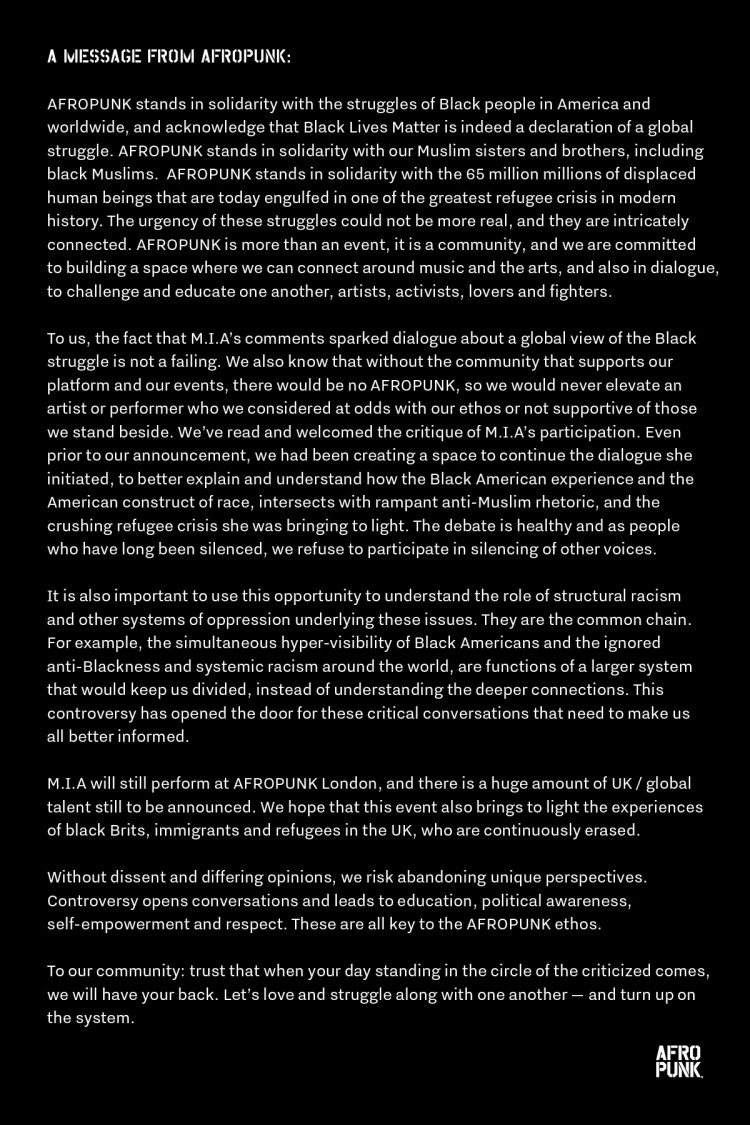 Yesterday, M.I.A. took to Twitter to announce that she would not be performing at this year's inaugural Afropunk event in London. This follows substantial backlash calling for her to be pulled from the festival thanks to comments she made in April criticizing American political activism, and specifically the Black Lives Matter movement.
Sorry I'm not doin Afropunk. I've been told to stay in my lane. Ha there is no lane for 65mil refugees who's lanes are blown up! #nolanes
— M.I.A (@MIAuniverse) June 20, 2016
And while the general consensus seems to be that it's probably best for her to stay away from the seminal underground festival (perhaps in favor of some homegrown talent à la Stormzy, Skepta or Novelist), one unlikely individual has come to bat for M.I.A. -- namely controversial rapper Azealia Banks.
Posting an Instagram photo yesterday of the British-South Asian rapper (since, you know, her Twitter got suspended), Banks wrote, "Leave M.I.A the fuck alone. You guys are idiots and have COMPLETELY missed the point of what she's trying to tell you."
"THIS IS A BLACK PERSON. Sri Lankans/Indians are BLACK. U guys keep for getting [sic] that black is not something we share as an ethnicity it's something we share as a GLOBAL STRUGGLE. Everything/Everyone that is on the opposite side of the Aryan/Christian/Zionist world supremacy agenda has been marked as BLACK. And has been marked FOR DEATH. This includes, Africans, Indians, African Americans, Arabs, Muslims, south East Asians, aboriginal people, ETC. you motherfuckers DONT [sic] GET IT.," she continued. "m.I.a [sic] is trying to explain this deeply complex idea to you all with examples of current events but the LIBERAL MEDIA has its dick so far down you sheeples [sic] throats that you can't even understand what she's saying. SHES [sic] TELLING YOU THAT HER PEOPLE ARE SUFFERING JUST AS OURS ARE. LEAVE MAYA THE FUCK ALONE AND LET HER DO HER PERFORMANCE. FOR FUCKS [sic] SAKE. (Ps: no one said Muslim is an ethnicity! Just like "black" isn't !)"
Definitely an interesting comment to make post-"curry scented bitch" controversy, but, okay...