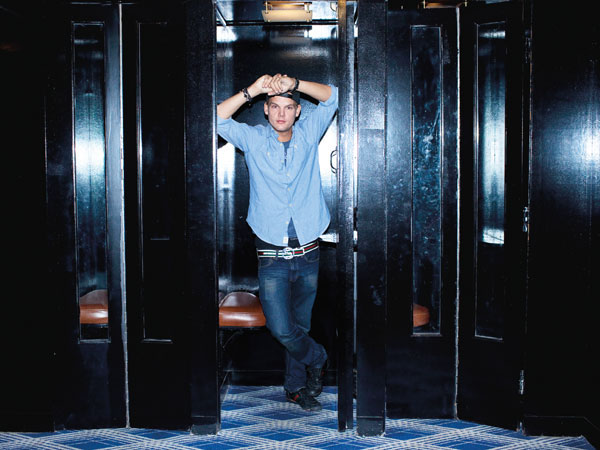 At 1:30 a.m. on yet another wayward weekend night, the W South Beach hotel lobby is in full social fester, entirely populated by tenuous models and dead-ahead party girls ("I'm so super-fucking over all this shit..."), obsessively checking their iPhones and yearning for a rich dreamboat to sweep them off their feet. Every square inch of the place is groaning with opulence, from Damien Hirst paintings to the inevitable herd of Ferraris out front, thundering like rutting bull elephants.
As it happens, the 23-year-old Avicii, a Stockholm native who's staying at the hotel and playing Mansion later that evening, is rich (it's rumored that he makes as much as six figures a night) and famous (the forever-wily Madonna invited the Grammy-nominated DJ, remixer, and producer to appear on stage with her during her recent concerts at Yankee Stadium). Plus, he's not bad-looking -- Avicii is currently the face of Denim & Supply Ralph Lauren and a remix of his "Silhouettes" track is being used for the campaign. But when he finally emerges from the elevator and makes his way through the lobby, dressed in jeans, sneakers, a plaid shirt and a baseball cap worn backwards, Avicii is so relentlessly low-key the women in the lobby don't even look up from their phones.
In tow with his retinue, Avicii -- whose real name is Tim Bergling -- jumps into a waiting black Cadillac Escalade, the South Beach limo of choice for hip-hop stars. Along with hip-hop, Electronic Dance Music (known as "EDM") is the current breeding ground for the last real rock stars of the modern age (see Skrillex, Tiësto, Swedish House Mafia), and Avicii has the pop allure of a young Elvis. His mega-hit "Le7els," which features a sample of Etta James' "Something's Got a Hold on Me," was billed as the "Tune of 2011" by David Guetta in
DJ Mag
, and the euphoric hit has had more than 48 million YouTube views.
Miami, along with Las Vegas, is hallowed ground for DJs, a glitter gulag where real money and reputations are made. "People here are more educated about EDM and it's easier to break stuff here than other cities," Avicii says. Back in March, he was introduced at Miami's Ultra Music Festival by Madonna: Avicii remixed her
MDNA
track "Girl Gone Wild," for which she joined him on stage.
In the Escalade, Avicii addresses a question about Madonna's support of Pussy Riot ("To do that kind of thing on stage in Russia is pretty brave.") and then turns back to the matter of Miami. Although he collaborated with Lenny Kravitz on "Superlove," Avicii is surprised to learn that Kravitz lives in Miami. "Really? He has a house here? Everything we did was through e-mail, which is how most of everything is done now." I mention that a friend rents Tiësto's condo in Miami, decorated with a huge photo mural of Tiësto on stage. Avicii worked with the Dutch DJ and producer on his track "Escape Me" and chuckles at the notion of the condo that EDM built. "Tiësto probably has homes all over the world, but lives nowhere," Avicii says, becoming pensive. "None of us are ever in one place very long: I'm on the road 300 days a year. It's a weird life sometimes, but I really love performing. So many people try, but it's so hard to get in. And staying in is even harder."
His moment of introspection is soon cut short when we arrive in a desolate alleyway behind Washington Avenue. A door suddenly opens along a grimy wall and Avicii bounds out of the car, ready to do battle at Mansion. Inside the VIP room, he knocks back a Red Bull, poses for a photo with a bouncer, and then jumps into his set in a DJ booth surrounded by his friends; a showman who works his equipment with a Jimi Hendrix-like intensity, breaking into a sweat. He punches his hand in the air as the audience dances and sings along, the whole concert resembling an EDM revival meeting.
Avicii's show is a kind of interactive performance art, conducted by a post-modern star of the new age: there are references to The Who's "Baba O'Riley," vintage Miami bass, and early soul hits, along with hair-metal riffs and nods to Daft Punk. Throughout, Avicii manipulates songs like "The Tracks of My Tears" by Smokey Robinson and the Miracles, producing a cross between middle-period Peter Frampton and Alvin and the Chipmunks. Bottles of champagne arrive in the VIP room in gold cages accented with sparklers, served by waitresses in
Fifth Element
-style costumes. Above the dance floor, nearly-naked go-go dancers cavort like trapeze artists.
Four years ago, Avicii was a Stockholm teenager messing around on his computer at home. Now, he's
A Star Is Born
for the Internet Age. And somehow, he's still immensely likable, with perfect European manners: he's unfailingly modest. I ask him about his pop history moment: he's the first EDM star to play New York's legendary Radio City Music Hall. (Avicii sold so many tickets he wound up doing two consecutive nights of shows.) I point out that the formality of Radio City is a long way from Mansion and lends a little gravitas to the EDM movement. "I've heard it's an amazing old-school kind of venue," he says quietly. "But maybe I can get people up and dancing on their seats."
Click to enlarge image
With reporting by
Claire Austin
Grooming:
Sarah Sibia
at See Management using Malin + Goetz