According to Azealia Banks, the song "212" was born of some very bleak circumstances. The track, one of the most thrillingly headstrong singles of the past year, is a hip-house banger in which the 21-year-old Harlem native lays out a series of increasingly outrageous boasts over a sizable sample of "Float My Boat" by the Belgian dance duo Lazy Jay. "Hey, I can be the answer," Banks raps right at the top, before going on to assert that "I been that bitch since the Pamper"; three minutes later she's beaming her confidence outward, promising with a sexy-terrifying sneer in her voice, "I'm-a ruin you, cunt." It's musical gunpowder.

Yet for all the cool-kid swagger that "212" exudes, Banks says she wrote it in response to feeling left out. "Nobody was listening to my music," she recalls. "I had been dropped from [the English record label] XL. My manager dropped me. My boyfriend left me. I was starting to accept that my career was never gonna happen." She shrugs her tiny shoulders. "So the song was just me, like, 'Fuck y'all. Y'all not gonna help me? I'm gonna get it myself.'"

Get it Banks most certainly has: Since last fall the powerful black-and-white video for "212" -- the one where she's memorably rocking pigtails, cutoffs and a Mickey Mouse sweater -- has racked up over 17 million views on YouTube and been shouted out by everyone from Kanye West to Gwyneth Paltrow. NME put her at the top of its 2011 Cool List; Karl Lagerfeld asked her to perform at his home in Paris. And now, following six months of SoundCloud jams and scattered live gigs, she's in Los Angeles finishing up her debut album for Interscope Records, tentatively titled Broke with Expensive Taste and due out this fall. Banks is cagey about its sound, its subject matter, even who she's working with on it. But she promises quality. "The music is the music," she says over lunch at a Brazilian joint in L.A. "And it'll be good."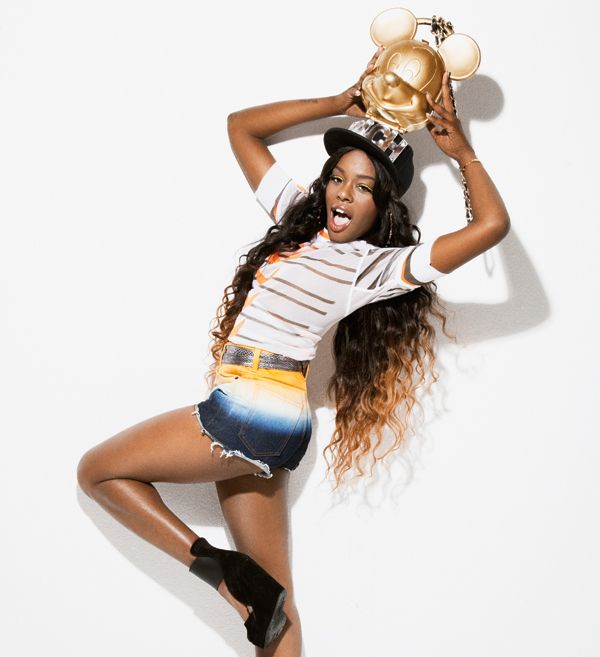 Shirt by Alexander Wang, belt by Diesel Black Gold, shorts and hat by Joyrich, shoes by Pedro Garcia, earrings by Glynneth B and bag by Todd Pearce for Love Bailey.

There's no doubting the role Banks's tunes have played in building such a deafening buzz: Beyond "212," tracks like "Fuck Up the Fun" and the timpani-powered "Jumanji" reflect her firecracker flow and her exquisite taste in beats from around the globe. But it's also the rapper's unique style -- think rough-and-tumble street kid meets leather-clad glamazon -- that adds to the whole package. The designer Alexander Wang, who always has his eyes peeled for music's next It Girl, took Banks as his guest to this year's Met Ball.
Before she was prematurely staring down quarter-life crises, Banks was a New York City kid with big dreams. She grew up on 152nd Street with her mom and two sisters, complementing classes at LaGuardia Arts High School (aka the Fame school, and fellow MC Nicki Minaj's alma mater) with a gig at Starbucks she remembers not terribly fondly. A stint doing musical theater taught her about being onstage, she says, though she's quick to add that her experiences online were no less formative.
"My generation, that's just what we're into," she says. "When we got home from school, that's how we kept up with each other: AOL, Zynga, Angelfire, Napster, shit like that." Banks says her family got its first Internet connection when she was 9 or 10. "You'd be on there and you'd go to, like, sex.com!" She laughs. "You're mad obvious with it when you're a kid. You know how many times they probably sold sex.com? It's like the go-to URL."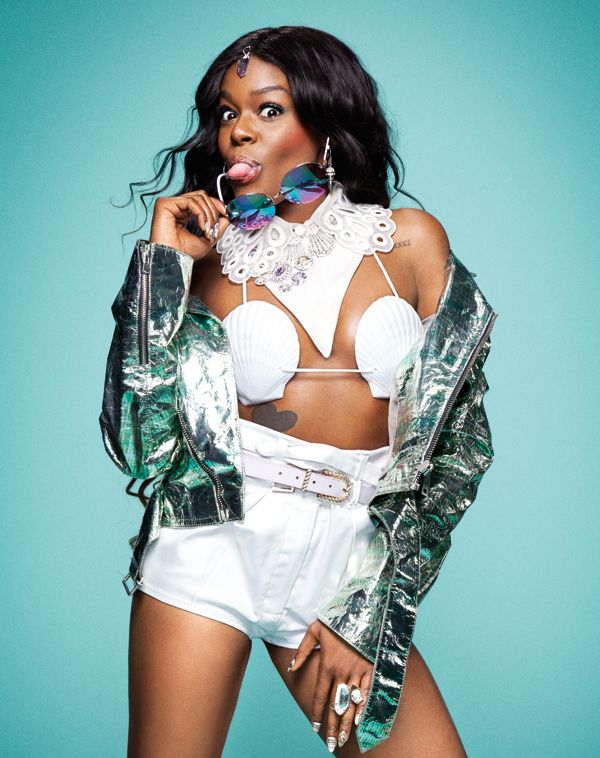 Jacket by Diesel Black Gold, shorts by Ashton Michael, collar by Louis Vuitton, belt by Versace, glasses by Diesel, necklace, earrings and ring by Mishka Piaf, and earring by Glynneth B. 
At 17, she switched from musicals to rapping, saving up her Starbucks money to record rambunctious rap cuts like "Gimme a Chance" under the name Miss Bank$. Those tracks caught the attention of super-producer Diplo, which in 2009 led to a development deal with XL, home to Adele and the xx; the relationship soured, though, and soon Banks sought safe haven with friends in Montreal, where she continued to work on her music, including the song that would become "212." Did she know immediately that the song was a hit? "Kind of, yeah," she replies between bites of black beans and rice. "Because of that house beat."

"I was knocked out right away," says Interscope executive vice president Larry Jackson, who signed Banks to the label after a friend hipped him to the "212" video. "In the '90s it was all about how much money people could spend on their videos, right?" he says. "I remember hearing about the Busta Rhymes and Janet Jackson video for 'What's It Gonna Be?!' It cost a million dollars! Now, with the Internet, it's more about the creativity to execute a great idea even if it costs one dollar. What attracted me to Azealia is the way her personality shined through in a really compelling way -- her charisma and her skills as an MC. I felt like I was getting a real glimpse into her world."
Right now Banks' world is moving at a remarkable clip. At lunch she's friendly and talkative, but occasionally distracted, too, as though she's subconsciously contemplating the half-dozen appointments she has lined up following ours. And this is the relative calm she moved to L.A. to take advantage of. "For me there's three options of where to live: L.A., London and New York," she says. "London's too expensive and New York's too exciting: too many parties, too many of my friends. If I wanna make this my life, I have to live somewhere I can work, somewhere I can focus." She laughs. "My album will not come out in September if I live in New York."
Top by Acne, pants by Diesel Black Gold, necklace by Glynneth B and cuff by Juju Gold.   

Though she admits that her busy schedule has impacted her mind in some alarming ways -- even a once-pleasurable manicure takes too long now, for example -- Banks is surprisingly cool-headed about the demands being placed on her: not just the recording sessions and the concerts, but the calls and the meetings and the endless schmoozing with Very Important People.
"The music industry is like a machine," she says. "It's always going, and this new generation of artists -- me, A$AP Rocky, Rita Ora -- we're the fuel that's keeping it going. And once you get in that machine you've gotta run with it. There's a crazy inertia that's been going for years and years and years, and it's not gonna stop for you, so you've gotta keep fucking working. The minute you stop working, that's when you get stuck in the gears. And that's when it grinds you up and spits you out." But doesn't that constant work leave zero time for normal-person stuff? "That's what you give up when you sign that contract," Banks replies. "This hustle and bustle becomes your normal-person shit."

Moving from the cool-musician zone into the famous-person zone -- in which her Twitter beefs with the likes of T.I. and Lil' Kim have made news -- has been a bit of a trip, she acknowledges. "When celebrities have kids, their children are famous," she marvels. "People want pictures of your children. People wanna see you eating at the restaurant, putting gas in your car. But they only wanna know about your life because you created something they can relate to."
That's wisdom she says she received from legendary Interscope chief Jimmy Iovine, who's also shepherded the careers of Eminem and Lady Gaga. "Jimmy tells you to keep the wind behind you," Banks says. "The music is what's important. These people are not gonna wanna talk to you if you don't have music; they're not gonna be interested. And your star is not always gonna be as bright. So you really have to seize the day."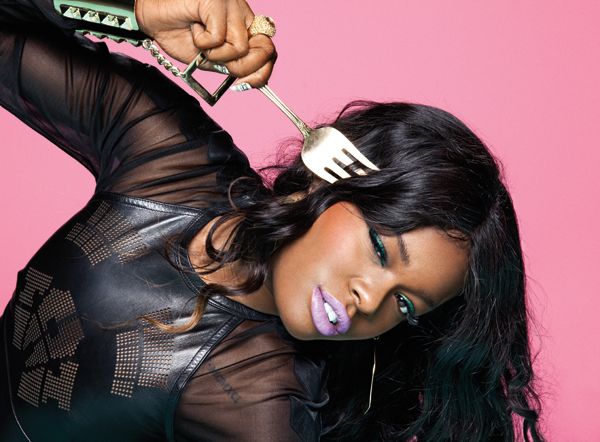 Top by Alexander Wang, earrings and cuff by Juju Gold and ring by Mishka Piaf.

Travis Stewart, who under the name Machinedrum has produced several Banks tunes (including two from her recent 1991 EP), is confident that her music will speak for itself. In their own collaborations, the two have worked together in the studio but have also done the "I-send-her-a-beat-and-she-writes-to-it thing," Stewart says. "I typically don't like to work that way, but [with Azealia], fuck it -- she kills it every time!"
As we finish lunch I ask Banks how the songs on her album will compare to "212" now that she can no longer lay claim to the left-out feeling that spawned her first hit -- less than a year after its release, Banks is fashion's latest darling, an insider's insider with loads of famous friends (including Nicola Formichetti and M.I.A.). How will she re-access the scrappy intensity that spoke to so many people? She pauses for a while, chewing her steak, then says, "I don't know. I don't think you re-access it. I think it happens, the music gets made and it's like a moment in history." Chew, chew, chew. "Then you move on to the next one."
Shot at Smashbox Studios Culver City
Hair by Brianna Shehee for Lush Hair Imports and Salons
Makeup by Samuel Paul at Jed Root using NARS Cosmetics
Manicure by Barbara Warner for NARS / CelestineAgency.com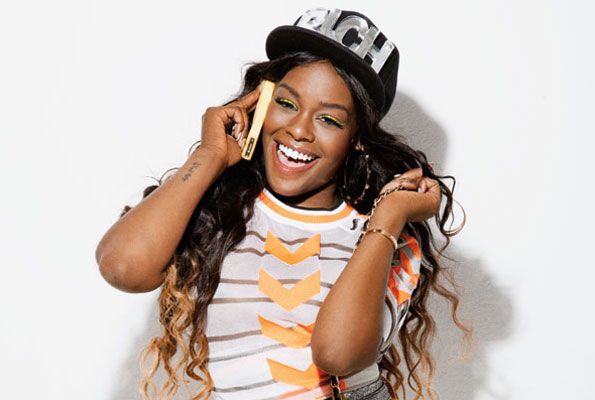 FOR A GOOD TIME CALL .... OUR AZEALIA BANKS HOTLINE! DETAILS HERE.