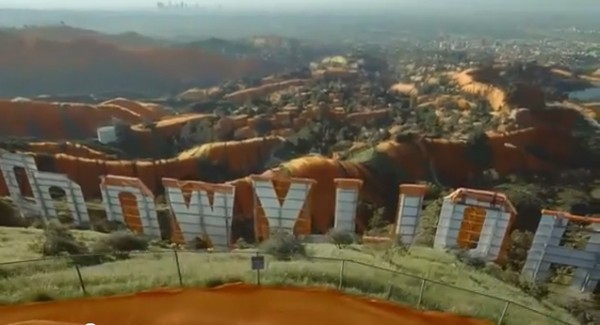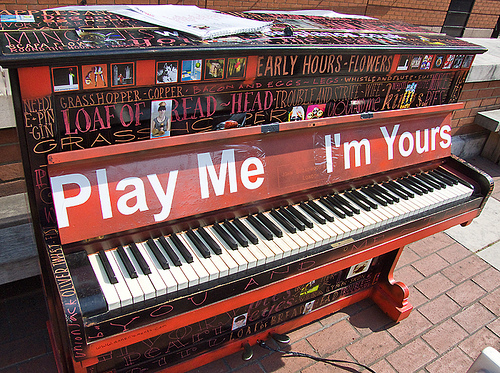 1.
AT&T
is trying to diffuse the controversy over its
Christo
-esque ad depicting landmarks draped in saffron-colored fabric. The "Rethink Possible" commercial now includes this disclaimer: "The artists Christo & Jeanne-Claude have no direct or indirect affiliation or involvement with AT&T."  BTW: The background song is "From the Morning" by
Nick Drake
from his
Pink Moon
album released in 1972.
2. Sixty upright pianos have been placed around New York City and everyone is invited to tickle the ivories.  The pianos are an interactive/conceptual artwork called
"Play Me, I'm Yours"
 by
Luke Jerram
.They're going to stick around until July 5 and the locations plus more info are here.
3. Ahead of its US premiere on Friday,
Prince of Persia
opened last weekend in the UK but not at #1.  That honor went to
StreetDance 3D
.
4. When you're down on the LES be sure to check out
Nike
's
255 Studio
(255 Elizabeth Street) and order-up some custom gear.  Now featuring a baseball theme, the ever-evolving store will change to soccer in June as the World Cup approaches.
5. A (really) BIG yoga event led by
Elena Brower
is planned for June 22, 6 p.m., in The Great Lawn, Central Park. Free mats are being provided by jetBlue.
6. Governors Island will again be the location of the annual
Figment
participatory art and culture event, June 11 to 13.  Go here for more info.