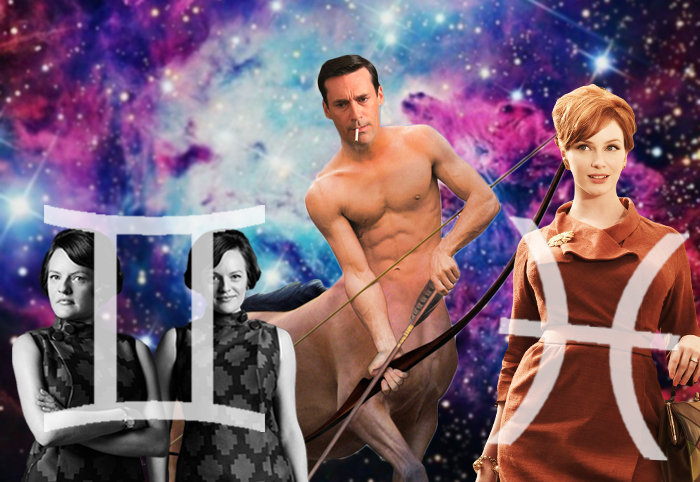 For all
Mad Men
enthusiasts, I will be creating the "natal charts" for each of the three main characters of the show whose birthdays we were able to uncover: Don Draper, Peggy Olson and Joan Holloway Harris. The editors of Paper Magazine have done some digging to find the birth dates of these three -- the only characters to have their birth dates revealed on different occasions during the past five seasons of the show.

No times of birth were listed, of course, so I looked at the natal planets that were at play on the dates stated and also placed the birth in the city that approximated the place each character alluded to as a home birth city. In Joan's case, we don't know her home birth city so I had to make an educated guess based on the scarce details we know of her upbringing. I estimated the ascendant sign too (also called the "rising sign"), judging by the traits and talents of each person on the show. Keep in mind that my analysis relates to the character in the story, not the actor playing the part. To discuss the actor would be a whole other article!

In case you're not familiar with the term "rising sign" or "ascendant" (both terms are used interchangeably, as they have the same meaning in astrology), a rising sign is the sign found coming up over the eastern horizon at the precise minute of birth no matter what time of day that happened to be. (It does not have to be in the morning -- and rarely is for many people!). It includes a calculation of the longitude and latitude of the place of birth too. The rising sign is considered equal in importance to the Sun sign and explains why all Sun sign natives are not alike -- we are all a combination of both. Specifically, the rising sign reflects the qualities you adapted naturally to cope with life.

Now, without any more delay, let's get started with the second of our three main characters: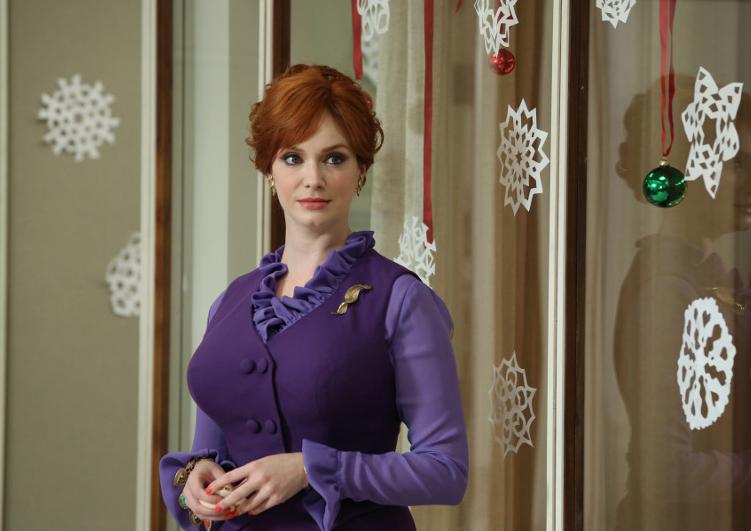 Joan Holloway Harris
Over the course of five seasons, we watch Joan use her savvy -- and make some difficult decisions -- to go from office manager to partner at Sterling Cooper Draper Pryce
The show revealed Joan Holloway Harris to be a Pisces, born on February 24, 1931. We don't know where Joan was born so for our purposes (and based on the limited information available on the show), I've assigned her birth location to Hartford, Connecticut and her birth time at 7:45 a.m.

Pisces is a tender, compassionate sign that is born with a great deal of imagination and vision. Pisces is always happiest when working on their own creative projects or at the very least, to be close to others working on theirs. Creativity to a Pisces is like oxygen to the soul, so it does make sense that Joan is a Pisces.

Pisces also loves to take care of others who need their help -- the person they help might often be a complete stranger -- and Joan is like the earth mother at the advertising agency (even if she can occasionally come off as bristling -- it's just tough love!). She is sensitive to everyone's needs in the office, doing small thoughtful things like bringing chocolates and flowers to the office switchboard workers, giving advice to a new secretarial recruit, or taking the time to give an executive a shoulder to cry on. In each case, she will dispense wise advice in a concise way.

I feel Joan has entrepreneurial, courageous, confident, and sometimes bold Aries rising. This would place her natal Uranus in Aries in the most important place in the chart, on the eastern horizon. Uranus would bring out a strongly independent, dramatic streak of her personality and hint at the modern woman that lies just under the surface.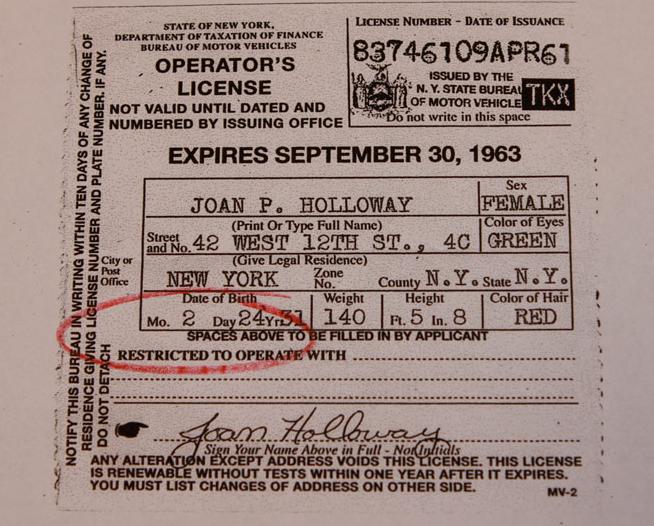 A copy of Joan's driver's license, which reveals her date of birth


With Aries rising, Uranus would make Joan's appearance striking and memorable -- Joan has that quality, for sure. Joan is also a striking redhead, one who is given to wearing red dresses to the office season after season. Uranus rising would also make a person very charming and bring out a kaleidoscope of interesting facets to her personality. At the same time, with Uranus rising, Joan can be aloof and hard to get to know to those who are just meeting her for the first time. That seems to fit Joan, too. Joan knows many people but chooses her closest friends carefully -- she doesn't waste her time. Yet Joan's voice is surprisingly soft in a way you'd not expect from a strong personality (strong due to her Aries rising). Her voice belies a strong underlying femininity, thanks to her Pisces Sun. Pisces is very girly, and contributes powerfully to her compassionate ways. Her Sun is in the twelfth house of secrets, and she does hold secrets that others tell her in strict confidence.

Uranus is the natural ruler of Aquarius, so with Uranus rising, Joan would have an Aquarius shading to her personality and that explains why she would be friendly to staff, and why she would get along well with Don and, eventually, Peggy. (Don Draper has the moon in Aquarius, and Peggy Olson is strongly Aquarius too, due to the interception of Aquarius in her first house of personality). People with Uranus rising, as I feel Joan has, will make decisions that make sense to them, but that often surprise or even shock others around them. Joan was married to Dr. Greg Harris, but their child was in truth fathered by senior partner, Roger Sterling. 

The way Joan becomes a partner at the firm is perhaps the most unusual move she's ever made -- and that is an understatement. Joan agrees to sleep with a client at Jaguar in return for a partnership in the firm, which would also give her a seat on the board. Acquiring the Jaguar account would allow the ad agency to establish itself on a whole new level and would allow Joan the same benefit. Some would call this a "win-win" situation for all, although it is shocking at best, illegal at worst, and very high on the "Eww" factor. Despite Joan's complete shock and disdain for the idea, she surprises everyone on the board and goes through with it -- and makes her demands for the resulting compensation.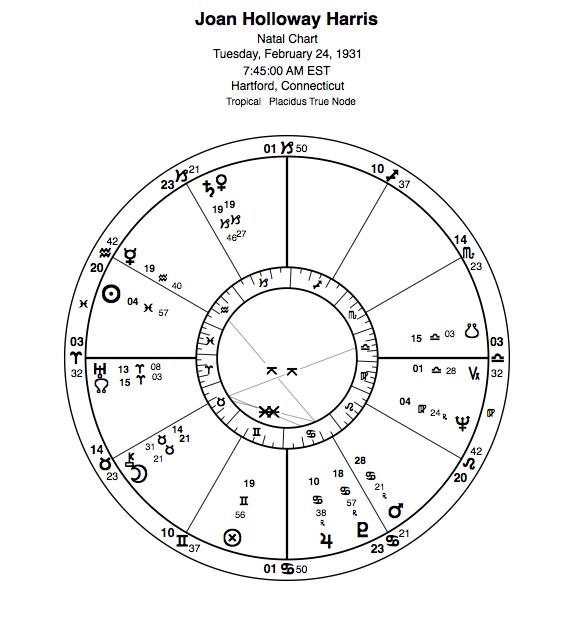 Joan Holloway Harris' natal chart

Why did Joan go ahead with this sleazy plan? By the time this "opportunity" came up, Joan was in a precarious place in life. She already had a child she was raising alone and knew an opportunity to quickly rise to the top might never come again in any form. Joan quickly perceived this to be her chance of a lifetime, one that could change her life and that of her child permanently for the better. She moved ahead with the offer despite her misgivings, because of the considerable back-end benefit. She quickly named her price and got it. What surprised everyone was the powerful contribution she would make once she was on the board, keeping the men organized, and never letting her eye off the bottom line.

Joan's natal moon is in practical Taurus, a global financial sign like Cancer and Capricorn. Joan has three natal planets in financially savvy, thrifty Cancer -- Mars, Jupiter and Pluto. If you doubt the depth of financial acumen of the sign of Cancer, consider that most of the Rockefeller family was born frugal, financially smart Cancers too.

Joan proves to be an interesting, strong, independent woman, well suited for her evolving role as corporate board member. With Aries rising, she is a born leader, and her advice in regard to new clients, new markets and new media techniques will prove valuable to the firm in the future. She may also have wise thoughts to share about opportunities in regard to mergers and acquisitions. Joan quickly established herself not as a little girl dressed up in mommy's best dress and high heels, but a thoroughly modern woman ready to take on the world.

If you would like Susan Miller to explain your natal chart to you in a custom 65-page book, you can go to www.SusanMillerMyPersonalHoroscope.com. Order the yellow-purple cover book, and it will be ready in approximately two weeks. Once you know your rising sign, you can find horoscopes for it, along with your Sun sign, on Miller's website, AstrologyZone.com.

More Mad Men Astrology Charts:
Peggy Olson