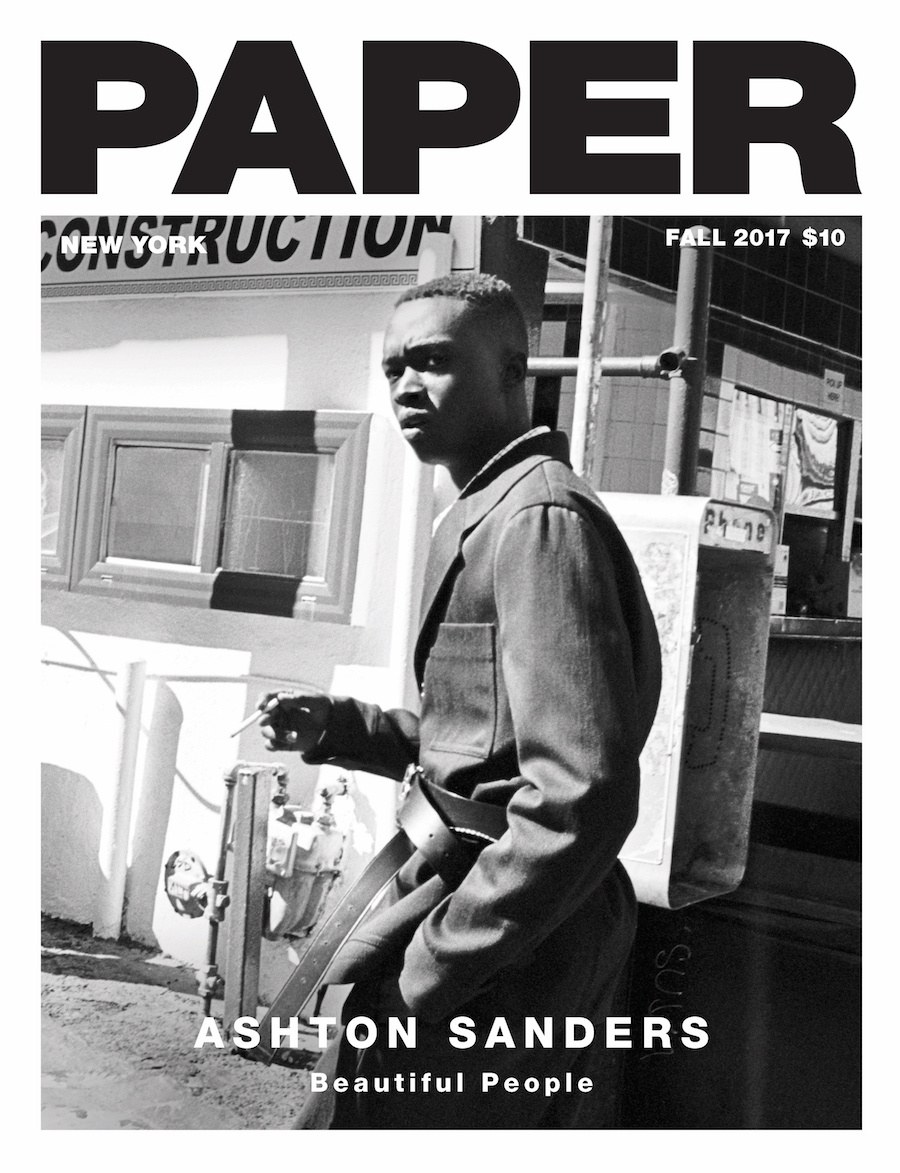 This past May, Ashton Sanders found himself on the red-carpeted steps of the Metropolitan Museum of Art, dressed in a custom head-to-toe leather outfit by Calvin Klein, alongside rapper A$AP Rocky and actress Julianne Moore. The 21-year-old Moonlight actor had only just seen Boogie Nights the week before, and, now that he was standing next to one of its stars inside the Met Gala, he couldn't resist the chance to chat with Moore about her 1997 classic. "I was talking to her and it's crazy because I'm just learning [her] body of work and who [she] is," Sanders recalls. "It's like, damn. It's just crazy."

It's perhaps just one of many "crazy" moments in a year full of them since Moonlight first came out to wild acclaim last fall before going on to win the Best Picture Oscar in that heart-stopping and historic La La Land envelope mix-up (it also took home Best Supporting Actor and Best Adapted Screenplay trophies). And while many of us watching on the outside marveled at the indie film's well-deserved success and the "overnight fame" it brought to its stars, Sanders, at least, wasn't surprised by the movie's impact on him or his career. He found out he'd booked one of the lead roles in the coming-of-age drama a week before he was about to start his junior year of college at Chicago's DePaul University and recalls knowing little about the project beyond his role. But he knew "it was something I would be passionate about," he says. "I knew that Barry [Jenkins] was a really great director and the story was gonna be lit." His experience filming the movie in Miami didn't disappoint ("it was a super magical journey"), and by the end of the two-week shoot, he'd realized the project was going to be "life-changing."

He might not have been able to fully anticipate the wild ride ahead, but in his gut he knew that the moment he'd worked for all his life had arrived, and he decided to drop out of DePaul to pursue acting full-time. He was now formally launching a career in something he'd been passionate about -- and certain about -- since he was a 10-year-old kid growing up in LA. It was in middle school that the self-described "odd one out" at that age asked his father if he could sign up for acting classes and ended up at Amazing Grace Conservatory in South LA, a program that focuses on fostering talent in African American youth (Insecure's Issa Rae is another notable alum). There, he blossomed right away: "The training was super impeccable, and I felt like I had a community of people that understood me," he says. "I was able to express myself through dancing and singing and acting and grow to love this craft. It became a part of my life and changed me. Basically, I got hooked."

Click through to see more photos of Ashton Sanders from our Beautiful People issue!
Sanders went on to attend an arts high school in downtown Los Angeles, sign with an agent and start auditioning for roles. At 15, he landed a part in The Retrieval, an indie Western film set in Texas that required him to take three months off school. From there, he appeared in a small but memorable scene in the hit Straight Outta Compton, as a fellow high schooler riding the bus alongside O'Shea Jackson Jr.'s Ice Cube character. Sanders taunts a car full of gang members driving alongside them, only to end up with a gun pressed against his temple, embroiled in a chilling exchange. If these two parts cemented Sanders' confidence in his abilities -- "It was like, 'Damn, you can do this, Ash,'" he says of his reaction to watching himself in The Retrieval for the first time -- Moonlight showed him the depths he was able to access for a role.

"You couldn't just act this character -- somebody has to become this boy," Sanders says of portraying Chiron, a teen growing up in Miami's poor Liberty City neighborhood, forced to witness his mother's devastating drug abuse and mercilessly bullied by his peers, all while struggling to come to terms with his own sexuality. "I had to step out of my skin or even expand my skin to become this dude. I gave myself over, and that made me vulnerable." He continues, "I was feeling all of these things I haven't felt in years. I'd have days where I'd go back to my hotel and be crying and having to write and write, but it was beautiful. It was a very delicate experience."

While Sanders may have predicted that the movie would have a big effect on his life, now that it has, he's still not fully adjusted to the changes it's brought, and he struggles to describe how the last year has felt overall. "I couldn't tell you because I'm still trying to figure it out," he says. "This isn't like a normal thing, you know? You don't feel normal in it. You never get used to it. You just kind of have to accept it. I'm still trying to catch up with everything. I don't think I've taken in the Oscar yet. I was just kind of there, just kind of shocked or stunned -- almost like, 'Uh, whaaaaat?' Basically this entire year has been like, 'whaaaaat?'" He gestures to the recorder in front of him and says with a laugh, "That's just the entire interview: 'How do you feel about everything, Ashton?' 'Um, whaaaaat?' That's how I feel."

Truth be told, he hasn't had much time to stare off into the middle distance and process the Moonlight ride. The same month as the Academy Awards, Sanders landed back in Chicago and began three months of shooting his first major motion picture, Captive State. The sci-fi thriller is directed by Rupert Wyatt (Rise of the Planet of the Apes) and stars John Goodman and Vera Farmiga alongside Sanders in a story of post-apocalyptic life in the Windy City after occupation by an extraterrestrial force. He visibly lights up talking about his role, where he plays a leader of the resistance, particularly the challenge of filming his first action sequences and the sheer size of the shoot. "It was definitely a learning experience," he says. "I was really, really nervous [shooting], but also I had people around me on set that were comforting. Rupert was just all about the actors and making sure we were all right, just like Barry was in the same way -- the same respect. I think as long as you have that relationship between the director and the actor or your scene partner, then everything else just falls into place."

But though Sanders has enjoyed his first blockbuster role, he's still drawn to indie film. "I feel like some of the best storytelling is done through independent filmmaking, which is interesting because a lot of people don't watch independent film," he says, adding that he'd love to work on projects that bridge the gap between indie storytelling and mass audiences. When asked whose acting career he might like to emulate, he points to Jake Gyllenhaal, a perfect example of someone who's successfully gone back and forth between sensitive indie dramas and big studio action flicks. "I get excited if I see somebody like Jake Gyllenhaal, especially after seeing Nocturnal Animals," Sanders says. "He's one of my favorite actors at the moment."

Though Sanders is poised to have a long, fruitful career in entertainment, there's another industry that has caught his eye and, in turn, has its eye on him: fashion. Unlike Chiron's simple, please-don't-look-at-me style, Sanders expresses himself with bold silhouettes and risk-taking outfits that reflect an innate confidence and well-developed sense of self. (All of this is exemplified on the day of our interview by Sanders effortlessly wearing a small, '70s-style denim vest, thin-fitted jeans and pointed black leather boots.) He attended his first New York Fashion Week this past February, and on the heels of Moonlight's big Oscars win, he appeared alongside his co-stars in a Calvin Klein underwear campaign. His strong relationship with Calvin Klein's chief creative officer, Raf Simons, hints at future involvement with the brand or even his own line, eventually. "Raf has taken me under his wing and I'm just learning a lot from him," Sanders says. "I'm a creative, so I might have an idea and draw something or write something down, but I'm not creating a line at the moment. I do think down the line it's something I'll for sure be doing. I get exhilarated thinking about it."

In fact, his dad was a menswear designer, far ahead of his time, according to Sanders. "He has samples back at my house where he was designing these two-piece men's suits that are on the runway now. It's really crazy. I'll be at a fashion show or be screen-shotting fits and be like, 'Dad, yo, you designed this literally back in 2005.' And he's like, 'Yo, I know. It's crazy.'"

No matter whether Sanders goes on to pursue more indie projects, blockbuster films, fashion design or a mix of all those things, he says, "Above it all, I just wanna be Ashton and not lose myself within any of this. I've had moments where I've wanted to just stop, to be honest -- take a break from it all. But, at the same time, I'm here to teach people through my art and to inspire people and touch people, so it's not only about me." Not a shred of this special opportunity is lost on Sanders, whose enormous brown eyes fill with emotion as he talks about this moment in his young life. "It makes me realize how blessed I am to have this talent," he says. "I want to move forward in inspiring people through my art and to continue to be as great as I can be within it. And I mean, it just makes me feel like I'm doing something right."
Text by Jessica Jardine
Photos by Cameron McCool
Styling by Jason Rembert and Jessie Jamz

Grooming by Tasha Brown for Exclusive Artists using Jack Black and Hanz de Fuko

Location Ace Hotel Downtown Los Angeles