Our annual April
Beautiful People Issue
, celebrating a cavalcade of cuties to watch in different disciplines, has been such a sensation we've decided to showcase noteworthy movers and shakers all-year round on Papermag.com. We kicked things off in the city of Angels, and will be
posting an L.A.-based Beautiful Person a-day
for the next few weeks.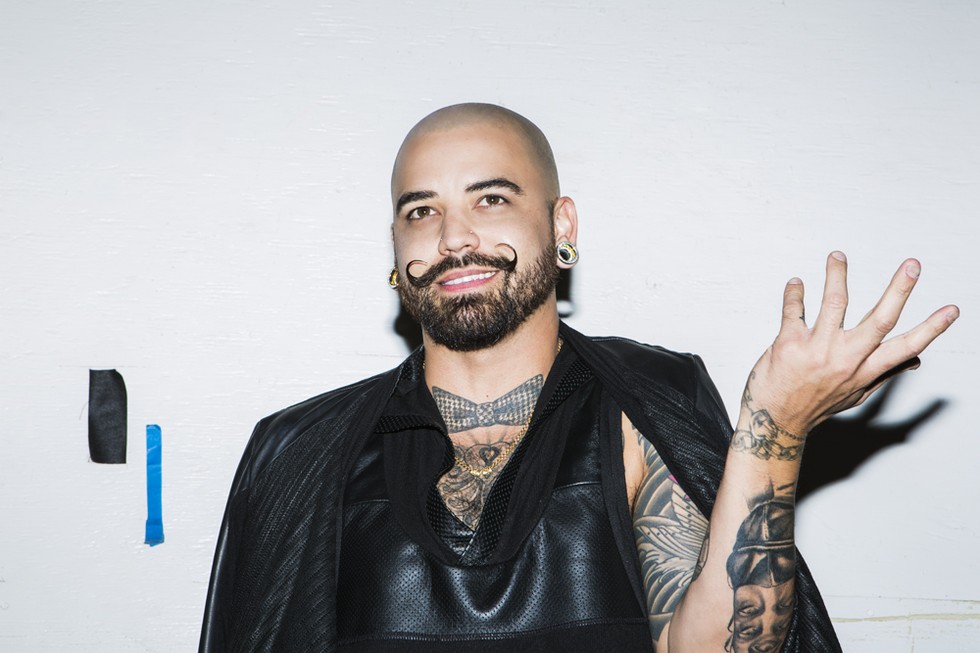 You might not recognize the name
Ashton Michael
, but you've seen his leather designs on stars like Cher, Nicki Minaj and Miguel. After making his debut in the fashion world at the tender age of 19, selling his designs at Patricia Field, he's now working with a whose who of celebrities, creating his unique rock 'n' roll leather works in L.A. and getting cruised by someone who strongly resembled John Travolta at Korean day spas.


Describe what you do in 3 words.
Inspire, design, create.
What are you working on now?
I'm currently working on Cher's TV performance looks, Miguel's tour goodies, my SS/14 collection, and Big Dipper "Jelly" music video, and renovating my new atelier in Hollywood -- that's just this week!
Describe living in L.A. in 3 words
.
Famous for nothing.
When you were little, what did you want to be when you grew up?
A professional baseball player...all 5'6 of me!

If you got to take over MOCA, what would your first exhibition be?
I would do a leather-based exhibit, having works by current artists those who have passed, including fashion designers, sculptors, painters, fetish photographers, etc. I'd show the vast versatility of leather and how it inspires those who work with it. I'd feature sculptors like Sabi Van Hemert, photographers like Rick Castro, and artist Eva Rothschild.
Are you from L.A. originally?
I grew up in LA County and spent more time in Hollywood and the city of L.A. more than I did at home. I was a child model and was very used to being schooled in a trailer or spending my afternoons at castings or my agents. I became very numb to the glorified perception of "LA" at a young age, which I'm very grateful for; I think it's kept me grounded throughout my professional career.
What's the biggest misconception about L.A.?
That people who say they're from LA have just migrated here and give the natives a bad wrap.
Where's your favorite place to eat in L.A.?
KTCHN DTLA -- voted
one of the best brunch spots in LA
for the past couple years. Owned and operated by my boyfriend. Menu changes bi-weekly and is wicked original and tasty.
Whose sex scandal is more embarrassing -- Anthony Weiner's or Arnold Schwarzenegger's?
Equally ridiculous! I mean groundbreaking?  A politician acting inappropriate?  God bless social media, though. Weiner should've known better than to leave a paper trail. Silly rabbit.
Who's the most beautiful person you can think of?
My grandmother. She was the most pure-of-heart island woman that had a healing energy that radiated off her; beautiful doesn't begin to describe how incredible this woman was.
What's the most touristy L.A. thing you've ever done? (Or, what's the one touristy L.A. thing that's actually worth checking out?)
Being based in the heart of ALL the tourist attractions, at Hollywood and Las Palmas, every day is a tourist adventure for me, even to get a cup of coffee. That said, one of my favorite places in LA is the Getty. If you're visiting, it's a must. The views are breathtaking. Have a glass of vino in the garden and enjoy the art.
What's your best celebrity run-in story?
Maybe not the "best" since I'm very blessed to work with so many amazing celebrities on the regular, but the most interesting would be when my boyfriend and I got cruised by John Travolta at a Korean day spa.
As the conversation went:
Me: "Ew, did you see that old guy cruising us? There are kids around!"
My BF: "Um, you mean John Travolta?!"
Me: Speechless.
If you could be any star from Old Hollywood, who would you be and why?
James Dean. What guy wouldn't want to be an all-American bad boy with sex appeal that lived life in the moment. Only the good die young and his legend lived on as a cultural icon to this day.
What's your favorite street intersection in L.A.?
Anyone with a green light going with my direction of traffic
SEE MORE FROM OUR BEAUTIFUL PEOPLE LOS ANGELES SERIES
Ashton wears a self-designed jacket and top. Grooming by Ren Bray.