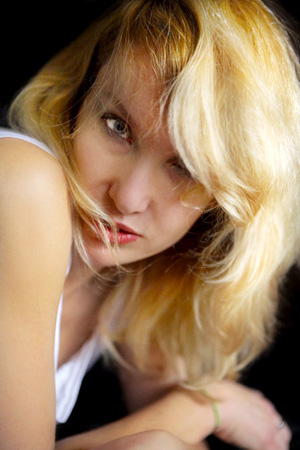 In his regular feature, "Artist Residency," Aubrey Mayer takes a photo of one of his favorite artists and asks him/her a series of simple questions. Here is Rita Ackermann, who (along with Agathe Snow) is organizing Abat-Jour, a gypsy feast that taking place Mar. 23 as part of the 2008 Whitney Biennial.
Aubrey Meyer: Where are you from?
Rita Ackermann: Hungary
AM: Where do you live?
RA: Chinatown in New York
AM: How did you become an artist?
RA: I wanted to feel creative.
AM: What is the oddest job you've ever had?
RA: I was a waitress in Hungary.
AM: Who's your favorite non-living artist?
RA: Beethoven
AM: What book are you reading at the moment?
RA: The Aesthetics of Disappearance by Paul Virilio
AM: When are you happiest with your work?
RA: When I use lots of colors.
AM: What do you find most sexy?
RA: My underwear

AM: What is your favorite piece art that you own?
RA: "Don't Give Me Salad" and a drawing by Marika Thunder Nuss
AM: What is your favorite walk?
RA: Down dirt roads
AM: When and where is your next show?
RA: March 23, The Whitney Biennial 2008
***
Past artists:
Tony Just
Ari Marcopoulos
Ricci Albenda
Olaf Breuning
Agathe Snow
Brian DeGraw and Lizzi Bougatsos of Gang Gang Dance