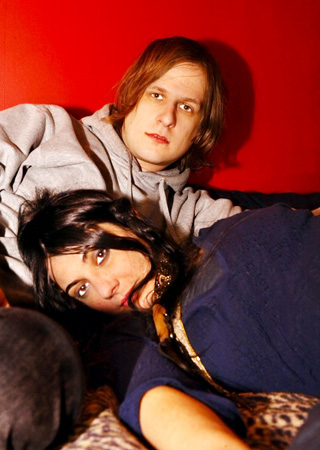 In his regular feature, "Artist Residency," Aubrey Mayer takes a photo of one of his favorite artists and asks him/her a series of simple questions. Here are Brian DeGraw and Lizzi Bougatsos, members of art-rock band Gang Gang Dance, part of the 2008 Whitney Biennial.
Aubrey Mayer: Where are you from?
Brian DeGraw: I am from the Planet Connecticut.
Lizzi Bougatsos: Strong Island, New Yawk
AM: Where do you live?
BD: On Planet New York.
LB: Chinatown
AM: How did you become an artist?
BD: I spent a lot of time as a youngster drawing Ferraris, palm trees and E.T.
I realized I preferred spending my time doing that rather than most anything else... so I'm still doing it.
LB: I drew a psychedelic plant to get out of cheerleading.
AM: What is the oddest job you've ever had?
BD: Working in a lingerie warehouse. I fell asleep in a pile of garter belts and was promptly terminated.
LB: Djing for Mayor Bloomberg. I played "Born in the USA" on national television when he got elected.

AM: Who's your favorite non-living artist?
BD: Sun Ra
LB: Houdini
AM: What book are you reading at the moment?
BD: The operating manual to the Korg D3200 Digital Recording Studio.
LB: Stolen Lives (an Oprah Bestseller) and Scar Tissue.
AM: When are you happiest with your work?
BD: When I have forgotten that it exists.
LB: When the absurd becomes reality.
AM: What is your favorite place to travel?
BD: Lucid dreams
LB: Right now Hawaii
AM: What do you find most sexy?
BD: Garter belts and glasses
LB: When a man makes arrangements for me.
AM: What is your favorite piece of art that you own?
BD: Black Dice record sleeves and a Tobin Yelland photograph
LB: A Punk Diary CD that broke in half that's framed. It was hit by a tire and I hung it on the wall.
AM: What is your favorite walk?
BD: New York to L.A.
LB: Up First Ave. or Ave. A to Trader Joes or to the Whole Foods on Bowery from Chinatown.
AM: When and where is your next show?
BD: James Fuentes LLC, whenever I finish it.
LB: Gang Gang played the Whitney on Sunday and I have a piece in New York at the James Fuentes LLC. I think it's in a week.
***
Past artists:
Tony Just
Ari Marcopoulos
Ricci Albenda
Olaf Breuning
Agathe Snow