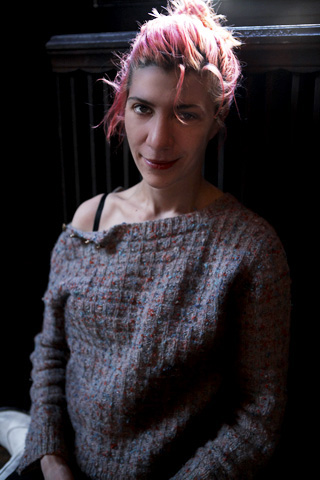 In his regular feature, "Artist Residency," Aubrey Mayer takes a photo of one of his favorite artists and asks him/her a series of simple questions. Here is filmmaker, dancer, performance artist and cook Agathe Snow, who is part of the 2008 Whitney Biennial.
Aubrey Mayer: Where are you from?
Agathe Snow: I'm originally from Corsica but lived in New York since 1987. More New York than anything.
AM: Where do you live?
AS: Chinatown, NYC
AM: How did you become an artist?
AS: After Sept. 11 all eyes turned to NYC and kids on the streets and no matter what I did, naturally it was called art. I only became an artist about one year ago. Being an artist is not so much what you make but how you package yourself consciously and your readiness to make a business of it.
AM: What is the oddest job you've ever had?
AS: Making sure no one stole video equipment 12 hours a day in an improvised office in Chelsea for "The Restaurant," a TV reality show. But that's only one of many jobs I took on. It's probably the first one I didn't get fired from.

AM: Who's your favorite non-living artist?
AG: There are so many but it would have to be Joseph Beuys or Auguste Rodin.
AM: What book are you reading at the moment?
AG: Feast by Roy Strong
AM: When are you happiest with your work?
AG: When I make it and I have no idea what I am doing. By the way, it's never work for me.
AM: What is your favorite place to travel?
AG: Up my nose and down my crotch. No pun intended.
AM: What do you find most sexy?
AG: The wind
AM: What is your favorite piece of art that you own?
AG: Who owns art?
AM: What is your favorite walk?
AG: The catwalk
AM: When and where is your next show?
AG: I know that one: ongoing efforts at the Armory for the Whitney Biennial and a show at L.A. Peres Projects April 5th. All are invited to own.
***
Past artists:
Tony Just
Ari Marcopoulos
Ricci Albenda
Olaf Breuning