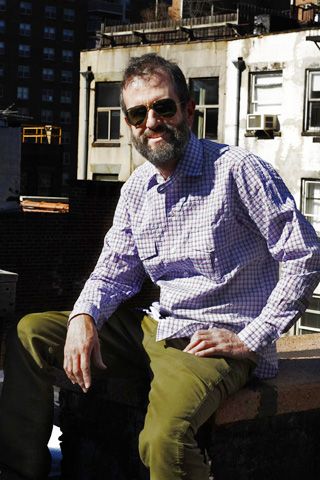 In his regular feature, "Artist Residency," Aubrey Mayer takes a photo of one of his favorite artists and ask him/her a series of simple questions. Here is iconic portrait photographer Ari Marcopoulos.
Aubrey Mayer: Where are you from?
Ari Marcopoulos: Amsterdam
Mayer: Where do you live?
Marcopoulos: Northern California
Mayer: How did you become an artist?
Marcopoulos: I was always an artist -- from the very beginning.
Mayer: What is the oddest job you've ever had?
Marcopoulos: Peeling flower bulbs
Mayer: Who's your favorite non-living artist?
Marcopoulos: I don't play favorites, but I could say Robert Smithson.

Mayer: What book are you currently reading?
Marcopoulos: The Loser by Thomas Bernard
Mayer: When are you happiest with your work?
Marcopoulos: When it reaches its potential.
Mayer: Where is your favorite place to travel?
Marcopoulos: To the couch
Mayer: What do you find most sexy?
Marcopoulos: Imagination
Mayer: What is your favorite piece of art that you own?
Marcopoulos: A John Ahearn
Mayer: What is your favorite walk?
Marcopoulos: Hiking up Mount Rose to get fresh powder, or walking around New York
Mayer: When and where is your next show?
Marcopoulos: In a few days, in Milan
Photo by Aubrey Mayer
******
Past artists:
Tony Just