The annual Victoria's Secret Fashion Show took place in New York last night, which means you could theoretically waste time at work this afternoon watching footage of two Hadids and a Jenner strut down the runway. Alternatively, you might consider re-visiting the 2014 event, during which Ariana Grande got hit in the face by model Elsa Holsk.
The 2014 Victoria's Secret Fashion Show was one for the books. Ariana wasn't even the headliner! A pre-1989 Taylor Swift was also there, performing alongside then-best friend Karlie Kloss. As was Ed Sheeran, at the height of his chart-topping powers. In slightly depressing contrast, this year's performers were Halsey and The Chainsmokers.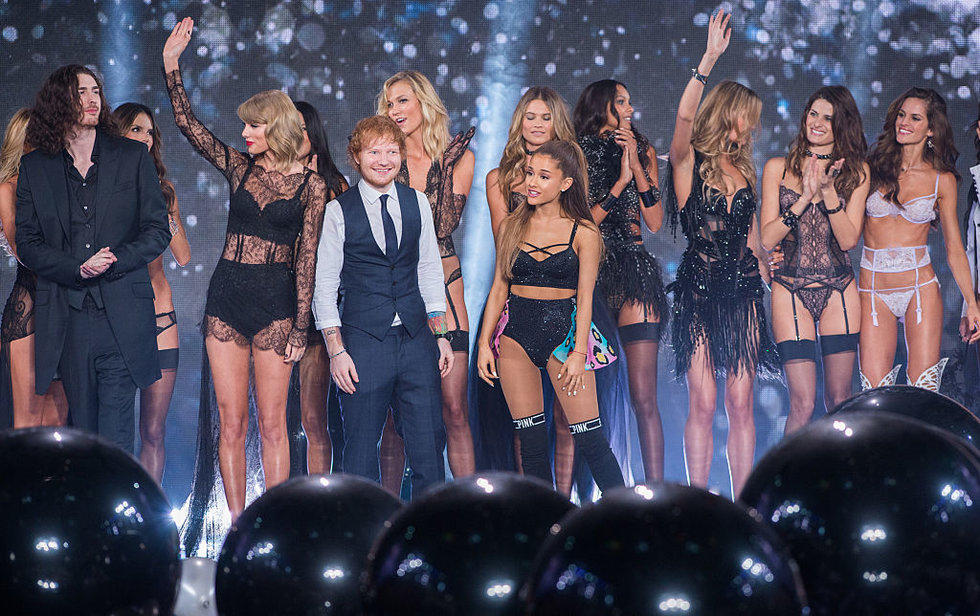 Amongst it all — Adriana Lima in the Fantasy Bra, Taylor in a sultry silk teddy, Ed Sheeran unable to believe his luck — was Grande, who created the first of many, many career-defining memes by accidentally getting in the way of a model at least six times her size and paying the very awkward price. Although while the photos attest that Grande was momentarily terrified by Holsk's towering physique, she actually recovered quickly and professionally from being quite literally knocked off key.
Related | Troye Sivan Interviews Ariana Grande About 'Sweetener'
Recall that this was months before the infamous donut-licking incident, and years before she would enter her current phase as a social media titan whose summer fling with a SNL comedian would dominate the news cycle for actual months. Back in 2014 Grande was just transitioning out of Disney tweendom and into her My Everything era, and the Victoria's Secret show gave her a rare opportunity to take control of an internet moment and show fans the sense of humor that has since become her trademark. Tweeting in the wake of being hit by Holsk's pink fluffy wings, she declined embarrassment and even took the opportunity to segue the incident into a light promo for her new song with Jessie J and Nicki Minaj.
It all comes back around: this year's Victoria's Secret models were filmed lip syncing to Grande's latest break up hit "Thank U, Next" backstage. A much safer way to integrate pop's tiniest star into a runway show, but nowhere near as fun.
Images via Getty