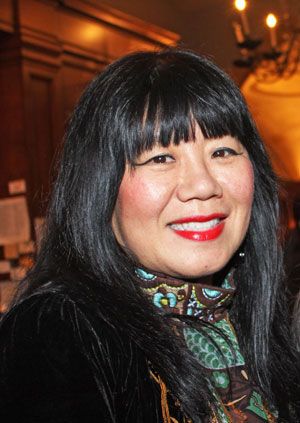 I grabbed my longtime friend (and neighbor!) 
Anna Sui
 for a quick chit-chat as she madly prepared for her fashion show next week. Anna is one of those treasures in the American fashion biz who has remained independent all these years and hits the nail on the head every season with her yummy and eclectic looks which she throws together with such a strong personal signature, derived from a deep love of music, film, costume, vintage style and decoration. Without fail, Anna always gets the best girls to walk for her, and they really and truly love to wear her stuff, so it always feels super right.  
Hi Anna! How are you are feeling this week?   
Every day gets better.  There's more of a sense of completion.  Waiting to see how everything comes together is the major part of insecurity.   
How do you keep your energy up the week before show time?   
Black coffee  
What's inspiring you these days?    
I've been listening to lots of new bands -- Tame Impala, Best Coast, Ty Segall.   
Who's your favorite new girl who will model for you?   
Hana Ben Abdessalem, the first Middle Eastern model. Also Milou Vangroesen and Kristina Salinovic (with their short hair) and Karmen Pedaru, Zuzanna Bijoch -- I love them in my clothes.   
What is modern to you right now? 
A democratic Egypt  
How do you unwind from your work?   
I've been watching the revolution unfolding live in Egypt.    
What are you reading?   
Don't Tell Alfred by Nancy Mitford, Encyclopedia of the Exquisite by Jessica Kerwin Jenkins, and the music magazines Mojo and Uncut.
What's your favorite dish in your favorite restaurant right now
Currently I like Peels and Il Sodi; I order chicken almost every time I go out to dinner.    
What TV are you watching?   
I loved Downtown Abbey and Married to Rock.
Do you like to Tweet? Who is your favorite Tweeter?   
I loved reading Twitter to monitor the crowds on the day H&M launched their Lanvin collaboration.   
Describe your new collection in less than five words.
Ballets Russes mod
What style vibes are you feeling in the air for next fall?   
Boyish dandy
Photo by Caroline Torem Craig