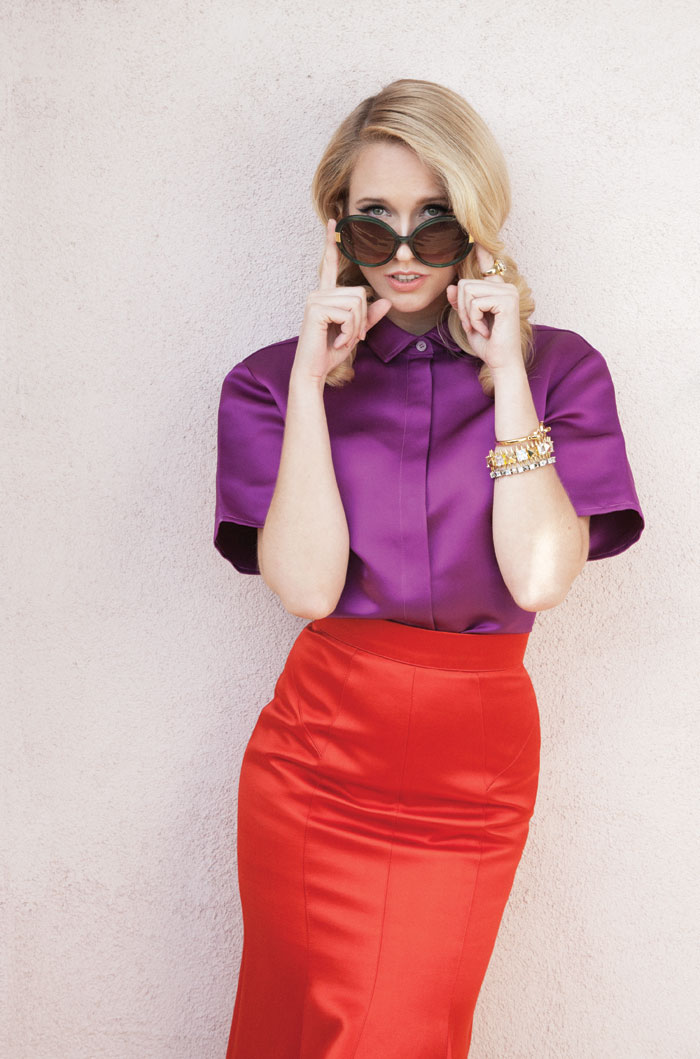 Anna wears a shirt and skirt by Burberry Prorsum, sunglasses by Oscar de la Renta and jewelry by nOir and Salvatore Ferragamo.

For actress Anna Camp, appearing fully nude on stage eight times a week in the 2008 Broadway revival of
Equus
was less nerve-racking than doing her first on-camera sex scene in the upcoming indie film
Goodbye to All That
. "It's just you and some camera guys," says Camp. "At least when you're on stage, the audience is far away." Regardless, she was up to the challenge. "I've always told myself, if you're scared of something, work through the fear -- and then go for it."
Camp says belting out pop hits in last year's hilarious sleeper hit
Pitch Perfect
-- in which she plays the Type A leader of a ragtag all-female collegiate a cappella group -- wasn't much different from baring it all. "There's no hiding with singing or nudity. Both can feel really vulnerable." But make no mistake:
Pitch Perfect
's a comedy -- one that ultimately grossed more than $65 million. The most jaw-dropping moment featured Camp's character projectile vomiting with the force of a fire hose. "The audience screamed during the premiere," she laughs. "I could hear my dad, too." Camp, who's had memorable arcs on some of TV's most popular shows, including
True Bloo
,
Mad Men
and
The Good Wife
, currently plays Mindy Kaling's best friend on
The Mindy Project
. And after hearing about the rapping skills she developed freestyling at open mic nights in Astoria, Queens (before re-locating to Los Angeles), we want to hire her to be our best friend, too. "My emcee name is the Vodka Cran because it's my favorite drink," she says. "And after I've had a couple of vodka crans, my rapping gets even better."