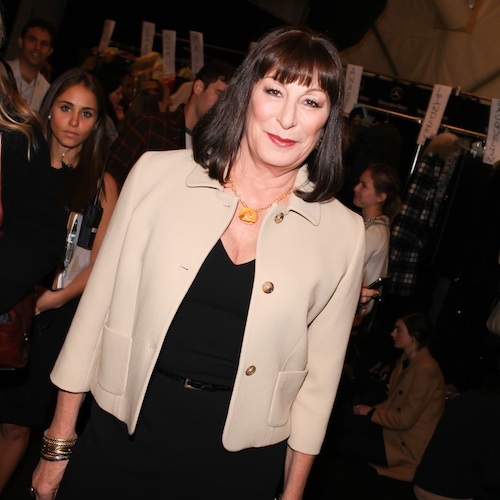 Making our way through the chaotic
Theatre at Lincoln Center
before the
Michael Kors
show Wednesday morning, everywhere we looked seemed to be illuminated by photographers' flashbulbs. Oh there's
Jessica Alba
next to
Amber Heard
! And let's hope
Rachel Zoe
doesn't bump into
Brad Goreski
down the row. Is that
Katie Couric
? Ah, here are
Smash
castmates
Angelica Huston
and
Debra Messing
.
Patti Hansen
must be having a mother-daughter day at Michael Kors with daughter
Alexandra Richard
s, that's nice! What struck us most about all these celebs, however, was the fact that all of these ladies in attendance were a testament to Kors' ability to appeal to women of all ages and tastes. 
And indeed we were tickled when one such legendary lady, 
Anjelica Huston
, stopped to chat with PAPERMAG before the show. We asked the veteran film actress what she thought of starring in a TV series?
It's amazing how fast you can work. Also I think the quality on this production is really at a level I haven't seen on television. It's fashionable, it's sophisticated, it's interesting. There's a lot of cool stories going on and great interaction. I think that's what I've been waiting for on television. So many of these shows are about cops and forensics and hospitals and gloomy, culture-of-death stuff and to be in a show like this, which is about singing and dancing and grown-ups having love affairs, for me that's heaven. It's more romantic and it signals a return to the more glamorous soaps. Dynasty comes to mind a little bit. I love the way the characters are going and I love the fact that it's modern and it has a gay storyline as well. It incorporates all these young dancers who are so beautiful. Every day we go to rehearsal and we see these gorgeous young things dancing around, it puts us all in a good mood.