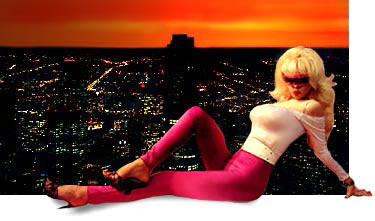 You know the end is nigh when they kick Angelyne out of Hollywood! This story in the L.A. Times chronicles the fight between the iconic (and somewhat fossilized, just how old IS she now?) buxom blonde and city redevelopment leaders and developers of a planned $500-million luxury project near the corner of Hollywood Boulevard and Vine Street. From the Times:
Angelyne operated her promotional company from a Selma Avenue office building for 18 years until she was forced out last fall to make way for a W Hotel, upscale retail shops, condominiums and apartments. Developers paid relocation expenses for her and about 35 other tenants who were occupying shops and offices in the path of the Hollywood and Vine project. But they are balking at her demand that they also pay for the reprinting of perhaps 100,000 promotional and souvenir items that list her old address.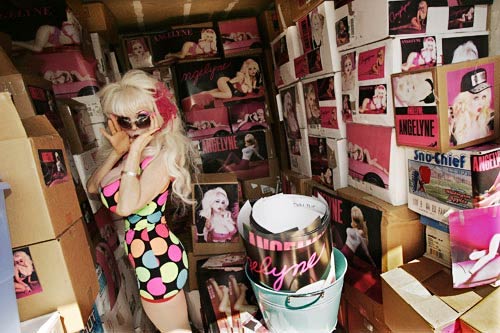 "One of the developers said that is too much. He said, 'Honey, take me to court.' He talked to me like I was his ex-wife," she said, adjusting her dark glasses as sunlight streamed through the open storage room door. "I was stunned."

But Angelyne is fighting back and we hope she wins! Gee, I haven't had an Angelyne sighting in a long time. It used to be a day couldn't go by without seeing her somewhere driving her signature pink Corvette. Hollywood just isn't the same anymore. What's next? A Jade Jagger luxury condo where Musso & Frank's is? The horror! The horror!
More on the ch-ch-changes:
The standoff underscores the changing face of Hollywood Boulevard, which is in the midst of a dramatic gentrification after decades of decline. The W Hotel is rising at the corner of Hollywood and Vine, the famed intersection that has seen better days.
While many in Hollywood support the new bars, upscale eateries and other developments in the district, there are some who fear revitalization is pushing out some old-Hollywood characters.
And Angelyne is definitely a character — though she'd dispute the "old Hollywood" characterization. She became famous (locally, at least) in the early 1980s when a series of billboards popped up around the city featuring her in various sexy poses. Although she has appeared in several movies, she said her billboards have been shown in "hundreds" of films and TV shows.
In the 2003 gubernatorial recall election, Angelyne was one of 135 candidates. Running on the campaign slogan, "We've had Gray, we've had Brown, now it's time for some blond and pink," she finished 28th.
These days, Angelyne sells postcards of herself for $5 — $10 if they're autographed. Large posters are $25, $35 with her signature and $45 if they are signed and adorned with an "authentic lip print." Other items, such as glow-in-the-dark Angelyne necklaces and autographed bras and panties, are also available.
She estimates it would cost about $400,000 to reprint her inventory with a new address — a sum the developer says is way too much.Those in charge of the Hollywood-Vine project contend they have played it straight with Angelyne and the other displaced tenants. They said relocation expenses of about $6 million have been paid.
Hmmmm... on the other hand, when are they going to start paying us to relocate out of Silverlake?