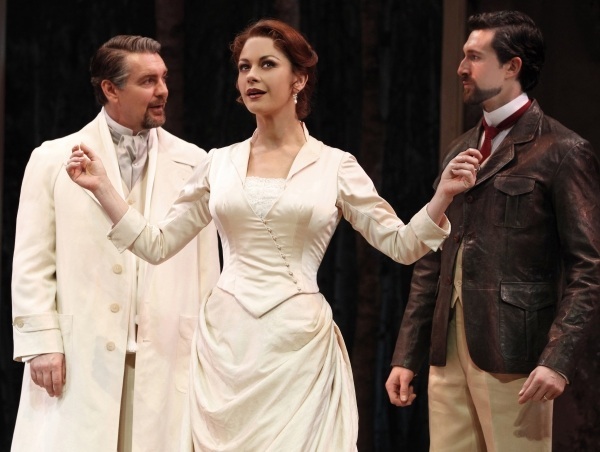 I thought that last year's production of
Blithe Spirit
by
Noel Coward
was the first and only time I would be able to see the great actress
Angela Lansbury
on stage. But now after winning her fifth Tony award for
Blithe
, she's back at it again starring with
Catherine Zeta-Jones
in the first revival of
Stephen Sondheim
's
A Little Night Music.

B

a

sed on the Ingmar Bergman movie Smiles of a Summer Night, the 1973 Tony-winning musical is about an adultery-filled weekend in the Swedish countryside.  (Sidenote: The first production starred one of my favorite theater actors of all time Len Cariou, who played the Sweeney to Lansbury's Mrs. Lovett in the first production of Sweeney Todd).  
It turns out that Zeta-Jones, who plays Desiree Armfeldt, an actress all the men are trying to have sex with (this must be a real stretch), is also quite the stage star. She told Good Morning America this morning that she starred in a West End production of Annie at just nine years old and of course she won that little Oscar for her role as Velma Kelly in the film version of Chicago, which is great since she'll be singing the show's most well known song "Send in the Clowns."
I'm also looking forward to seeing some of the younger cast members, including the very cute and very blonde Leigh Ann Larkin, last on Broadway as June in Gypsy with Patti LuPone, and the very good looking Aaron Lazar. Lazar's last two Broadway shows, Impressionism and A Tale of Two Cities, were huge flops, but I'm sure this one will fare much, much better. With Sondheim and Lansbury you can't go wrong. 
Here are some of the first production shots from the revival of
A Little Night Music
. The dark, almost Burton-esque makeup is genius!
Top: Alexander Hanson as Frederik Egerman, Zeta-Jones and Aaron Lazar as Count Carl-Magnus Malcolm. Bottom (l-r): Angela Lansbury as Madame Armfeldt and Catherine Zeta- Jones as Desiree Armfeldtand.
Photos courtesy of Broadwayworld.com