Today, there are over 100 bars and clubs in the Lower East Side. But when the German-born artist Ulli Rimkus set up shop on Ludlow Street in 1989, baggies of dope were far more common than cocktails. Part dive and part gallery, Max Fish drew everyone from local starving artists, skaters and musicians to A-listers like Johnny Depp, James Gandolfini and Iggy Pop. As the clientele grew more chic, so did the neighborhood, and Max Fish fell prey to skyrocketing rents last July. While Rimkus works on its new  incarnation, Paper is proud to present the story of Max Fish from the people who loved it most.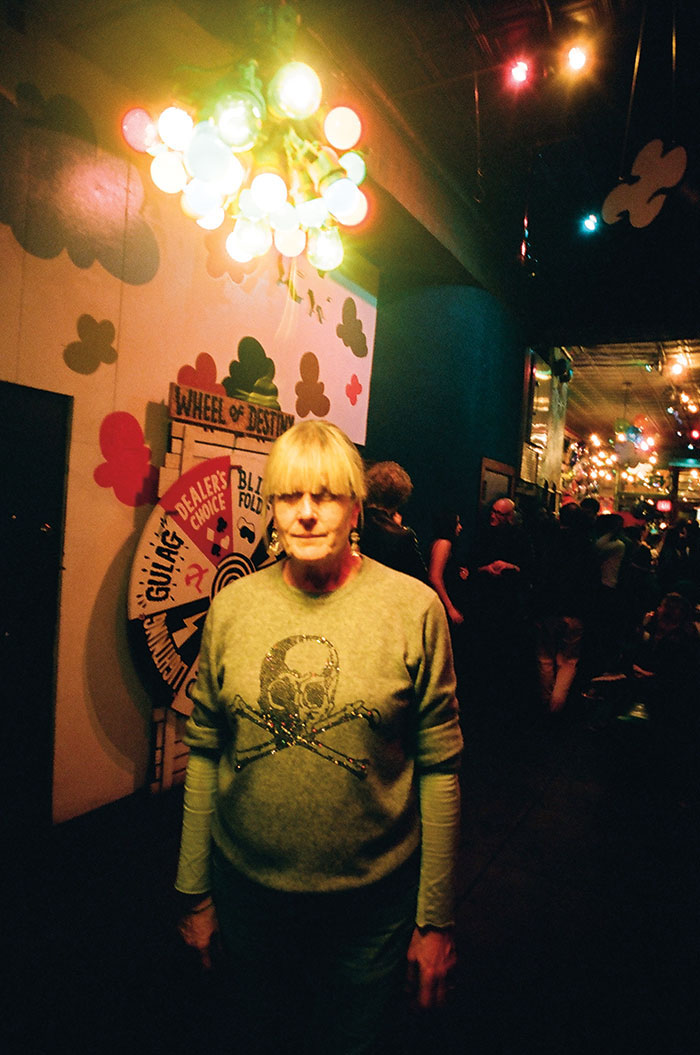 Max Fish owner and artist Ulli R
imkus. Photograph by Cheryl Dunn.
Arriving in New York in 1977, Ulli Rimkus worked at the Hell's Kitchen gallery/bar Tin Pan Alley -- with artists Kiki Smith and Nan Goldin -- and got involved with the artists' group Collaborative Projects, Inc. (a.k.a. Colab).Ulli Rimkus, Max Fish owner:
I moved to Ludlow street between Houston and Stanton in 1979. It was crazy. I had never seen anything like that. Hispanic and African Americans lived there mostly. The trade on Ludlow was selling drugs. There was a paper supply company and then Katz's and that's it. I'm pretty sure the Hat [El Sombrero] was there already. There was nothing else.
Mark Flood, artist:
The heroin dealers were literally standing out on the sidewalks, saying the names of their product over and over, like living kiosks: "Rhino, rhino, rhino..."
Rimkus:
Before I knew it, all of my friends were living on the Lower East Side. We would visit each other from fire escape to fire escape. The rent on apartments when I moved to Ludlow Street was $70. My rent was a little more -- $100. That first apartment that I lived in was just filled with trash. We rented the top floor of the next building, it was a burned-out floor that we fixed up and turned into a loft. There were holes in the floor. I actually fell through once and ended up in the apartment of the woman who lived below me.
Kiki Smith, artist:
I lived on Ludlow Street from '79 to '96. I still often walk in the middle of the street at night, just out of habit. I didn't want to walk too closely to some place where I could be pulled inside. My assistants act like I'm paranoid but I'll be saying, "You have no idea what it was like!" I broke my leg once while I was in Germany and I stayed there until it healed. I didn't want to be on the Lower East Side with a broken leg. I'd be a sitting duck. Being on Avenue A at night with a broken leg trying to get around on crutches? That was too dangerous.
Rimkus:
As a woman, as a foreigner, I knew I had to start my own business. And the bar business was what I knew. I had worked at a bar called Tin Pan Alley in midtown for I can't remember how many years. There were also horrible jobs.
Carlo McCormick, writer, curator, Max Fish staffer:
Tin Pan Alley was an artists' bar like Max Fish was, but in Time's Square. There'd be a few artists there, but 85% of the people would be pimps, prostitutes and drug addicts.
John Ahearn, artist:
Both Tin Pan Alley and Max Fish had very powerful social functions.  They were more than bars, they were social centers. They had a very strong sense of identity and that came from all the people who were involved -- meaning all of the people who worked there, and the people who came there. They had a tightly woven but complex social fabric.
Tom Otterness, artist, Colab member:
Ulli was a big player in Collaborative Projects' Times Square show in 1980. That had [pieces by] more than 100 artists all over the walls in an old, abandoned massage parlor on 41st St. It was open 24 hours a day, and Ulli did the bar there for a while during the opening parties, and it was a scene she was very familiar with from Tin Pan Alley days. I always saw the art part of Max Fish as the living extension of what we were trying to do in Times Square and all these other shows that we put together as a group. She kept that kind of new art, open-wall policy about putting up work and stacking it to the ceilings and rotating shows through.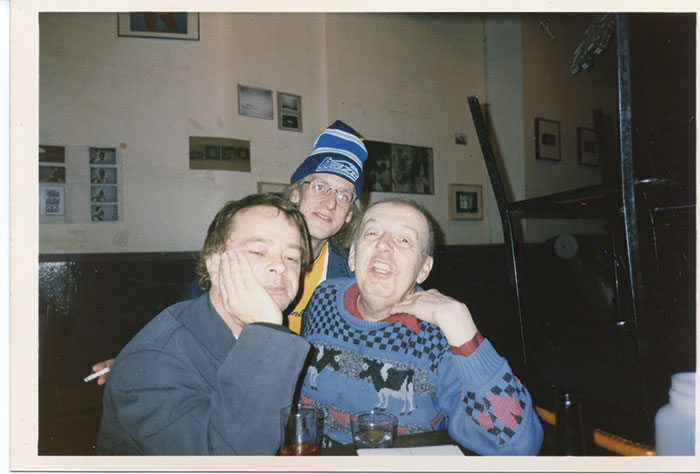 (l-r) Gary Indiana, Carlo McCormick and Taylor Mead. Photograph courtesy of Max Fish.
In 1989, Ulli set up shop in a former Judaica store named Max Fisch at 178 Ludlow Street. Later she opened a café next door -- the Pink Pony.Allan Windsor, Max Fish bartender:
There were a few months before we were a bar that we were waiting for our liquor license and it was more of a gathering place -- people could show their art or show movies. There'd be people stenciling on the floor and performance art. It was almost like a community space for the neighborhood.
Rimkus:
Our first night open as a bar was a benefit for the Umbrella House, which was a squat. A lot of people in that squat had pieces in the show -- stuff from the "hate the cops" genre. We had hardcore bands play. We had a cat who was giving birth that night, and we locked one of the bathrooms so she would have a place to deliver her kittens. I remember my neighbor, the artist Ellen Berkenblit, came to me the next day and said, "Is it always going to be like this, Ulli?"
Ahearn:
Before Max Fish started, the whole social scene that went in there was already functioning. It wasn't formed by Max Fish; it was happening. And Ulli was in the center. And as soon as it opened, it started to move in its own direction because there were new patrons coming in all of the time. At that time, the Lower East Side was a youth neighborhood. Each time I was there, the people seemed younger and younger. They looked like people I knew and was friends with, just 15 or 20 years younger.
Aaron Rose, artist, filmmaker, gallerist:
I opened Alleged Gallery two doors down in April of '92. Alleged was like an extension of Max Fish and Max Fish an extension of us. We were open from 6 p.m. to midnight. That was kind of the same hours of the bar, so people would move back and forth between the two.

McCormick:
I started working there in '90, but I was hanging out there before I got hired. I was working in nightclubs at the time and Max Fish was the place where everyone who worked in nightlife would go hang out after their shifts. I would say 99% of the bars on the Lower East Side in the early '90s just survived on the weekends. The rest of the week they were pretty dead. Max Fish was the only place that had a regular clientele throughout the week. And then. between 1:30 and 2 a.m., you'd get this stream of super-cute kids coming in and you'd be like, "Who are
these
people?" You'd realize, "'Oh, yeah, these are the bartenders at every other fucking bar in the neighborhood." They were shutting down early and going to Max Fish, because they realized they weren't going to make any more money hanging around their bars until
4 a.m.
with no one in them. They'd rather be drinking at Max Fish.
Julia Cafritz, Pussy Galore/Free Kitten member
: I saw it go from a small neighborhood thing to a full-blown hangout. Even by 1990, I started to have trouble distinguishing between the lager lout musician/boyfriend people and the actual frat boys. It was pretty much immediate.
Walter Robinson, art critic and Artspace columnist:
When the Fish opened it had pinball machines. Three, I think. Ulli had borrowed money from four of her friends to start the bar, and I remember her joking that she paid off the loans in six months with quarters from the pinball machines.
Marc Razo, Max Fish bartender:
Pinball was what drew me to Max Fish initially. The pinball games were rotated out every couple of months. We had everything --
the Addams Family
,
Star Trek
,
Funhouse
. It was great. We also had a penny-picker [claw] machine at one point which was fun for like a year but then got really annoying. I think people started realizing they were spending like $40 a night on it.
Windsor:
I remember all my tips being in quarters. We were always changing out quarters.
Anne Marlowe, writer:
I felt that I had always been too late for every scene. I was too late in New York to go to Studio 54, too late for Max's Kansas City, and I was finally like, "Oh! OK, finally there's a scene that I'm not too late for." Max Fish seemed to promise a community of some kind, and even for people who had problems with the idea of a group or conformity or whatever, it was a place where you felt that you were welcome and you might happen to find other people who were like-minded.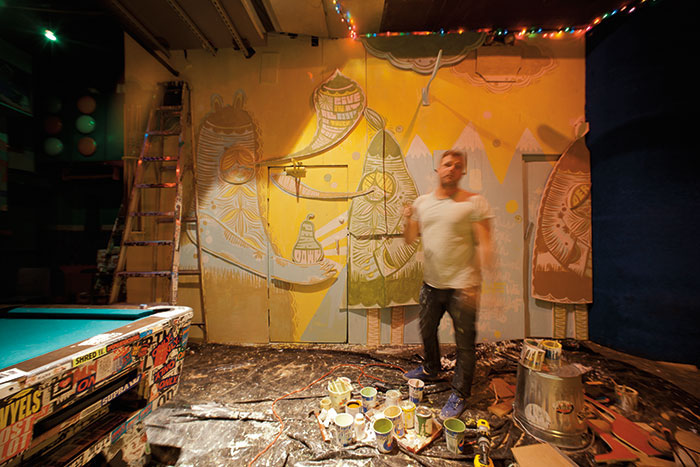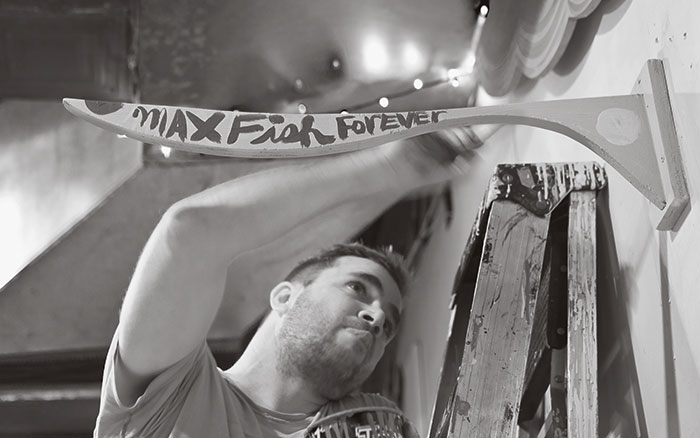 Thomas Campbell working on his mural "Pear Down, If You Can." Photographs of Thomas Campbell by Chris Mosier.

The bar continued to host themed art shows, amassing an impressive permanent collection that included "Julio Iglesias" by Mark Flood, "Rat Cop" by Tom Otterness and "Bronx Elvis" by John Ahearn.
Rimkus:
A lot of artists either donated pieces for me to display, or I bought them. John Ahearn gave us three Elvis pieces. I bought the big spike nail from Tovey Halleck. We had the Julio Iglesias portrait by Mark Flood. Brigitte Engler did the mirror wall. Rita Ackermann
painted the side windows -- she did them twice over. A lot of the art was just from people who lived in the neighborhood. We had work up by this guy "The Mutant" --  I think he lived across the street. We found out later that he actually worked for Deutsche Bank. We had no idea. At one point in the early years he came in to the bar and had Bill Gates with him.
Flood:
On one of my very first trips up to New York, I had brought four light boxes to the city and was running around trying to get someone to be interested in my art. I decided that I was not going to take them back to Texas with me. And so I gave ["Julio Iglesias"] to Ulli for the bar. It's just incredible to me how well that piece has held up. It's very handmade. I etched the metal myself with acid and shit like that. And to see that it's still going, that they actually open it up and change the light bulbs, I find very impressive. I didn't know it would be such a fixture and that I'd spend decades being introduced as "the guy who made the Julio." But it's a good example of the benefits that come from giving things away, because it stood in that bar like this beacon for decades and I could not be more honored. The benefit was all mine.
Otterness:
I was doing a project, it must've been early '90s, for the 14th Street subway station [at 8th Avenue]. I'd done a lot of research and drawings on stuff I'd seen in the subway. Of course I did drawings of rats, and I thought, "Oh, this is good, 'Rat Cop.'" I presented these images to the MTA and they took everything else but said, "The rat cop's over the top. You gotta keep that one at home." Ulli right away said, "We got a home for it here, no problem." And it landed on the bar and hasn't moved. I like to think of it as an outpost, an escapee from the 14th Street station.
Ahearn:
I had three pieces in the bar: "Bronx Elvis," "El Pirata," and "Bobbi the Sweeper." I think there's something about Elvis that is very important to Ulli. She's German. And though she's too young, she's coming from a generation that loved American culture. Elvis was a big deal to kids in the '50s -- an icon. And he's also a pop figure that represents poor, white-trash American culture. Not upper-class American culture.  I think there's something about that that is probably significant for someone such as Ulli.
Rimkus:
I kept the lights up in Max Fish mostly because I wanted people to be able to see the artwork on the walls.  I've never liked dark bars, either. They're sort of creepy. You drop something in a dark bar and you don't want to pick it up. Keeping the lights up was a good idea at the time anyway because it was still a weird neighborhood.
Rose:
The art was very unpretentious. Mark Flood's "Julio Iglesias" was just there, almost in the same way that someone would hang it in their house. It never really felt like it was, "Oh, look at this expensive piece of art by this well-known artist." It was just part of the decor.
Andrew Kuo, artist:
I loved how democratic it was. If you hung out at the Fish, you could have work up at the Fish.
Rose:
One show I curated for Max Fish was all fax art. It was back when fax machines were new technology. They didn't have individual sheet faxes -- it was all on a single roll. Artists from all over the world faxed in their pieces and we hung all the faxes from floor to ceiling. It was like 15 feet long.
Leo Fitzpatrick, actor, gallerist:
Once I curated a show there, a big group show, and there was about 50 artists in it. At the time, a lot of my friends had been blowing up, like Ryan McGinley, Dan Colen and Nate Lowman, and they all wanted to be a part of the show because, even if they were showing at these high-end galleries, they were like, "We've never shown at Max Fish. I would really love to show there." So I think that says something: the idea that it's a bar, but people respected it so much and knew that maybe more people would actually see their work in a bar than they would in Chelsea.
Cheryl Dunn, photographer, filmmaker:
There's the business of art, and there's the impulse to make art, which is intrinsic with these artists who came out of New York. Max Fish is the perfect example of a space that's not about the business or hierarchy of art; it's about the deep-seated reasons why people need to make or share their art.
Thomas Campbell, artist, filmmaker:
I had three murals there. I think the first one I did was in '96 and then I did another one around 2000 and then another one in 2011. When it closed, it was still there.

Razo:
You had to work pretty hard to get kicked out of Max Fish. Fighting or being too drunk was an automatic "86." We tried implementing a rule about graffiti for a while -- not letting anyone tag the walls or the bar. At first it was a battle but then it sort of became part of the bar. At least, that was the case in the bathroom. But if someone came got caught tagging on the bar, we'd make them come back and paint over it.
Shepard Fairey, artist:
Sometimes I'd come in and bring my bucket of glue and my stencils and just do stuff on the bathroom walls. The place was covered with Zoo York stickers, graffiti stickers, my stickers -- everyone who had a band at that time had their sticker in there.
McCormick:
Once somebody, it was either Ed Templeton or Thomas Campbell, was drawing all over the wall in the back. I think it was Thomas Campbell. Ulli really let him have it and he felt so bad he agreed to do a big show there.
McCormick:
Everyone thinks of Max Fish as this quintessential "art bar," which it was, but it was an art bar that was very curated. Yes, it was open, accessible and democratic, but Ulli had certain ideas about how art would function in the space. There was this night that Mark Bode, who was the son of the late Vaughn Bode -- who was an early graffiti artist in the '70s, he would do the trains and his trademark were these big-breasted women and wizard hats -- was in the bar hanging out with Kevin Eastman, who was the creator of
Teenage Mutant Ninja Turtles
. Simon Bisley, who is a huge British comic book artist -- he did
Conan the Barbarian
-- and Simon's Porsche mechanic, whom he traveled everywhere with, were hanging out too .
There was a big white wall by the bathrooms, and Bode goes back there secretly and does a big Teenage Mutant Ninja Turtle on the wall in marker with huge breasts. It was very much in the style of his father. Then Bode gives the pen off to Bisley who goes back there and does another Teenage Mutant Ninja Turtle, but, of course, it looks like Conan the Barbarian on steroids. Then Kevin finally goes to the bathroom and sees what they've done and is like, "Give me that marker!" And he adds his own Ninja Turtle in his classic style. And, you know, what was I going to do? Wrestle them to the ground for the marker? The next day Ulli calls me up, furious, asking me what hotel they were staying in. She had painted over it right away. I was like, "Ulli, this is kind of a historic piece of art! I think you should have at least left it up for like a week." And she goes, "They didn't ask."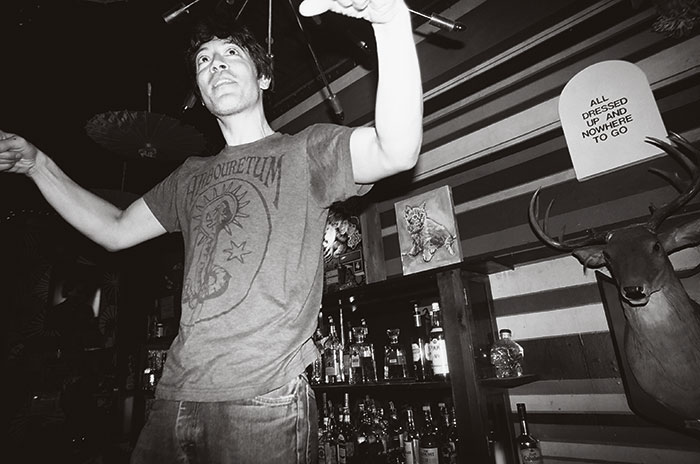 Longtime Max Fish bartender and endless boogie drummer Harry Druzd. Photograph by Cheryl Dunn.

Max Fish had a uniquely loyal staff: some bartenders would preside over its entire existence; others would make names for themselves outside the bar; a few would do both.Rimkus:
I didn't want to hire people who knew how to bar tend. They had to want it. When I met [Max Fish bartender] Joseph Fratesi, he was an antique bookseller. He was at the bar playing pinball every day. I said, "You're here every day, so you should just work here." Now Joseph owns a furniture store called Atlas Industries. Harry [Druzd] has worked at the bar since the start. He met Brandon [Holley] at school. Harry went to Columbia and Brandon went to Barnard. She would do Columbia parties at Max Fish before we were a bar. She also tended bar for us. And then Brandon went on to work at
Paper,
GQ
and
Jane
and to edit
Lucky
.

McCormick:
I was more of a host than a door guy -- I kind of just hovered near the door.  In the beginning, honestly, no one was ID'd. If you could buy heroin two feet away from the bar, it didn't really make a lot of sense to be carding people. I was a fucking mess then. I would fall down on the floor while I was there. There were a couple of nights where I was so fucked up that Iggy Pop would do the door for me. And kids would just freak out. "Holy shit, Iggy just asked me for my ID!''
Rose:
Carlo was the first person you saw when you walked in. The front booth at Max Fish was Carlo's booth. It was like special treatment to get to sit in that booth. He knew everyone -- he was like a magnet for people. That's how I met Jim Jarmusch, Gibby Haynes and Kim and Thurston. I met so many people there who are still a part of my life. It was where I cut my creative teeth. And a lot of that has to do with Carlo. He'd be like, "Oh, you have to meet this person."
Fairey:
I was so broke, but Carlo always gave me a couple of beers on the house. Looking back, a lot of the reason why Max Fish cultivated a cool crowd beside having a good jukebox and cheap drinks, was because Carlo made sure that people he thought were influential or good for the scene were well taken care of. Not like bottle service or anything like that, but a free beer here and there. That made a big difference for the crowd.
Mike Bones musician, Max Fish bartender:
I'd just gotten back from a tour and I was super broke, struggling, and Ulli made a job for me, or at least that's what it felt like. She saved my ass, big time. I was like the utility dude: I bartended, I fixed shit. Everyone who worked there was always doing some odd job around that place.
McCormick:
She mainly hired artists or people in bands or whatever. It's more fun that way, but hiring creative people is a lot more work for a bar owner. You have people being like, "Oh, I'm going on tour for three months with my band," with the expectation that they could come back and still have a job.  And you'd have to work around that. Not many places would do that. She was really flexible. It was never like anyone had a regular night. She'd make up the schedule each week and change it so that people couldn't be like, "Oh great, Tuesday night my favorite bartender is working there." She didn't want anyone owning a slot. It was a different way of doing it.
Rose:
One of the bartenders, Gregg Woolard, saved my life one night. I was in there talking shit and a guy pulled a gun on me. He stepped in front of the guy and was ready to take the bullet. I'll always love him for that. What kind of guy does that? Gregg knew I was talking shit but still stepped in. After that whenever I went there and Gregg was working, a look of fear would come across his face like, "'Oh no."
McCormick:
No one was ever really permanently "86'd" from Max Fish. You
really
had to fuck up to have that happen. But people were told to take vacations. Taylor Mead was told not to come back for a while because he got drunk and tried to paw at a kid working behind the bar. OD'ing in the bathroom was frowned upon. Nodding out at the bar. That kind of stuff.  Ulli's hard, she's tough. People would try to come back and grovel to get back in and she'd just be like, "Not yet." She has a knack for being able to tell when people are high. She can always tell.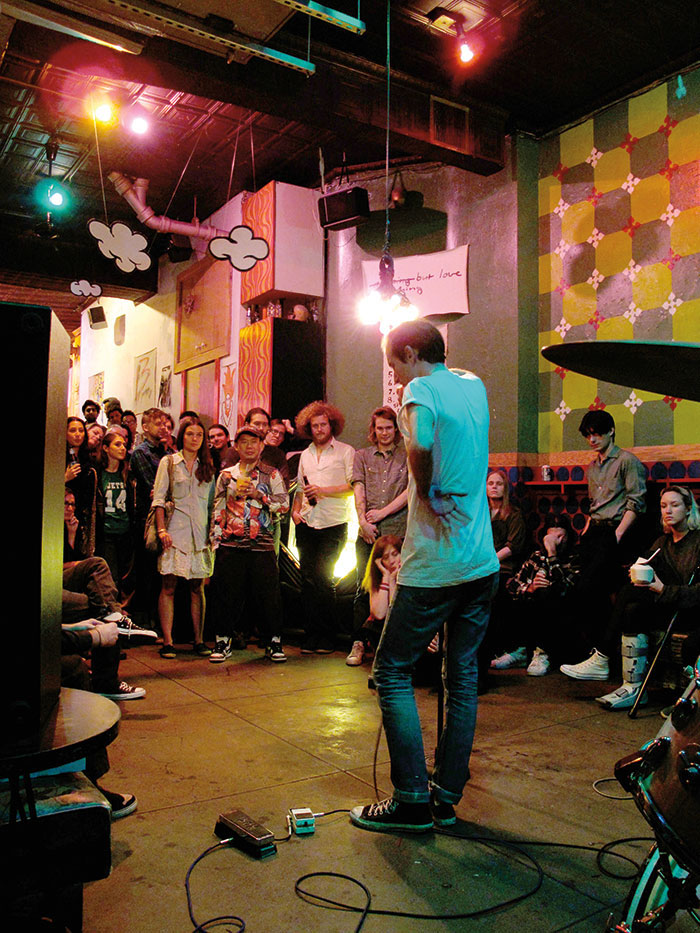 Musician Mike Bones. Photograph by Jesper Eklow.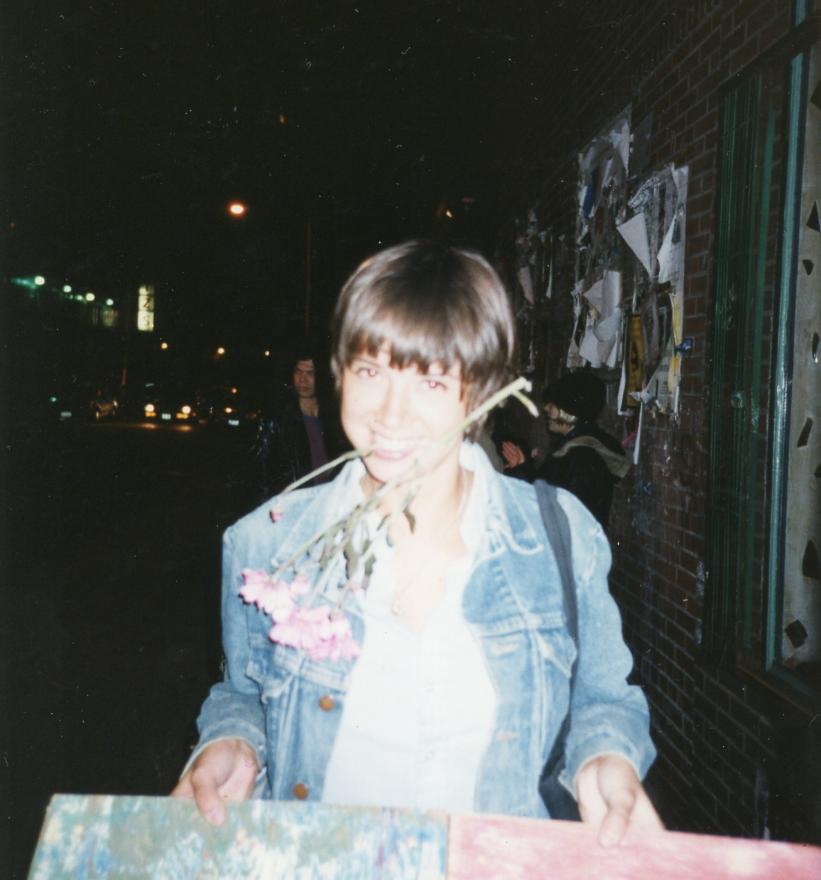 Chan Marshall (Cat Power) standing outside of Max Fish. Photograph courtesy of Max Fish.
Emerging, local indie-rock bands used Max Fish as their clubhouse. Others, from distant shores and major labels, followed.
McCormick:
There was a huge music scene for a long time. Cat Power was friends with Ulli and always hung out there. All of those underground bands at the time -- Chavez, Unsane, Helmet. That whole New York '90s thing.
Rose:
Grunge was big at that time and a lot of those bands were there. One night after being at Max Fish, Courtney Love passed out on my couch with a bagel in her hand that had a cigarette put out in it. We were like, "Is she dead?" It was a dark phase for her.
McCormick:
For the most part, people who worked at Max Fish were not kids -- we all had multiple histories. A lot of people from England, all those different British electronic bands and like Nick Cave, would be coming through because I had lived in England previously and I knew that world. Max Fish was like a local pub to them.
Rose:
Even though it was always well-lit, it was a singles bar. My whole sex life revolved around Max Fish in my early twenties. I was there every night and every afternoon. They opened at
4 p.m.
My roommate at the time was this guy Chris Spencer from the band Unsane and that's when we'd start drinking. And then when it closed at
4 a.m.
they'd just lock the doors. I was in there till
8 a.m.
some nights.
Page Hamilton, Helmet member:
There's a picture that gets sent to me about every year: David Yow from the Jesus Lizard, myself, Jim Thirlwell, Caspar Brötzmann might even be in the picture -- we're in front of Max Fish at maybe
4:30
or 5 in the morning, and David and I have our pants around our ankles, and our junk kind of tucked into the bottoms of our T-shirts. That was when David Yow was in town to do the Led Zeppelin tribute we did together. David sang and Helmet played. It was like a platinum-selling tribute with Stone Temple Pilots and 4 Non Blondes. We never rehearsed the song. We just went in with Butch Vig and did one take. It was after that debaucherous night at Max Fish. We should have been resting up, but no.
McCormick:
I had an extra apartment across the street from Max Fish -- back in the good old days when people had "extra apartments." I think I paid $125 in rent on it and I used it as my office/drug den. But if someone was in town and needed a place to stay, I'd let them use it. I was friends with Bruce Pavitt from Sub Pop, so all of those Sub Pop bands at the time were staying there. It would be this ridiculous thing where some guy would come into the bar and be horrible and  misbehaving and Ulli would be furious like, "Who is that asshole?" And then later that night she'd go see Mudhoney at the Palladium and be like, "Oh, that asshole was
Mark Arm from Mudhoney."
Rimkus:
Who was that guy? David Lee Roth? He lived on Ludlow for a little while and you'd see him around. He had the fakest teeth I've ever seen. He would sit in front of the Hat, strumming his guitar and drinking frozen margaritas. I said to him, "Oh my god, your teeth are beautiful." I've never, ever seen more perfect teeth. They looked amazing.
Russell Simins, Jon Spencer Blues Explosion drummer:
We would give Harry [Druzd, Endless Boogie drummer and perennial Max Fish bartender] the latest Blues Explosion CD and he'd put it in the jukebox. That jukebox had all the local bands in it 'cause they were friends with everybody. So the new Sonic Youth or Swans or Lubricated Goat CD would go in there. Give him an advance of it, and they'd come up with some makeshift cover art.
Kuo:
If you went there enough, Harry would ask you to put your own CD in the jukebox. So you could go there and play your own music. I appreciated that. I was asked to contribute at CD, but never did. I would have felt bad. I like some strange music.
Fairey
: You could pretty much get James Murphy's library of music on the jukebox at Max Fish.
Fitzpatrick:
I do remember I tried to fight Elliott Smith there once in a jealous rage, which was ridiculous because he probably had no idea what was going on.
Kuo:
I remember being in there one time and Yelawolf came in and started freestyling on the bar.
McCormick:
One night I saw Krist Novoselic talking to Scott Weiland in there, going, "Oh no man, we don't hate you! We think you're kind of cool." And I was thinking, "Oh, he is
so
full of shit! Of course they hate him! He's the enemy! What the fuck?"
Cafritz:
It was definitely someplace where bands came to relax. And by "relax," I guess I mean do tons of drugs and get completely wasted.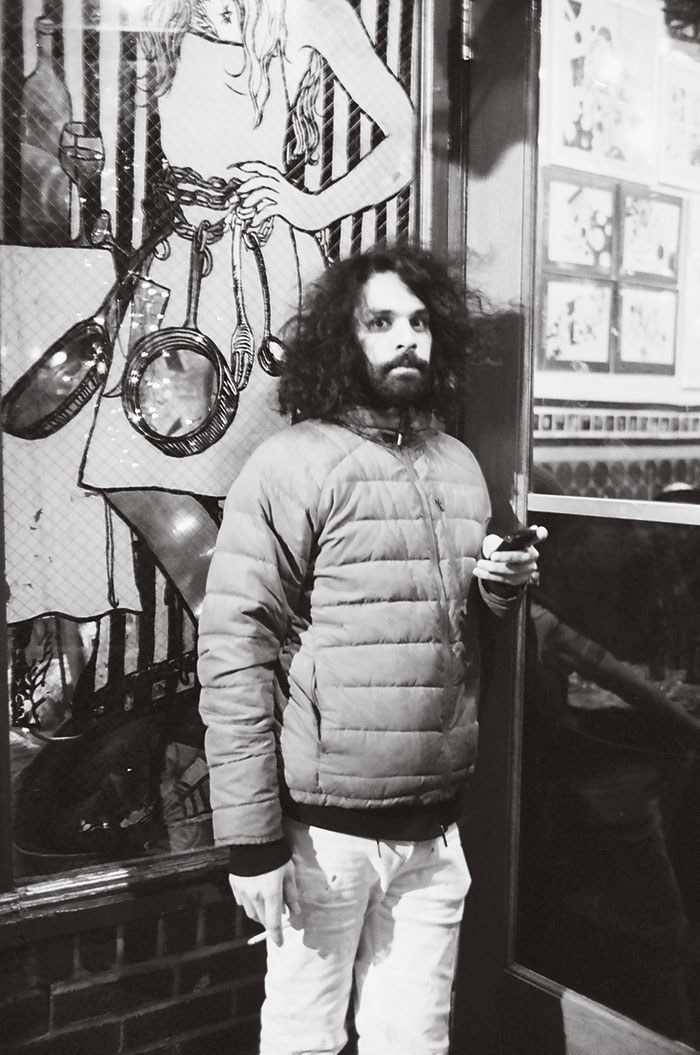 Bartender Tino Razo. Photograph by Cheryl Dunn.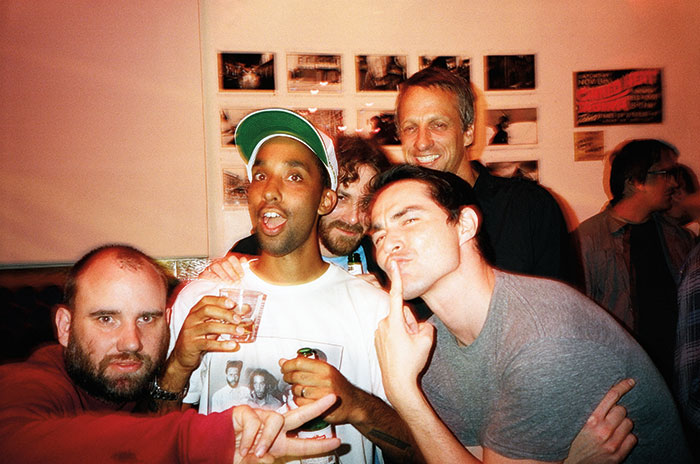 (l-r) Joshua Wildman, Atiba Jefferson, Spencer Herbst, Tony Hawk and Marc Razo.
Photograph courtesy of Max Fish.
In the mid to late '90s, as a broader skate culture started to bleed into the music, art and fashion worlds, Max Fish started to become a hang out for skateboarders.
Razo:
I think the Alleged Gallery being next door had something to do with it being a skater bar. I was working at a bar called Spoon around the corner that was a big skater hang, and then, when that place closed, I started working at the Fish. A lot of those locals came over with me. And then my little brother Tino started working there, and it was kind of all over after that.
Thomas Campbell:
I think I remember the first time Marc and Tino were in there. They were like little kids. Their older brother Andre is a really good friend of mine. They came down to skateboard and we took them there. They were like, "Woah, this is crazy!" Which is funny, because then the Razo brothers became the kings of Max Fish.
Rose:
Ludlow was a really good street to skate on at that time. There was never much traffic because not a lot of people were going down there at night. You could skate the street all night long.
Erik Foss, artist, Lit Lounge/Fuse Gallery proprietor:
I read about Max Fish in
Thrasher
magazine when I still lived in Phoenix. That's where artists and skateboarders were welcome. So Max Fish was the first place I went to -- it was winter of '96 -- when I came to New York. And skateboarding and art is what brought me there.
Alex Corporan, skater, photographer:
In the very beginning, like in '89, '90, it started with  Jeremy Henderson, who skated for Shut. He was one of the originators of the skaters that went to that bar. Slowly but surely, it became the airport hub for all the skateboarders.
Razo:
Kevin "Spanky" Long, who's a skater and an artist, would do pieces for us but they'd get stolen off the walls. I don't know why, but for some reason, people really liked to steal that guy's stuff.
Rose:
Max Fish was kind of career-defining for some people. Like, Mike Mills. Our friend Dave Aron worked at X-Large, and Daisy Von Furth needed someone to help her and Kim Gordon design X-Girl and Dave was like, "Oh, you should meet my friend Mike." But they just knew each other through hanging out at Max Fish and stuff. So they called Mike. That's how Mike ended up doing X-Girl, which turned into doing work for Sonic Youth and the Beastie Boys.
Fairey:
I don't want to sound like "Oh, the good old days," because things change and people adapt, but I do think it was a special time in the '90s with Max Fish having Alleged Gallery next door. It was a really important time for me in my creative evolution and I'm so grateful both those spaces were there for people to congregate in, and for providing opportunities for them to connect. It's almost immeasurable how important that was for me. I met Haze there. I met Ron English there -- he was carrying around a portfolio of some of the billboards he'd "liberated." He was meeting someone there to talk about a book deal. I certainly wouldn't say Max Fish was a high-stakes business meeting destination, but that's just the nature of the creative world. People do things in environments they're happy in.
Rose:
One of my favorite memories of Max Fish was when Mike [Mills] and I did ecstasy in the bar. We hugged each other and cuddled in a booth for like two hours.
Soon enough, serious celebrities were hanging out at the Fish.McCormick:
One night Johnny Depp got bit on the face. We were all outside on the street in front of the bar. I think Jim Jarmusch was there. It was a really great night, there were a lot of great people there. So we're outside hanging out with some Hell's Angels, and maybe Gibby from the Butthole Surfers was there, I can't remember. And this girl came up -- who was actually a lawyer  -- and she just got
so
excited to see Johnny. She was practically rabid. At one point she reached over to him and actually bit him on the face. And, you know, that guy's face is worth a lot of fucking money. And then I had the fucking Hell's Angels crew ready to kill her. I knew the girl, and I didn't really like her that much, but I just couldn't have her being killed in front of the bar. The cops ended up coming. It was this whole big thing. There were two cops -- a female office and a male officer -- and the female cop just would
not
let it go. She kept being like, "I really need to know who the person was who got bit." And I kept telling her, "He's a friend visiting from out of town." She wouldn't drop it. So finally I'm like, "Well, his name is Johnny Depp." She turned around to other cop and was like, "Ha! I told you so!" They'd had a bet. That story got repeated so many times. It kind of became Max Fish lore.
Razo:
Carlo brought Johnny Depp into the bar another time. Pretty much every girl in that place was freaking out. Groups of girls would come to the bar and order like four shots of tequila, do them all and then try to approach his table. I remember a couple of girls toward the end of the night offering him $300 or $400 just to let them hang out with him. I've never seen anything like that.


Windsor:
James Gandolfini came in one time and was hanging out playing pool. This French guy comes in and was just all over him. I come around from behind the bar and grabbed the guy --  who was just freaking out, "Tony Soprano! Tony Soprano!" -- and I was like, "You've
got
to calm down. Be
cool." I walk him out. James Gandolfini always went everywhere with his lawyer. The lawyer comes up to me all worried and I was like, "Don't worry, nothing's going to happen. It's not going to be in the
Pos
t tomorrow or anything like that." And he's like, "Oh, good, good, good" and hands me money. It was one dollar.
Kuo:
Leo Fitzpatrick was a constant there. People would walk up to him on a Friday or Saturday night and be like, "Aren't you that crackhead from
The Wire
?"
Razo:
I heard that one time Bob Dylan pulled up in a limo outside but refused to go in and was getting drinks delivered to the car. I don't know if that's true or not, but I like thinking it is.
Marc Spitz, writer:
I brought Chloë Sevigny once, and I was so self-absorbed that it didn't even occur to me that she would be remotely uncomfortable there. So we're sitting there, and I'm wondering, "Why is this date going so shitty?" And now I realize it's because everybody was staring at her. It was between
Kids and Gummo
. She'd already been written about in the
New Yorker
and stuff. I was so dumb. I talk about taking her to Max Fish in my memoir,
Poseur
, and I said it was like taking Derek Jeter to a sports bar.
Fairey:
To me, the most exciting Max Fish celebrity sightings were, like, seeing the drummer from Flipper, Steve DePace. Or seeing Russell Simins from Blues Explosion -- those guys were a big deal to me. I saw celebrities from the music and art I cared about. Jim Jarmusch? That was a huge deal to see him! There was no attitude, no velvet rope. You felt like you were on a level playing field.
Kuo:
When celebrities walked in, we all knew who they were. If someone walked in who we all really loved, we'd probably try to talk to them. I'd like to say we all had poker faces, but we didn't. I remember one night I was sitting up front at a table and Zach Galifianakis came storming in wearing headphones and a backpack. And we immediately were like, "Zach! Zach! Can we get a picture? We're big fans!" And he didn't even get a drink, he just turned around and walked out. That was probably really annoying for him. But it's not like everyone there was immune to seeing celebrities.
Money started to flow into the Lower East Side, driving up rents. Ulli stared down closure early in 2011 and managed to keep the bar alive for another two- and-a-half years.Rimkus:
The area started changing in the '90s, but really the most change has happened in the last 10 years. Before, it was like "it's happening, it's happening, it's going to happen," and then it happened in a flash. Just like that. It's like that Hemingway quote about going broke: "How do you go broke? Gradually, then suddenly."
McCormick:
It went from abandonment to being a strip. For a bunch of years, it didn't seem so bad. Everyone was opening up a business There were these little indie stores on Ludlow  -- girls who made dresses. Stuff like that. And then it just got more crowded and less pleasant. I remember people really parsing it out too, like around the time Motor City bar moved into the neighborhood -- you'd hear people saying things like, " Oh, I live on
lower
Ludlow now, it's much cooler than upper Ludlow."  I'd say it was over when Billy Corgan moved upstairs from Max Fish and spent $10,000 putting in new floors in a tenement apartment.

Otterness: I remember the day when I was in Pink Pony, and a table full of suits showed up. Really! It was shocking -- like seeing guys in military outfits or something. They were there to discuss the real estate of the building above Ulli and the building next door. I'm gonna guess that was eight years ago.

Rimkus: The fire exit to Max Fish is attached to the Pink Pony. So when the landlords bought the Pink Pony, they basically said to me, "You can rent the Pink Pony at market value," which was like $20,000. I couldn't, in good conscience, go find a tenant and ask them to pay that rent and grant me the fire exit. It was just over at that point.

McCormick: As the neighborhood got more high-profile, police presence was more pronounced. And Max Fish, which was helping make the neighborhood better, started being seen as a problem. I think it ultimately became a culture war. They were the last bar left on that street that didn't show fucking sports on TV. I think the cops saw it and were like, "This is not what we're used to seeing. The people here are weird. They're playing songs I don't know on the jukebox. They're dressing in ways that I don't approve of. There's art on the walls."

Fairey: Last time I was there was around 2010. I almost got arrested on the corner of Ludlow and Houston by an undercover cop for putting a sticker up. I talked my way out of the ticket.

Razo: Between the police and our landlords, it felt like everyone was gunning for us to close. But we did our best and hung on as long as we could.

Smith: One can criticize over-urbanization -- and it is extremely difficult for people of middle and lower income to live in New York because of all the rapid growth. We need to find a balance so that families can live there. [Pre-gentrification Lower East Side] had its charm, and it gave a lot of artists the opportunities to live, but it was economically a very un-functioning place before. You need businesses and services in neighborhoods. There was practically no food in that neighborhood. No place to eat. The food that's there now is mostly expensive food, but there's still some variety. The Essex Market is really nice now, but there used to be rats running all over the place in there. And that was the freshest food you could find within a 10-block radius.

Rimkus: The last three years were hard. The thing with Max Fish is that it constantly evolves, it constantly changes. But when our main lease was up, and then [the landlord] granted us the extension and another extension, it was just never the same. Because how much was I going to put into this place? It became stagnant. I really tried to keep it going. A lot of people loved the place. I loved it too.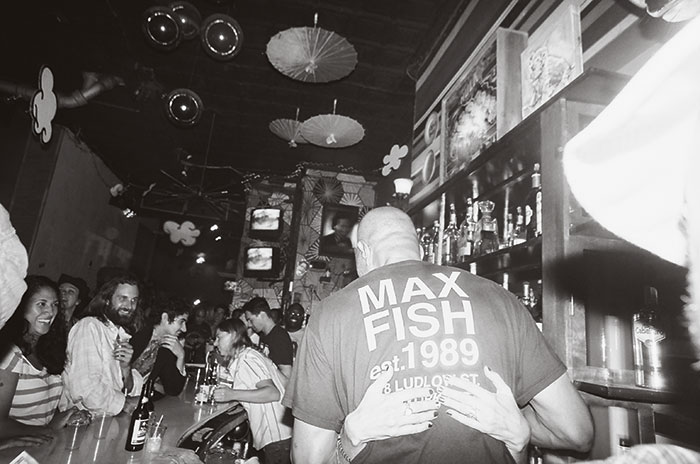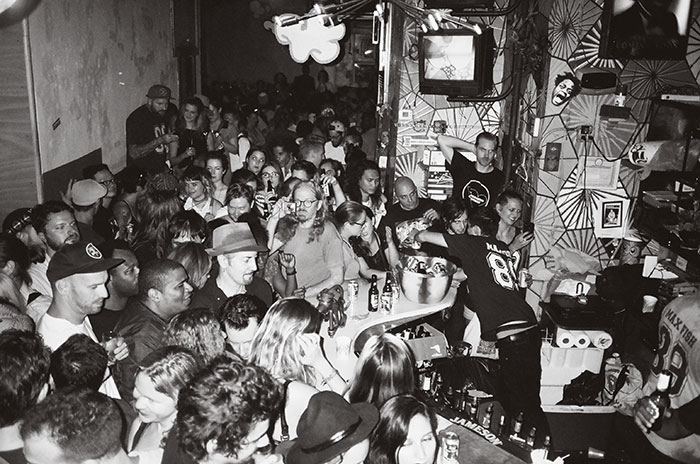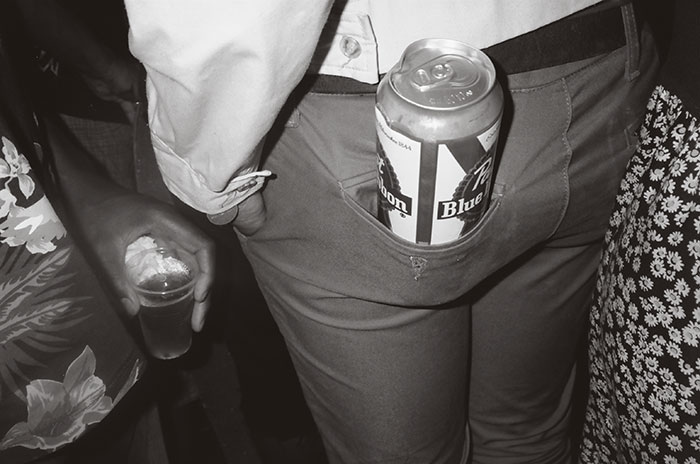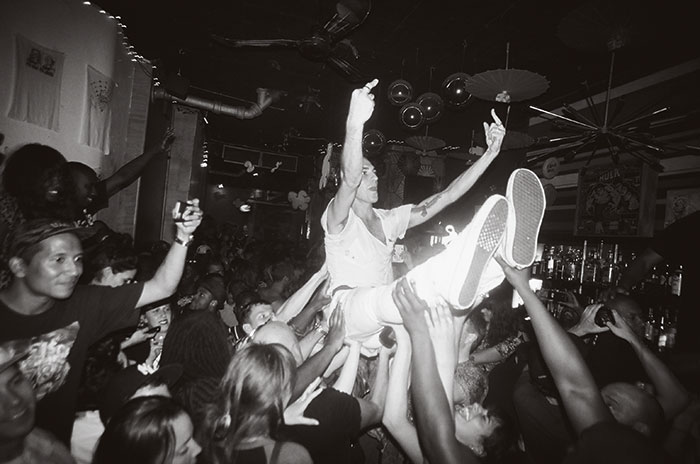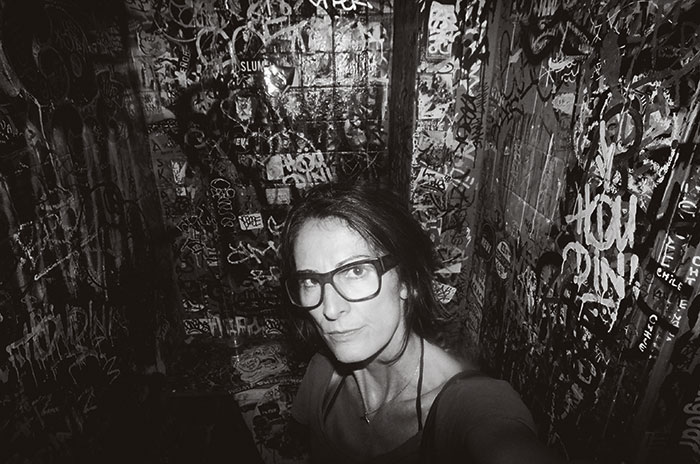 Above: Closing night; Cheryl Dunn in the Max Fish bathroom. Photographs by Cheryl Dunn.

In the wee hours of July 30, 2013, Max Fish as we know it came to an end.



Fitzpatrick: It was chaos, but in the most beautiful way. It felt like some kind of Occupy Wall Street thing. It was just wall-to-wall people. Even if you couldn't get a drink, it was still exciting just to be there.

Rimkus: A lot of people came to the closing. It was very crowded. Super-crowded. People were crowd-surfing. It never died down, it was packed up until 4 a.m. My friend who works at Von said, "when did you stop serving?" and I said, "at 4 a.m." And he said "Wow, you went by the book." How could I not?

Bones: Everyone worked and hung out the last night. Everyone was just taking turns helping out however they could. It got to be so crazy that it was just like a free-for-all. We ran out of beer by midnight. At that point, it was like when they announced at Woodstock, "Alright, now it's a free concert!"

Dunn: There was nothing that can ever compare to the last night. When I walked up, there was a line of people two blocks long.  I can't believe how many people were in there. I had to stand on a table because I thought I was going to get crushed. Everyone was celebrating something that was super-special and beautiful.

McCormick: It seemed like everyone had one "Max Fish year" where they came in all of the time, either because they were just in New York for a year or had just broken up with their boyfriend or whatever. You could see at the end there that so many people had had a Max Fish era in their lives.

The regulars ponder the void left by the bar, and Ulli works on a new location in Williamsburg.
 
Update: On April 8th, 2014, Rimkus was granted approval by the Lower East Side community board's liquor licensing subcommittee to re-open Max Fish at a new location on Orchard Street. The bar will be staying in its original neighborhood.

Razo: People keep asking me where I'm going in the meantime and I'm like, "I don't know, you tell me."

Kuo: I've been seeing all of these

Max

Fish

orphans walking around the street. And every time you ask the same question: "Have you found a new bar to go to?" And no one really has. I ran into one guy recently who was like, "I realize after going to other bars, how diverse

Max

Fish

was." I think the music reflected that. Like when there were DJ nights, one night it'd be only rap. And then the next night it would be only techno and the next night experimental music. Every bar I've been going to since

Max

Fish

closed is like a click too fancy, or a click too classic-rock, good-old-boy.

Fitzpatrick: Now that it's closed, it's really difficult to find a place to replace it. Especially for people my age, in their thirties, because we walk into other bars and people just think we're narcs or somebody's uncle or something. They just give us a little bit of the crooked eye like, "What're you doing here, Dad?"

Bones: Since the bar has closed we've been forced to go to other places. It's not the same, but it's nice just being with

Max

Fish

people in a room somewhere, you know? It's more than a drinkin' buddy situation -- we're actually tight. I think a lot of us just got lucky being in there.

Kuo: The thing with Ulli and how she runs her bar --  it's not that it's an old-school mentality, it's an Ulli mentality. Things have to be cheap; no assholes; everyone has to take care of each other. Her way of doing things works and that's why I love her.

Dunn: In New York City art history,

Max

Fish

will be in the books. It was organic and it was authentic. As time goes by, New York tries to recreate places like this because it pushes the real things away. But you can't recreate organic realness and perfection.

Ahearn:

Max

Fish

was the opposite of a gentrified bar. It had those aspects to it, but it wasn't about moving in and bringing the neighborhood up to a higher class. That was not the point of the bar. It was meant to stay on the same level of the neighborhood as they found it. Ulli always really wanted the feeling that there was a fluid, social mix of the neighborhood.

Simins: Most of the people living in downtown Manhattan are the people who have made it, not the people who are struggling to make it. And that was very much the vibe of

Max

Fish

: people who were still making it, about to make it, trying to make it. That's reserved for Brooklyn now.

Rimkus: I looked at new spaces in Greenpoint. There were nice spaces out there, but they were not cheap. Nothing is cheap. In Bushwick they want to charge you like $8,000, which is not expensive in terms of rent for a bar, but then I'm thinking, "How am I going to get people to go all the way out there?" Brooklyn rents are just as expensive as Manhattan. But the new bar will be twice the space. Potentially, it could be great.

Fitzpatrick: That was part of the whole attraction to the place: it was about interacting with people, checking out art, listening to music. It was a full-on experience, as opposed to just going to a bar, drinking a beer and watching sports. I mean, we got stupid a lot of the time, but we started off in the right place.