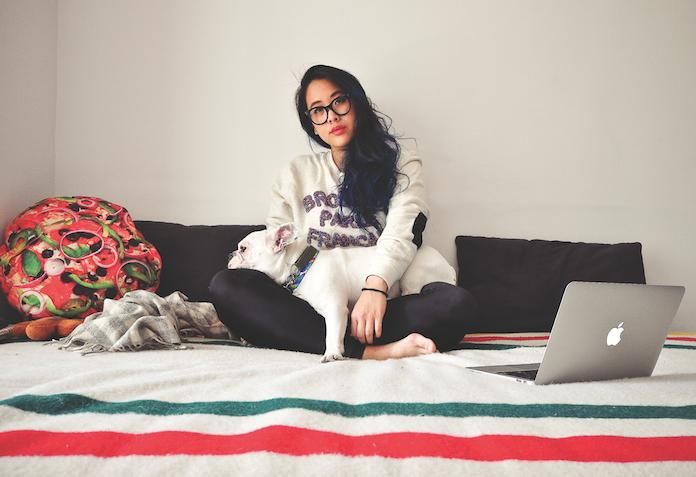 Each week in our new column, "No Sleep Til...," we'll be talking to cool kids around the globe, asking them to fill us in about the bands, DJs, music venues and night spots they and their friends are obsessing over. Next time you visit their home city, leave your Fodor's and Lonely Planet guides behind and go party like a local instead.
Name?
Denise Lai
Age?
27
Where do you live?
Hong Kong and Shanghai
What do you do there?
Freelance Graphic Designer and blogger at
Superwowomg
.
What Chinese bands or DJs are you obsessed with and that you think we should know about?
Some awesome mainland China bands are this group
Hedgehog
fronted by a male lead called ZO and a badass female drummer called ATOM and another band called
Queen Sea Big Shark,
  which is China's own version of the Yeah Yeah Yeahs with their eclectic female lead Fu Han. A favorite from Hong Kong is the super stylish
The Yours
.
What does their music sound like?
It's all kind of indie-pop rock, always with a good beat and it makes you want to dance even if you're by yourself. Some favorite songs are "24 Hours Rock Party" by Hedgehog, "The Way We Were" by The Yours and "Let's Play" by Queen Sea Big Shark, which was initially an exclusive single for the Converse China site.
Where are the cool places to see live music in Hong Kong?
Hidden Agenda
,
BeatingHeart
or
XXX
. The vibe is chill and you find less of the snooty people than you do more often at fancy clubs.
Describe your perfect night out in Hong Kong.
A good night out in Hong Kong for me always consists of great food, friendly company and chill vibes. Me and my friends will often start the night at our favorite hotpot joint called
Together Pot
or at our favorite yummy Japanese place called
The Mon
and we'll eat and drink and probably laugh our asses off as if we're the only ones in the restaurant. We'll either drink to our hearts content at the restaurant or move to any of the fun bars along Hollywood Road or to my friend
ChristingC
's showroom for our own little private party!
What's your favorite bar/nightclub?
Some favorite bars to hang out in Hong Kong are
Common Room
,
Executive b.a.r.
(a Japanese bar that uses imported fresh fruits) and
The Blck Brd Bar
. These places are cool because they're all sort of chill, nothing too frou frou and they remind me of some of my favorite bars I used to go to when I lived in New York. (It also helps that they also serve delicious food to go with your drinks for a more hungry night!) The Sai Ying Pun and Sheung Wan neighborhoods have a few new cool venues popping up here and there, which is always good for the over-crowded party central area in Lan Kwai Fong, Hong Kong.
What's a bar or nightclub you would NEVER go to in Hong Kong?
Hong Kong is famous for its insane party scene but after clubbing way too much when I was a teen, I prefer more chill nights at bars or at a friend's place, which is why you'd never see me at clubs like Privé, PLAY or Beijing Club. Most of the places I go to I love because you can still have a decent conversation with your friends and it's not like "BOOM BOOM BOOM BOOM I WANT YOU IN MY ROOM" loud.
Check out Denise's band recs:
Hedgehog -- "24 Hour Rock Party"
</div> <br/><font style="font-size: 1.25em;"><b><a href="https://www.facebook.com/TheYoursOfficial">The Yours</a> -- "The Way We Were"</b><br/><br/></font></div> <div style="text-align: center;"> <br/><i><br/></i><div align="left"><i>Check out Denise's nightlife listings:</i><br/><br/><a href="http://hiddenagenda.hk/">Hidden Agenda,</a> 2A, Wing Fu Industrial Bldg, 15-17 Tai Yip Street, Kwun Tong, Hong Kong<br/><br/><a href="https://www.facebook.com/BeatingHeartStudios">BeatingHeart</a>, Unit A2, 8/F, Cheung Fat Building, 7-9 Hill Road Shek Tong Tsui, Hong Kong <br/><br/><a href="http://xxxgallery.hk/">XXX Gallery</a>, B/F, 353-363 Des Voeux Road West, Sai Wan, Hong Kong<br/><br/>Together Pot, G/F, 168 Third Street, Sai Ying Pun, Western District, Hong Kong<br/><br/><a href="http://www.themonstage.com/">The Mon</a>, 4/F, The Goldmark, 502 Hennessy Road, Causeway Bay, Hong Kong<br/><br/><a href="http://www.common-room.hk/">Common Room</a>, Wo On Building, 8-12 Wo On Lane, Central District, Hong Kong<br/><br/><a href="http://executivebar-com-hk.blogspot.com/">Executive b.a.r.</a>, Bartlock Centre  3 Yiu Wa St, Causeway Bay, Hong Kong<br/><br/><a href="http://www.theblckbrd.com/">The Blck Brd Bar</a>, 6th Floor & Roof Garden, 8 Lyndhurst Terrace, Central District, Hong Kong<br/><br/><a href="http://www.papermag.com/2013/05/more_from_our_no_sleep_til_ser.php"><font style="font-size: 1.25em;"><b>More from our 'No Sleep Til...' series including nightlife and music in Paris, Mumbai, Seoul, Bogotá and more!</b></font></a><br/><br/></div></div>