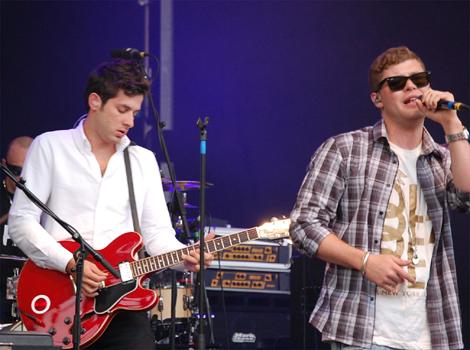 Last week I went to Mark Ronson and Rich Kleiman's Allido Records on Mercer Street to hear some new tracks from Ronson disciple Daniel Merriweather's debut album out this spring.
And let me tell you, I just can't seem to get over how cute Mark Ronson is. (Daniel's also cute, but he wasn't there). Mark's so sweet as well and that British accent (although many people debate why it's there) is killer! I was practically sitting on his lap in the small studio, but unfortunately for me (and I like to think him) I had my own chair. The songs from Daniel (who sang on Mark's cover of the Smiths' song "Stop Me," the first single off his record Version ) I would categorize as soulful pop, complimented on some tracks by the Daptones's horn arrangements (as heard on Amy Winehouse's Back to Black). Mark promises that the sounds of a childrens chorus added to one of Daniel's forthcoming songs. The lyrics are great and the song titles are real attention grabbers ("I Kill Myself" and "Get Out (Off the Couch)").
He also told the story of when he had both Daniel and Amy Winehouse at Allido and he left them alone for a few minutes, and when he came back Amy was on the guitar playing a Stevie Wonder song as Daniel sang along. Mark told Amy to teach him the song on the guitar, so they could play it in their meeting with Clive Davis the next day -- which they did. And Clive loved it! So glam!
Mark also said that the one and only Barry Manilow recently named Version one of his top five records of all time. That's crazy! Mark then expressed that he would like to meet Barry and J Records rep Sarah chimed in that maybe he could go to Las Vegas and meet him! How crazy would that be? Mark and Barry just hanging out in Vegas. I love it!
Pictured is Mark Ronson and pal Daniel Merriweather doing what they do best.