Tech LadyMafia, a listserv that connects women in tech around the globe, started like most of Aminatou Sow's projects do: Someone told her she couldn't, so she did. Sow remembers getting a Gchat from her friend, technologist Erie Meyer, that shared a link to an article about "how there's seven women who can computer in the country," she jokes. Sow couldn't square the dismal statistics about a lack of women in tech with her own experience -- after all, she and Meyer and many of their female friends worked in the industry. "We had more than one friend who had applied to be a NASA astronaut that year and we knew a lot of women who worked in and around tech," Sow says. And so while Meyer had wanted Sow to commiserate about not being acknowledged as women in the tech industry, Sow had another idea. "We realized that our place in the ecosystem was to highlight the work of women who were already there."
Four years ago, Sow and Meyer founded Tech LadyMafia. The invitation-only listserv boasts more than 2,000 members; it not only helps women find jobs, fix coding problems, and seek advice, but it's also a platform where female friendships are built and supported. "The female web is so strong," she explains. "There's no pride -- people just step up and they make time and space for you. That's been something really special to me."
Along with Tech LadyMafia, Sow also produces Call Your Girlfriend, a podcast about news and pop culture she co-hosts with the writer Ann Friedman and launched in 2014. Like her work with Meyer, Call Your Girlfriend began when someone told her there were no women making podcasts and Sow became determined to prove them wrong. Now, Call Your Girlfriend is a featured editors' pick in the iTunes Store and has found a wide audience who tune in to hear conversations between the "long-distance besties" on politics, dating, and shine theory -- the idea that befriending powerful women will take one further in life than competing with them.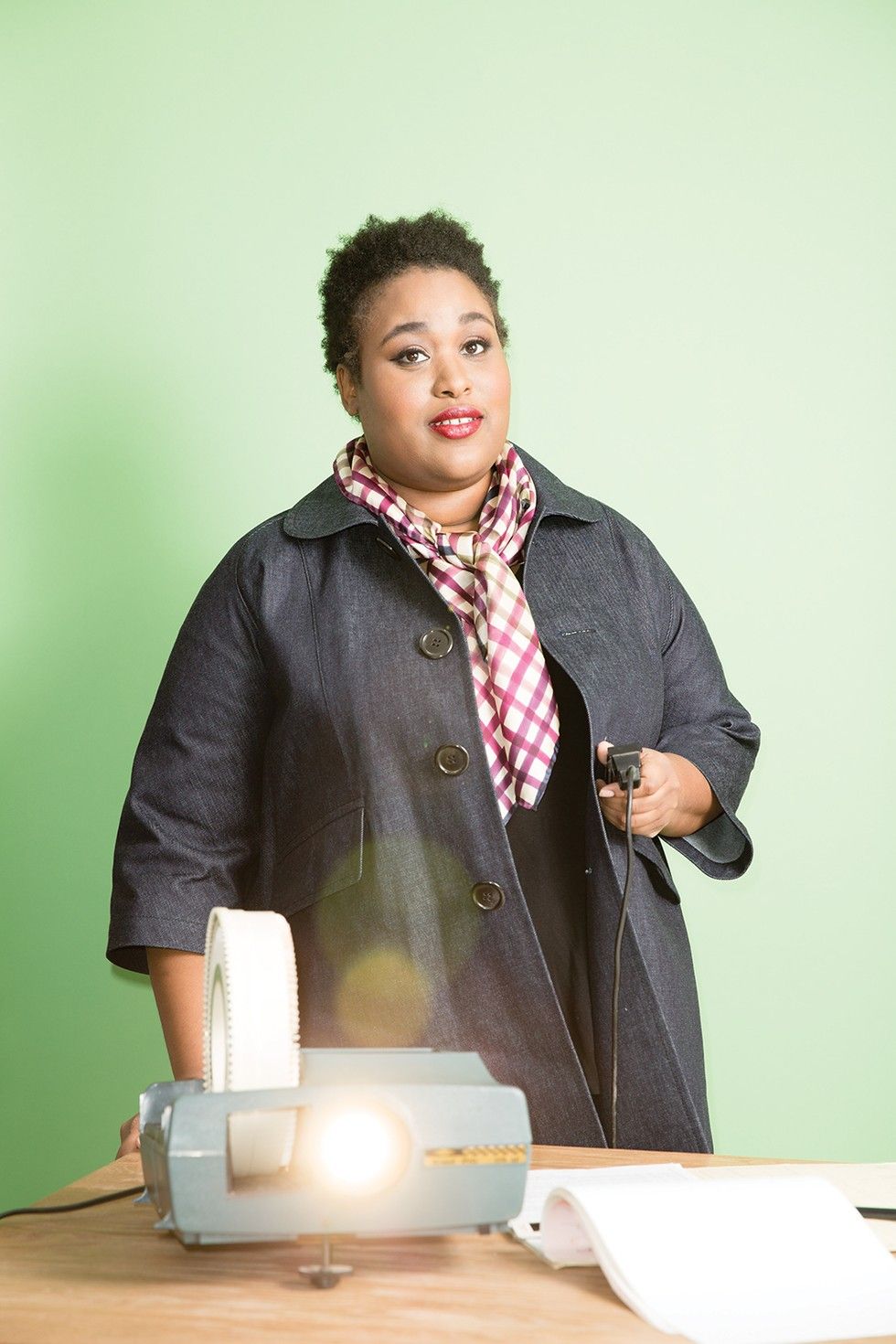 Aminatou wears a coat by Comme des Garçons and a scarf by Sybilla
Although Tech LadyMafia and Call Your Girlfriend serve different purposes -- the listserv functions as a networking service and the podcast is like having your best friends over to unwind over wine (except your best friends include female intellectuals like Shani Hilton and Tavi Gevinson) -- they have the same flavor to them. Sow's projects feel warm, inviting, but also explicitly feminist. "People are always trying to sell you empowerment instead of feminism," she explains, before drawing a distinction between the two. "By all means, people should feel good about themselves. But that doesn't mean you're participating in a political movement, which is what feminism is."
And both projects value collaboration, something that comes naturally to Sow and makes her stand out in a tech culture that prizes lonely coders and isolated innovators. She points to her international upbringing -- first in Nigeria, then Belgium, and finally the United States -- as the source of her team-building spirit. Watching your friends succeed, she says, should give you hope for yourself. "Whenever I see someone become successful, that's all I can focus on."
"I think women are stronger when they hunt in packs," she adds. "It's easier to get shit done and it's fun."
Hair and makeup by Jane Kim / prop styling by James Whitney for Artist United Agency
Photographic Assistant: Ellie Hogue