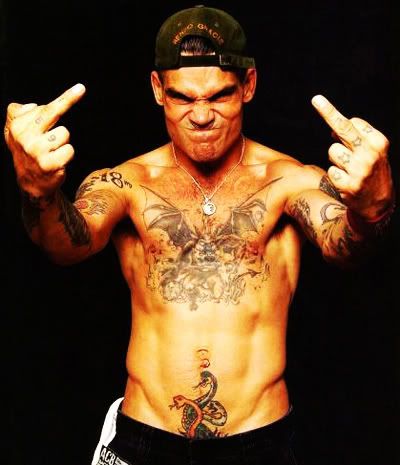 A CBGB Festival concert at Webster Hall was cut short last Friday night when Harley Flanagan, a founding member of New York hardcore legends Cro-Mags, and who is no longer in the band, snuck backstage and stabbed and bit two of the band's current members. Flanagan was arrested on assault charges and later told the website nynatives.com that he acted in self defense. The attack came after years of tension between Flanagan and Cro-Mags' John "Bloodclot" Joseph, also an original member of the band and who leads its current version.

Below, Steven Blush -- an early
PAPER
contributor who has written at length about the New York hardcore scene and whose book,
American Hardcore: A Tribal History
, inspired the 2006 documentary
American Hardcore: The History of American Punk Rock 1980-1986
-- weighs in on the attack and what he thinks provoked Flanagan.

News accounts of Harley Flanagan's stabbing spree last Friday night at Webster Hall were troubling to say the least. Nobody's here to give it a positive spin or defend his actions. But there's in fact far more to the story than meets the eye.  
Harley Flanagan isn't like you or me. Most of us grew up with relative safety and security. Harley came up like a feral animal, left by his hippie mom to fend for himself in the '70s L.E.S. jungle of crime, drugs, abuse and poverty. By age 10 he was a downtown star at Max's Kansas City and CBGB, drumming in his aunt's punk band The Stimulators, and socializing with Joe Strummer, Deborah Harry and the Dead Boys. Everyone thought it was so cute, but it wasn't. By age 14, fueled by the criminal rage of Black Flag, Motörhead and British skinheads, Harley began The Cro-Mags, one of the most violent and intimidating bands ever. The dude was so tough; he had as much to do with clearing out the East Village as Operation Pressure Point or the NYPD.
Frankly, I like Harley and I also like John Joseph because early Cro-Mags were so incredible. My first gig was interviewing them for
Paper
in 1986. I do respect John for turning his Mags into a well-oiled machine, and get how his hostile takeover dates back to when Harley tossed him to the curb in '87. And while it's not a sham for Cro-Mags to go on without Harley, it's a half-truth, like Tony Iommi's Black Sabbath without Ozzy or what passes now for Alice in Chains.
Thursday afternoon, Harley helped introduce a screening of
American Hardcore
as the opening event of the CBGB Festival. He had his two sons in tow, and he was articulate, reflective and funny. But he was tweaked, upset about the Cro-Mags playing this big NYC show that night and making money off of his songs while he's existing hand-to-mouth. (He'd been at once threatening the band on Facebook, and extending olive branches to join the band onstage for a song or two.)
Harley should've never done what he did, but in his eyes, he needed to do something. He created New York hardcore and has nothing to show for it. His old friends have written him out of their history, all going back to his beef with the newer-school DMS punk gang (originally known as the Doc Marten Skinheads) -- every top New York hardcore band has members with DMS tattoos. So it was like the end of
Walking Tall
, when a man pushed to his limits explodes into complete carnage.
The guy thinks like a ninja, and thought he was entering a den of vipers, so he came strapped for battle. He used his festival access and rock guile to get backstage for that chance to see what his enemies were up to, maybe scare a few, hopefully to get a piece of John, and in some weird way, to see the show. Harley's a black belt in Gracie Brazilian Jiu Jitsu, so the knife was for last resort. He knew he could get jumped and was right. Cornered and caged, it took 30 bouncers and crew to take him down. The street-rat knifings and bites were directed at, in his eyes, the most culpable.
If I were talking to the judge, I wouldn't say this was a silly Sid Vicious/GG Allin punk rock self-immolation spree, but more like the knife play of blues icons like Robert Johnson or Leadbelly --  that classic struggle between life and death. Or as Harley and the Cro-Mags put it so well back on 1986's aptly titled
The Age of Quarrel
, "Survival of the Streets."
Harley Flanagan has carved out a small piece of his turf. Let's see what it cost him.