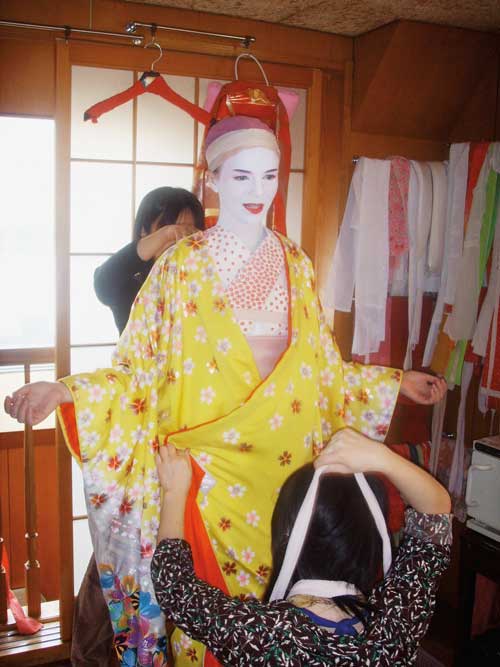 Actress Amber Tamblyn, known for her turns on the big screen (The Sisterhood of the Traveling Pants, The Ring, Grudge 2, 127 Hours) and the small screen (Joan of Arcadia, House, M.D.), has a couple of high-profile TV and theater projects in the works (about which she is mum for now), as well as a book of poetry, illustrated by Marilyn Manson. When she travels, Tamblyn opts out of the usual tourist fare and likes to take things into her own hands. For example...
A few years ago, when I was shooting The Grudge 2 in Tokyo, I decided to stay in Japan for a month after filming to travel around. For one part of the trip, my best friend Meredith came and we headed to Kyoto. We had heard that there was a place there where they would turn you into a full-on geisha--from your makeup to the wigs to the kimonos, the absolute full outfit. So we did that. The makeup took about two and a half hours and the company arranges this photo shoot for you, so we did that, too. And then we left the makeup on and our hair in place and decided to go to the geisha district. That night there had been a huge lightning and thunderstorm, no rain, which just added to the drama of it all, as Meredith and I biked in our geisha outfits to the district.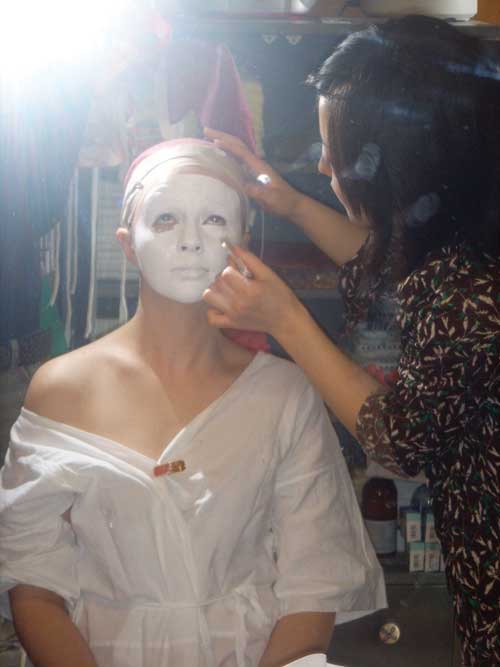 We locked our bikes up and started walking very slowly through the streets, trying to disguise ourselves as real geishas. And it's crazy, there are tourists and photographers all around who are kind of like paparazzi; they treat the geishas like celebrities. They'll wait for them to come out of a party, and take tons of pictures as they are slowly clip-clopping along. Meredith and I were able to get past the gates into this private area, and we saw a drunk geisha laid over a guy's lap, leaning on a stretch limo. To give full disclosure, we were also very drunk.
At one point, though, we got spooked. We were afraid we would go to jail, and then we'd end up being the dumb racist white girls doing something completely disrespectful to a country's culture. I kind of freaked out and was like, "Why is this funny at all, this is so stupid." As we left, we were exiting through the gate, and one of the guys chasing the geishas around with a long-lens camera noticed that the chopsticks had fallen from my wig. "Sumimasen," he said to me, which means "excuse me" in Japanese. And he handed me my chopsticks. I said, "Thanks, dog," and kept walking. He looked at me with a horrified and confused stare. This was a guy who had been hunting and taking pictures of geisha girls all day and then this geisha said "Thanks, dog" to him. That was my proud moment of like, "Yeah, I confused somebody." We were in Kyoto during this festival, and there were all these lanterns out, which lent to the strangeness and mystique of us wandering around with no reason other than to just attempt to fit in for a moment only to then realize that was such a horrible idea.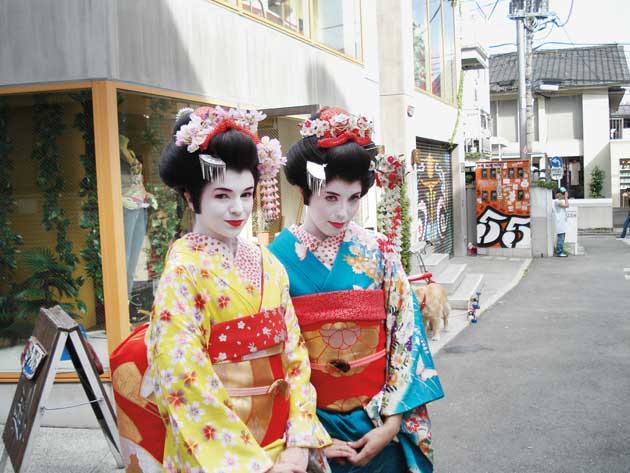 Photographs courtesy of Amber Tamblyn