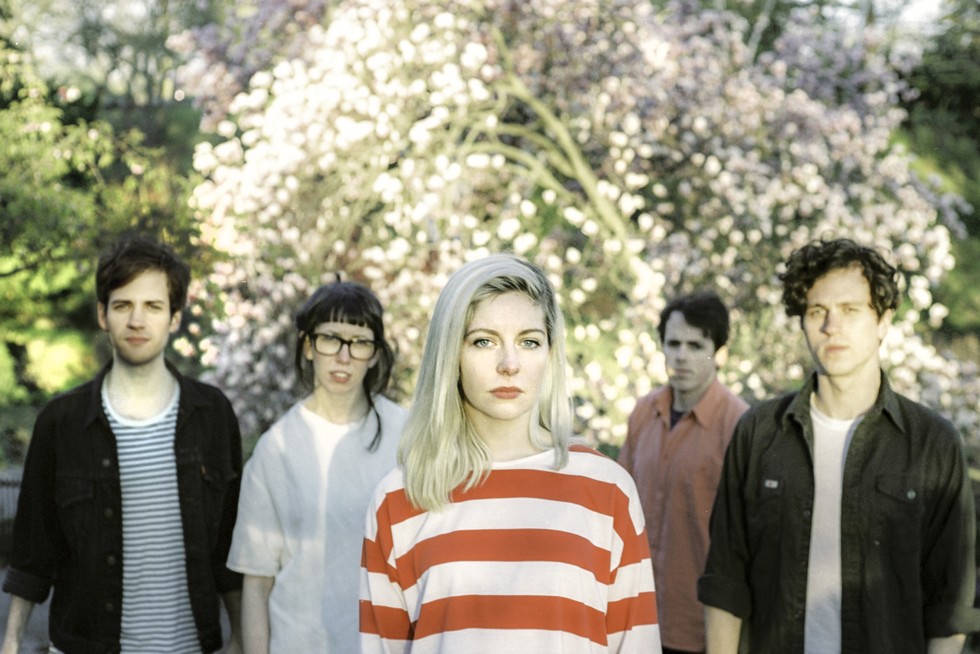 The Toronto five-piece Alvvays often sound like the house band at a 1950s prom, but with the amps turned all the way up and the drummer gobbling Benzedrine between sets. The hazy romance is there, but so is a looming sense of disaster; as bandleader Molly Rankin sings in the totally addictive single "Adult Diversions," "One more cocktail / Is it a good time, or is it highly inappropriate?"
The band -- Rankin on guitar and vocals, Kerri MacLellan on keys, Alec O'Hanley on guitar, Brian Murphy on bass and Phil MacIsaac on drums (not really popping bennies, as far as we know) -- are currently on tour in support of their first album, which Polyvinyl put out in July. On the eve of its release, Rankin took a call from us at the end of a waitressing shift. A funny but no-nonsense woman in her late twenties, she talked about finding her voice -- the Rankin Family was a top-selling Canadian folk act in the '80s and '90s -- as well as scaring up trouble with her bandmates and starting work on the next album (warning: may contain flute).
Let's start with some of your favorite "Adult Diversions" around Toronto.
We all moved from Prince Edward Island basically, in Halifax, Nova Scotia, so to be in Toronto, there's so much to do all the time. We all work a lot. We drink probably too much. We're always the first people to be dancing anywhere -- like in a really embarrassing way. We also really like doing karaoke at the Legion. Not in an ironic way; it's a very earnest, amazing time. The people there are so cool. I did a Primitives cover last time -- from Dumb and Dumber, "Crash."
How does the songwriting work with you guys?
Alvvays started going under my name at first. It was more of a folk-pop singer-songwriter kind of vibe that grew into a kind of band sound. The majority of the songs are my ideas and then Alec has always been go-to person for streamlining things into a digestible format, rather than broken thoughts. He's got a great ear for that kind of stuff.
Have you been writing since you finished the album?
Yeah. The album has been done for a while. We did it last-last winter with Chad [VanGaalen], but it had to be resurrected because so many of the files had crap all over them -- like sonic crap. We've had cassette copies for a long time. We had them 'cause no one could really put them on the Internet if it was a cassette. But I've found some things online. Like, "Fuck, why did I think that wasn't going to happen?"
Probably a guy holding a boombox up to his laptop and recording that.
I know. Some dude has a converter resurrected from the '70s or something.
And then Polyvinyl happened. How did that come about?
That's been really exciting for us. We never thought we'd be able to put the record out in the States. We had sent some stuff out, and there wasn't a huge initial response. And just over time, the more content you release, the more interesting to people the music becomes. But I don't know, I think it was a manager thing and the label just sort of... bit.
What does the Rankin family think of the album?
That's really funny. My uncle, who has cabinets full of old Scottish fiddle tapes, he only listens to cassettes. I gave him our cassette and he hasn't really responded, but I'm sure he got a kick out of it. I think I'm the first Rankin to ever say "fuck" on a song. At home, it's such a conservative, straightforward island. [The family] have been super cool with all the weird detours I've taken. I used to play the fiddle and tour with them a little bit, and I played more folky stuff. But they don't really care. They're all theater majors and stuff.
You're a fiddle player as well. Did you play any on the album?
I didn't. I sort of want to pick it back up' cause listening to the Women records with droney Velvet Underground kind of fiddle is really cool. I guess that would be called "violin." Chad did want to play flute on the record. It almost happened.
Something to look forward to on the next one.
Exactly.
Let's circle back to "Adult Diversions." Any others come to mind?
"Adult Diversions" actually came from a program that me and someone else in the band had to take because we were both arrested. It was sort of like a mediation process for first-time offenders. It's called Adult Diversions, and it's a little program so you don't have a criminal record. So basically I went to alcoholism counseling and had to make a donation to an alcoholic house, and then I passed the program. The song is about alcoholism, I guess, and depression, but it's a really upbeat jangly shimmery song, so yeah... [laughs]
Do you mind my asking what got you in trouble with the law?
I hit some cops. It was a bit of a... that's sort of the final sentence of the story. I was defending someone. They were sort of beating up one of my friends and so I sort of got involved, and then I was charged with a few counts of assault. Yeah, pretty funny.
Wow. Really puts a different spin on the song.
I like the way that phrase sounds. It conveniently fits a stage we're all in right now -- we're almost 30 and we're just sort of like putting off getting real careers and getting married and trying to ignore that we should probably grow up, so it is very applicable to all of us. But that was the origin of the phrase. I have a certificate on my wall that says, "YOU HAVE COMPLETED ADULT DIVERSION. YOUR RECORD WILL BE DESTROYED IN FIVE YEARS" or whatever.
Alvvays' self-titled debut is out now on Polyvinyl.