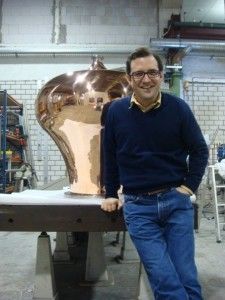 Not everyone is hating on the (perhaps not so)
Great GoogaMooga
festival that took place last weekend,to wit,
Allen Katz
of
New York Distilling Company
. On Saturday, 600 of their gin-based cocktails sold out in 45 minutes. His Brooklyn distillery, just a few months old, is part of the borough's manufacturing renaissance. So far they've released two products, Dorothy Parker American Gin and Perry's Tot Navy Strength Gin, and there's rye whiskey in the works. Distilling in Brooklyn dates back to the 1700s. During Prohibition there were an estimated 50,000 illicit stills in New York City. Brooklyn now has 6 legal ones; it's a start.
What was it like for you to be at GoogaMooga? It sounded insane.
We had Bryan Schneider of the Monkey Bar serve cocktails for us on Saturday and he said it was madness. But I was there on Sunday and it could not have been more pleasant or perfect. I don't know if it was better organization that day or a different demographic, but there wasn't any garbage and the lines didn't take that long. Aside from working, I had a great time.
For me, Memorial Day weekend is the kick-off for gin and tonic season. Which of your gins do you recommend to mix with tonic?
We're focused on
Fleet Week
through Memorial Day. Since Perry's Tot was named for a Navy commander (Matthew Calbraith Perry, who served as Commandant of the Brooklyn Navy Yard from 1841-43), we're going to do some drink specials on Monday to honor the sailors. Tot and tonic is on our menu at
the Shanty
(the tavern adjoining the distillery). Keeping in mind that the proof is navy strength (57% alcohol whereas most gins are 40%), we recommend an ounce and a half of Perry's Tot in a 10-ounce Collins glass, fill with ice and your tonic -- we use Q Tonic, another fun Brooklyn brand -- and squeeze a lime wedge and put it in the drink.
The Perry's Tot seems too overpowering for a martini. Would you recommend the Dorothy Parker gin for that?
I would suggest the Dorothy Parker in a martini along with Cinzano Extra Dry vermouth. The type of vermouth you use really does matter. The Cinzano Extra Dry tempers the fruit-forwardness of the Dorothy Parker. We also do martinis with Tot but with Dolin Blanc vermouth, which has a brighter fruit quality and balances it better.
Do you have a favorite Dorothy Parker quote?
It would have to be: 'I like to have a martini, two at the very most. After three I'm under the table,after four I'm under my host.'
Your distillery and the Shanty are on the same block as a fire station. Would you recommend it as a place where girls can pick up firemen?
If you want to do that, you can.
How many stores are carrying your gin now?
In metro New York you can find it in 35 stores. You can also taste it by coming to the distillery. We have free tours Monday through Thursday from 5 to 7pm and it includes a tasting at no charge.
Have sales been pretty much what you projected so far?
We're selling 750 to 1000 bottles a month. The response has been very generous. I'm hoping the gin will become more affordable in time for gin and tonic season [currently the Dorothy Parker retails for around $32, Perry's Tot for $33]. By June we'll be selling it to our distributor at a discount and we hope those savings will be passed along.
Can you say when your rye whiskey will be done?
My typical and not flippant answer is how long is a piece of string? It'll be ready when it's ready. Our focus is on aging rye in full barrels for as much time as needed. We taste it every other month. We're looking toward 2014. But either late this year or early next year we will be releasing a rock 'n rye, a throwback that was popular in the late 19th and early 20th century. It's rough rye whiskey tempered with rock candy sugar. Traditionally it's young whiskey, just months old, with some nuance and color, oftentimes fruity. It'll sell for about $35 retail.
I read that National Martini Day is coming up in June. Do you have anything special planned?
I'll be drinking at least two martinis.
Is that your limit?
No, but I think that's a reasonable amount. 
New York Distilling Company and the Shanty
79 Richardson St., Williamsburg, 718-878-3579