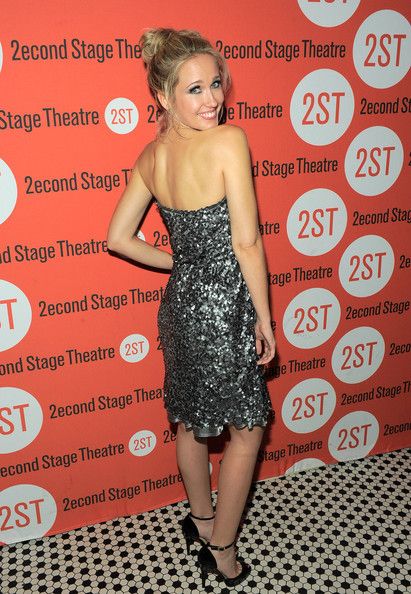 In real-life actress
Anna Camp
's life is pretty low-key. The actress, whom you might recognize for her turn as an evangelical preacher's wife on
True Blood
, as well as Don Draper's first post-divorce girlfriend on
Mad Men
, is happily married and the proud owner of a puggle. But on stage in
Zach Braff
's new play
All New People
, which opened off-Broadway on Monday, things are a little different. Camp's currently rocking a mini-skirt and snorting coke (and the occasional Pop-Tart crumb) as Kim, a high-end hooker, in Braff's first playwriting attempt. "I'm a very dedicated, loyal wife so I get it all out at the Second Stage Theater," Camp jokes over the phone one night before rehearsal. The actress' performance provides many of the laughs (the
Daily News
called
it "deliciously ditzy") through out the 90-minute show, in which her character visits a New Jersey beach house in the dead of winter to cheer up its suicidal 35-year-old houseguest, Charlie (played by
The Hangover
's bachelor
Justin Bartha
.
Krysten Ritter
and
David Wilson Barnes
also star). While chatting with Anna we resisted the urge to quote the many hilarious lines we remembered from the play and, instead, talked about what it's like to work with Braff, her role as religious zealot Sarah Newlin on
True Blood
(the minister's wife would
not
approve of Kim's hijinks) and getting naked with
Daniel Radcliffe
. 
When did you know you really wanted to play Kim? 
I read the script and was like, "I want to say all of the things she gets to say and I don't want anyone else to because it's crazy." I just loved it. It's so much fun to play someone who's not like me at all. 
The last time we saw you on stage you were naked and putting the moves on Daniel Radcliffe in Equus on Broadway.
My husband has put up with so much! He's such a good man. He's just like, "What's next, Anna?" He can't even be surprised anymore. His favorite part of [
All New People
] is when my boobs get felt up by David, just kidding. Though, he's not actually touching my breasts in that scene, FYI. I don't want anybody touching my boobs eight shows a week for that long -- even my husband.  
Is your husband an actor too?
Yes, so he gets it. His name is Michael Mosley. He was in the
Glass Menagerie
at the Roundabout and he's in the new ABC show
Pan Am
.   
How did you meet?
We were at this party in Brooklyn on a rooftop and everybody was kind of exchanging numbers. I got his number and we went to a bar later and he asked me to dance and we totally kissed.   
Playing the pretty-princess blonde, as you did on True Blood and Mad Men, seems like it's pretty fun. Do you ever find yourself wanting to play different types of roles?
Yes, totally. It's sort of like a double-edge sword. I want to play my "type" because I know I'm good at it and I definitely get a lot of jobs doing it. But there are also times where I do just want to go the opposite direction and play someone really, really dark and dye my hair or shave my head or do something totally different where I'm not identified with being "the blonde girl." You can't hate what's giving you success in this business and I don't hate it, but I'm excited to play another role soon.  
Had you met Zach Braff before joining the case of All New People?
Yes, actually my husband was on the last season of
Scrubs
. It was really funny because I had to audition in L.A. and he was like, "Anna Camp. Hi, nice to meet you," but he'd actually been to my birthday party at my house and I said, "Actually we've already met," and he's like, "What?" And I told him it was at a party at my house. I totally put him on the spot and it made him nervous, you know, a party
at my house
? My God! And, I said, "Mike Mosley's my husband," and he was like, "Ohhhh, yes. Yes, yes." I was like, "I'm never going to get the part because I totally said that in front of everyone in the casting room," but I guess he thought it was funny. He totally called me out on it a few weeks ago. He's like, "Anna really put me on the spot the day of her audition." 
Have you seen your
Equus co-star Daniel Radcliffe in How to Succeed in Business yet?
I tried to get tickets right before I started rehearsals but they were sold out that day so I'm going to go as soon as the show closes. I'm kind of friends with his bodyguards so we text each other. I'll eat at Kodama all the time on 45th Street, right across from
How to Succeed
, and his bodyguard is always outside. I'm like, "Sanjay what's up!" He was super cool to me too while we were doing
Equus
. There are so many crazy fans and he was totally protective of everyone in that cast, even though we weren't paying him to be our bodyguards as well.
Are we going to see you pop up on True Blood again?
There's a small rumor going around that the guy who plays my husband may come back but we're always the last people to know. I would definitely go back if they asked me because I feel like my character needs some closure and I miss playing her so much. Michael McMillian plays my husband and we're evangelical Christians. He's a minister and we hate all the vampires, we want to rip them from the earth. My character also believes that every decision and everything that happens to her is because God is willing it to happen. It's so crazy. She's from Dallas, Texas and she's so fun to play with all the big hair and the fake nails. I love it.  
What's your favorite part about being back in New York for the summer?
I love New York, even if it's hot or whatever, that you can just walk into a great bar or restaurant and get a glass of wine and sit and take a break from the city. For the longest time my husband and I couldn't' find the bar where we had our first dance when we first met. It's this bar in Brooklyn called Zebulon, and we just thought it didn't exist anymore. But we were walking down the street and we just found it and went and had a glass of champagne and danced again. It was so romantic.  
Is it hard to be in the same profession as your husband? Do you criticize each other's work?
He's the most supportive guy and we're very open and honest with each other when it comes to this business. I trust his input and everything, but it's usually positive. I don't know if that's because he's afraid of me being mad at him but hopefully he likes what I'm doing. I generally love everything he does. He's so talented and my dream is to be able to work with him on a project some day because we've never acted together. It'd be the perfect job.
Pictured above is Anna in a sparkly Tommy Hilfiger number on opening night.