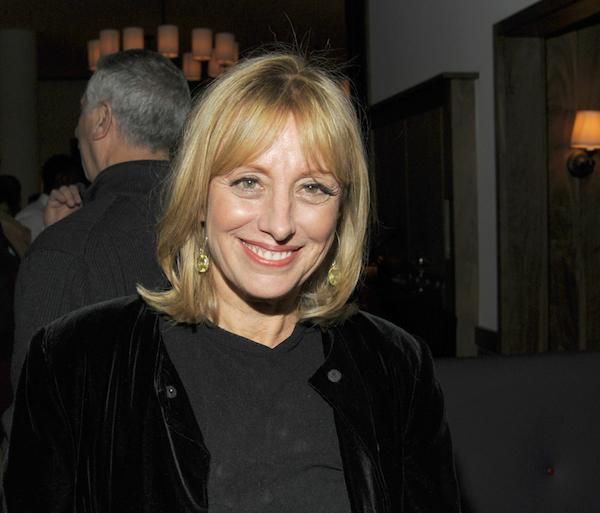 Alison Price Becker
is killing it again at
Alison Eighteen
, a two-week-old brasserie in a historic loft building in the Flatiron district. The space was created by the same design team,
Asfour Guzy
, which created the original
Alison on Dominick
, a romantic hotspot that reigned in SoHo from 1989 to 2002. Chef
Robert Gurvich
, who's in charge of the gutsy French-American food, worked at her original location as well as the now-closed
Alison in Bridgehampton
. Alison chatted over the phone about what took her so long to come back to Manhattan and the plans she has for a literary salon. 
How did the opening go?
Knock on wood, it's been terrific. People are coming out of the woodwork. We've had a lot of Elaine's people in. They're sort of lost, so we're hoping in time we'll fill that hole. A salon is the idea. We threw a party for Lewis Lapham. 
You're from a literary New York family.
My father was part of the original
Paris Review
. It was so hard for him when George Plimpton died. I grew up hanging out at Elaine's, but it wasn't that heady. I was little so it never really fazed me to be surrounded by celebrities. I'm much more in awe of it now when I look back. Elaine told me to never go into the restaurant business. When I was in my twenties and putting Alison on Dominick together she came down in a limo to warn me to be careful. 
You used to do author round-table dinners at your restaurant in the Hamptons. Will you be doing that here?
Absolutely. We'll probably start them in March or April in our private dining room. We'll also be doing movie nights with Criterion Collection. We have an 80-inch screen so we'll show the movie and do supper with the director or writer. I'm on the hunt for portable theater seats. We'll have watching parties for the Kentucky Derby, the Oscars, the Grammys. For author nights we'll have the writer be at a different table for each course so you can spend good quality time with him or her. I want to create a community room; maybe we'll have a backgammon night. We have a baby grand piano and can have up to three people performing without a cabaret license. A lot of architects are also great musicians so I'm thinking of having an architects music night. 
You were an actress before you became a restaurateur. You had a part in
Grease 2
?
I was one of the pink ladies! I got to sass off to everybody. One minute, I was walking onto a Paramount lot, wearing Sheer Energies, going to an audition where they'd say I was too fat or too thin or my nose was too small, and the next, I left it all to travel in Europe for three months. I never went back to L.A. I'd always cooked for friends and needed to do something to get me out of bed in the morning. I started answering phones for Jonathan Waxman at Jams and turned down a job in an off-Broadway play because it would mess up my phone answering job. That told me something. I loved acting and I was a good actress. I made a living at it for ten or twelve years, but I couldn't stand the business part of it. 
You had such a following at Alison on Dominick, what took you so long to come back to Manhattan?
I moved back here from the Hamptons in 2008; the economy and real estate market out there was just decimated. I took my time figuring out what I wanted to do. I did consulting and got into product development, had deals in the air, but nothing really took off. I'm an idea person. I like creating things. Just at the point I was thinking of creating another restaurant, Mike [Namer, of Alfa Development] called me and said he was moving into hospitality. This space in his building had come up. Everything fell into place. It's so beautiful, I walk in every day and think, this is mine? I have one of my managers here from Alison on Dominick and one of my waitresses so it's a lovely combination of old and new. 
You had to close your original restaurant because of 9/11, right?
Our restaurant was basically sitting on top of the Holland Tunnel and the police wouldn't let trucks down the street so it was impossible to get deliveries. The traffic was so bad it was hard to get people in for dinner. We were able to open the restaurant eight or ten days after 9/11 but the air smelled bad for a long time. The whole thing was so awful. We had an Army truck outside with two guys carrying Uzis. Really conducive to a romantic dinner, let me tell you. I woke up one day and thought: Somebody upstairs is telling me to close up shop. Ironically, the other thing that happened is that so many people left Manhattan and moved out to Long Island; my restaurant there was packed. Since that place was going gangbusters all winter and my restaurant in the city was struggling, I decided to move out there and oversee it full time. 
How soon will you be serving breakfast and lunch?
Once we get our dinner service where it needs to be we'll add breakfast and lunch, maybe in two or three weeks. Our reservation book is full but I'm keeping four booths open for walk-ins and you can eat at the bar. I keep a wait list because I have to tell you, people are badly behaved and don't show up for their reservations. We give the table away after 20 minutes. 
I'm glad to hear it's going so well.
Restaurants are like human beings. It's very hard to be perfect all the time. Sometimes you hit it but if there's one little misstep it can have a domino effect. So far there have been relatively few missteps, but when there's a problem it's how you deal with it that counts. 
Alison Eighteen
15 W. 18th St.
(212) 366-1818
www.alisoneighteen.com

 Photo from PatrickMcMullan.com