Watching Bravo's The Real Housewives of New York City is a bit like looking through a kaleidoscope -- the places and settings are recognizable but at the same time everything appears foreign, unfamiliar and totally skewed. Amid the post-war Upper East Side apartment buildings, Hamptons McMansions and poor Rosanna, the Count and Countess's mistreated live-in housekeeper, is housewife Alex McCord, who along with her husband Simon van Kempen, seem a bit removed from the madness, living in the cozy confines of Cobble Hill, Brooklyn. That's not to say McCord is not ridiculous -- watch as she forces her child to say apple juice in French and frolics on the beaches of St. Barth's in a thong bikini. But, she recently told me, "I would just say, whatever is out there, is a very small percentage of what was actually filmed and that people take it in the manner in which it was intended -- it's a reality show, not brain surgery." Of her non-Manhattan digs, McCord, who has been living in a Cobble Hill townhouse since 2005, and before that Park Slope, says. "If we had the choice of anywhere to live, anywhere at all, we would stay right in Cobble Hill. I've had the opportunity to live in various parts of the city, including the Upper East Side, and when my husband I moved in together we lived on the Upper West Side." Here's her guide to her Brooklyn 'hood.
FOOD:
My favorite restaurant is Jolie on Atlantic Avenue (pictured below). I really, really love their crab cake appetizer and they do a lamb that's really good. The salmon entrée is also really good as is the dessert trio of crème brulee. I've never had anything there that I didn't love.
We like buying groceries at Los Paisanos. I was in there on Sunday buying lamb. Stinky is great for cheese and we go to Smith and Vine for spirits. We buy our coffee from D'Amico…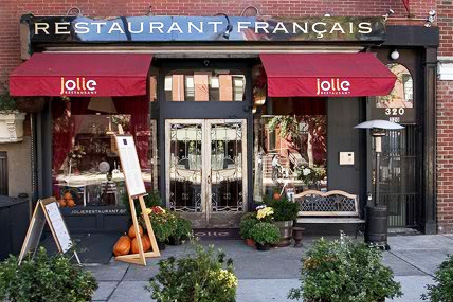 CLOTHES:
For myself, there's Butter on Atlantic Avenue. I love looking in at the windows at Bird. For the kids, we go to Half Pint (pictured below) in DUMBO, and in our hood there's Area Kids and Area Baby. For menswear, there's Watts on Smith.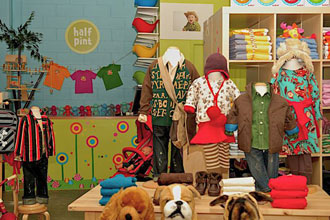 OUTDOORS:
It's lovely to walk from our house over to the Promenade. It's a lovely ramble and you can walk down the Promenade towards DUMBO. In warmer weather we'll go to Fulton Ferry Landing -- we love that. And then we love to walk over to Prospect Park if it's a warm day -- but not too warm.
My favorite playground is Cobble Hill Park, on Clinton and Congress.