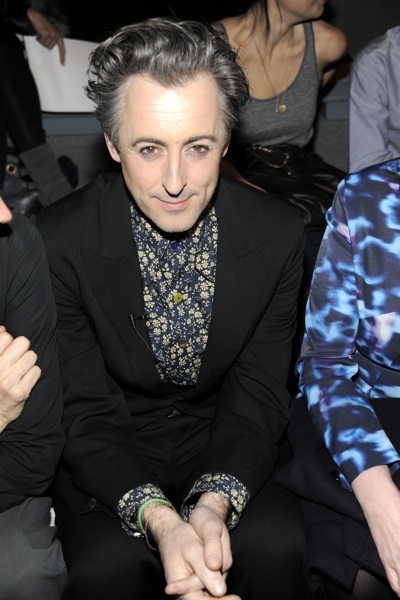 At last night's Cynthia Rowley runway show, models in towering metallic heels, massive sunglasses and colorful velvet dresses hoofed it down the runway to the sound of Adele's rafter-reaching pipes as front-row cuties like Julia Stiles, Alan Cumming, Lauren Bush, Greta Gerwig, Nigel Barker, Ryan McNamara, Kalap Linzy, Josephine Meckseper and PAPER's Kim and Mickey looked on approvingly. Following the show, we nabbed Alan Cummings and talked Gaga v. Britney.

What shows are on your radar this week?
I'm going to GStar. And I love me some Cynthia.

Do you have favorite designers you like to wear?
I think it's nice to mix. But I also like when people approach you and want you to wear their things. There's people I go back to all the time, but you can't just have one designer that you wear slavishly. Because that means you have the same mood all the time. And I have many moods. Luckily, I'm in a good one right now.

Did you hear Lady Gaga's "Born This Way" today?
I did. I thought it was very good. I thought it sounded very much like a Madonna song. Perhaps a little too much like a Madonna song initially. But I think the sentiment is the great thing about it. And I like a good ol' pop song with a nice sentiment.

And what are your thoughts on Britney's new song?
I'm not so crazy about the Britney song. I feel a bit like an old man when I listen to Britney now because I think, "Turn off that fuzz." Do you know what I mean?