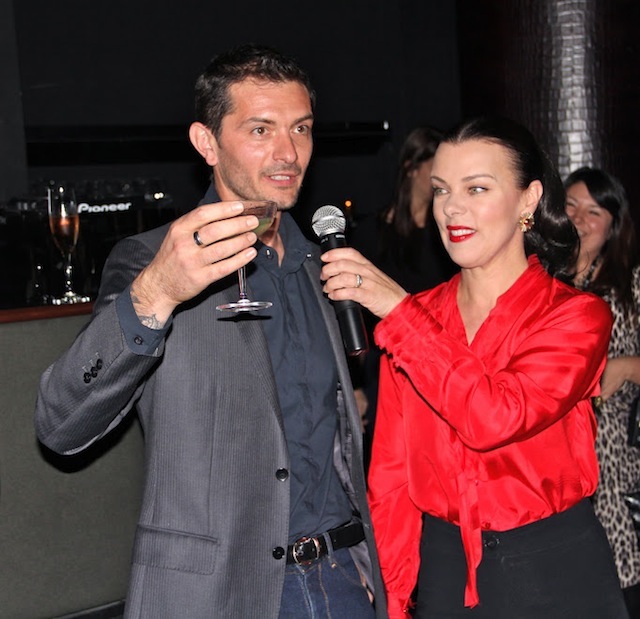 Debi Mazar
is back where she belongs. After a 20-year hiatus, Mazar has returned to her NYC roots, moving to Brooklyn with husband
Gabriele Corcos
and their two daughters. We toasted the actress's return at her NYC Wine and Food Festival party at Double Seven (pictured above), where the champagne, cocktails and caviar flowed. Between sips, Mazar and Corcos talked with us about the third season of their hit cooking show, Extra Virgin (read our 2011 interview with the couple
here
); her new role as a porn star in
Lovelace
; and about how there's really no place like home.
I noticed you were in the New York Times crossword a couple of weeks ago. What a nice welcome back!
Someone else on the subway the other day told me that as well, but I first found that out through Kim Hastreiter on Twitter. She's always the one who announces it to me because I guess she's an avid crossword person. Her and Ellen Burstyn. I'm in it a lot I think because of certain letters in my name.
What brought you back to NYC?DM
: I am from here and I always wanted to come back. I went to LA about 20 years ago and I basically didn't plan on staying. I was bicoastal 12 of those 20 years, but once I had children, I gave up my New York digs because I thought, "Am I going to have another rent, or am I going to have a nanny?" And I found that everything I came to do, whether to see family, or do different jobs -- acting, advertising, voiceovers, meetings -- everything seemed to come out of New York. And whenever I would come back here, I would just feel alive. Getting on the train, moving, walking through the streets, the culture, museums, bumping into friends.... I just felt that LA had come to be vacuous and I enjoyed it for everything that I could. I still very much like it. I love the terrain but I need people and I need the New York energy. So I thought, before my daughters turn into teenagers, it would be a good idea to get them out of LA so
they didn't resent me too much, and try to give them a slice of real life. I pulled them out of private school and threw them into New York City public school. And now we are closer to our home in Italy and I'm closer to my mother who lives in Florida. I'm going to see autumn leaves change, and my children are going to have rosy cheeks in the wintertime and build a snow man. That to me is joyous.
Was it easy for Gabriele and the girls to adapt?DM:
With Gabriele and my kids, I didn't know if they would take to New York because he's from the Tuscan fields and my kids are from the Sunshine State. My kids had to learn how to adjust to the concrete jungle, and I had to educate them on New York life, how to cross the street, for example. But I'm loving taking my subway again. And there are so many more farmers' markets here, and what's refreshing about Brooklyn is its mom-and-pop shops. I love that my husband says that he is living the American dream. He goes to the local butcher. He walks our 80 pound dog, Lampo, half a block every morning to take my two daughters to school. And it was a huge adjustment for the dog, too. He was going, "Wait a minute, I have to shit on pavement?!"
Gabriele Corcos
: It took him such a long time to figure out how to go to the bathroom, poor boy. But yes, this is the American dream to me. You feel like you are part of something that is beyond your own house and your own family. In LA it doesn't happen. We had neighbors for a decade and we never talked to them. And we tried. We never gave the key for our house for emergencies. Here everyone is always available. It makes me happy.
What can we look forward to on the new season of Extra Virgin?GC:
We'll have new guests, new occasions, and new scenery in Brooklyn. And we bring Tuscany to Brooklyn now. For example, I just can't find my bread here so I make it myself.
DM:
He makes me Tuscan bread every other day. He's mastered it and it's the only bread we keep in the house. Tuscan bread is very specific and it doesn't have salt. So in the show we wanted to celebrate New York and show how we eat in our backyards, for example, and bringing the essence of family life, and Tuscany everywhere -- even to sitting on your stoop or fire escape.
Are we going to see the move on the show?GC:
Yes, we used the move to have a little bit of a storyline. We arrive in New York. We show a lot of New York's Italian American culture, like Arthur Avenue, and show the traditions that are still alive, like curing meat and having a real butcher. It goes back to the family dimension and the neighborhood dimension. It is a wonderful change of pace because it reminds me so much of the way I grew up -- you meet people, you talk to people, it's not about you going on a mission to the grocery store and coming home. I appreciate that New York  is about constant interaction with everybody.
DM:
On the show you'll see Gabriele discovering simple New York foods like bagels and Tuscanizing them. But this is the last time we are ever shooting and moving again. Five weeks of packing and then a crew in your house for six weeks? At a certain point you burn out. We're going to stay put for awhile.
Any other projects in the works?DM:
Gabriele is playing a porn star with me in
Lovelace
, my next film to come out, and it's
his first feature. I play a porn star and when I found out I had to have a love scene
with somebody I said, "Well who's going to be the actor?" And so I got him a gig.
Extra Virgin
season three premieres Wednesday, November 7, 9:30pm ET/PT on the Cooking Channel. Photo by Hernan F. Rodriguez