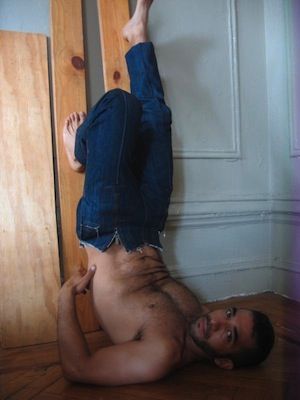 New York-born porn star Mike Dreyden left the Naked City behind a few months ago and moved to Los Angeles. We caught up with Mike over email to chat about his porn career, his Judaism and finding parking spaces in Hollywood.

So how did you first get into porn?
This is the first question everyone asks me. I got my start back in 2007 when I was appearing at the Butch Bear booth with my good friend Torez at the Gay Erotic Expo. At the time I was go-go dancing all over Manhattan and Brooklyn. Whenever Torez and I were dancing the same gig, we would do a pretty erotic and nasty set together that guys loved. So at the expo, he and I were messing around on a go-go box when the president and CEO of Knight Stick Films spotted us. He said he loved our energy and wanted us to be the final scene in his first project, All Out ASSault. Torez ended up not being able to do the shoot but I went ahead with it. I got a lot of notice from that one film. So much so that Raging Stallion, Lucas Entertainment and Titan Media called and invited me to work with them. The rest is history.

You're a member of Nehirim, the LGBT Jewish Group. Are they supportive of your porn work?
It's because of my porn work that I became a member of Nehirim. They asked me to be a part of their men's retreat last year. It was an incredible experience. They wanted me to speak about my experience as an out gay Jew and my work in porn. In my own exploration of my Judaism, I met different kinds of practicing/observant Jews. Growing up in Williamsburg and Greenpoint as a mixed-raced kid in a mixed-religious family, it was quite a time. Meeting the men of Nehirim was spiritually moving.

So how do you like LA? Are the men there as sexy as the men in NYC?
I'm loving Los Angeles. After two and a half months, I've stopped getting lost. I still have yet to venture out to other places like Beverly Hills. I did however recently drive through Rodeo Drive for the first time -- not as glamorous as you'd expect. But the men are pretty sexy! I'm talking about the REAL men who hang out at [leather bar] EagleL.A. and [gay bar] Faultline. Whenever I'm feeling a little home sick or a little horny, I hit these places. But if you wanna get a parking spot, you've gotta get out there early!

What have you been up to out there?
I relocated to take a position with Instigator Magazine. I'm the new director of social media and events. I do a lot of office work as well and plan and produce the photo shoots, communicate with subscribers and advertisers, edit the newsletter and work with the editor on the website. Another project I have been working on is launching my own brand of gay adult entertainment. Mike Dreyden Media is launching Labor Day weekend! We've been shooting some of the hottest men in the industry and covering new comers that are going to take the world by storm!

Any new movies coming up?
I have a project I did with [adult film company] Pantheon Men back in September over [leather festival] Folsom Week. They're still working on it, but I'm told it will be out soon. I'm in a  three-way scene with Nick Moretti and Paul Barbaro. Those men worked me over -- in a good way! The camera guys and the director were all hard while we were shooting. I'm not making that up.