Act up. Sign up for Agathe Snow's "Stamina: Gloria et Patria," a Week Long Dance-a-Thon at the Armory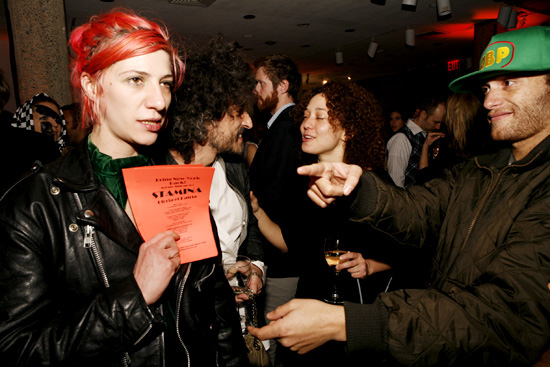 Performance, performance, performance! That's what the Whitney Biennial 2008 is all about with the Park Avenue Armory and Art Production Fund joining forces and getting in on the action. Though there will be a parade of special events at the Biennial off-site the Armory, one can't-be-missed orgy of decadence and resilience is Agathe Snow's mad-as-a-hatter "Stamina: Gloria et Patria," a week long dance-a-thon starting this Sunday, March 9th through March 16th. It's free and open to the public, and goes on everyday from 11 a.m. till 11 p.m., except on the last day when it'll be a 24-hour bender! So start your special ballroom diet, dust off those dancing shoes and get ready to get seriously physical. Over 50 DJs in rotation have been lined up to bust out their best jams for this historical gathering. This is going to be completely B-A-N-A-N-A-S! So in the words of the mistress of ceremony Agathe Snow: Dance! Dance for a Change! Dance for a Cause! Dance to Win!
In order to participate you need to pick up your free dance card at the Whitney Museum's Visitor's Service Desk or the Park Avenue Armory's Information Desk. You can also sign up and see the footage from the Stamina 2005 at www.stamina2008.com.
Whitney Museum of American Art
945 Madison Ave. (@ 75th St.)
www.whitney.org
The Park Avenue Armory
643 Park Ave. (@67th St.)
Map
Photo of Agathe Snow and A-Ron The Downtown Don at the Whitney Biennial Private Party by Aubrey Mayer