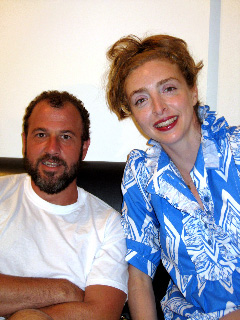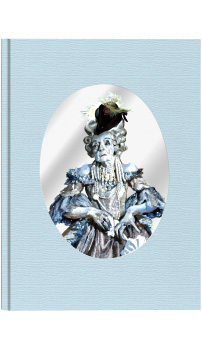 Rachel Feinstein is that girl that all us regular girls want to be when we grow up. You know, beautiful, brilliant, stylish, talented and splashed across a Marc Jacobs ad campaign. She is a mother, a muse, Vogue Darling, a wife, fashion icon, and in her most lasting incarnation, a fine artist. She just published an anthology of her works from 1998-2008 available on Amazon, which has a forward by James Frey and an interview by Sofia Coppola. She invited us to a book signing last weekend in East Hampton. Lucky for me, Ms. Feinstein gave me more than just an autographed copy, she also supplied her thoughts about her art, her inspiration, and the state of fashion.
I suppose I am most curious to know, who is the muse for the muse? As you have so publicly been the inspiration for so many others in your life, from Marc Jacobs to your artist husband John Currin, to whom do you turn for inspiration yourself?
I find inspiration in objects. I don't obsess over people. When I was a teenager I couldn't understand why my friends had a favorite rock star. I am excited by the Maine sunsets or a willow tree. I also find unnatural things inspirational, like a cheap, handmade sign made out of corrugated, colored cardboard advertising the free breakfast in a hotel.
How do you deal with the various criticisms that have come your way in the past, from posing for the Marc Jacobs ad campaign to critique (or rather, questioning) of your talent?
The criticism I get bothers me, of course, but I believe in myself and will continue doing what makes me, not my critics, happy. I might get criticism for not being a serious artist because I was in Marc's campaign or that I am married to John Currin, but why don't people say the same thing about Beyonce Knowles, for instance? She is an artist with a powerful and creative man and is represented in advertising campaigns all around the world. You don't see music critics or the music industry attacking her. The art world takes itself too seriously, and it is so small comparatively. I think we have much more pathetic naysayers. If I had no talent I would have been pushed out long ago. I believe sometimes that there is more interest in seeing me fail because of my position. There have not been many art couples in art history that have been equally successful and talented.

What would you like your impact on the art world to be?
When I first started showing my work after college I was very ambitious and I wanted to make a huge impact in the art world and on art history. Now I feel differently. I have started to notice historical artists that are really good but not famous, like Dosso Dossi, for example. One of my dreams is to make great work that will allow me to have a sustainable career when I am alive but perhaps when I am gone give people great ideas and inspiration. A few years ago I started to look at Pino Pascali and found great inspiration from him. He died very young without fame and fortune in his lifetime but his sculptural style is highly original.
What is your methodology as an artist? How do your "birth" your pieces?
I have been having a hard time with that. Sometimes I wish I were an artist in the Renaissance where a patron would commission a certain scene, like a Deposition or a Crucifixion. In our world, there are so many stories, materials and themes that I get overwhelmed. I sit in my studio after a show and it will be quiet and I'll think, "What am I going to draw now, what am I going to think of, what materials am I going to work with?" It is so daunting. Hopefully a source will be so powerful that my ideas will flow from the form itself. For example, when I saw an image of a black 18th century carriage, I drew it and then made a small paper model from the drawing. From looking at the model, I decided that bent plywood finished in a black French polish would be the best material. It was so easy and fun that I wished every piece was like that one, but it isn't.
Tell me a little about how you came to create this book?
I have been working on a book for almost three years now with Le Consortium in France and I was getting a bit anxious. Out of the blue, while working on my NY show, Bill Powers and tarSIZ approached me about publishing a small paper back book. Soon enough the small book became a linen bound, hard covered, extensive survey of all of my work. James Frey wrote an essay and Sofia Coppola did the Q & A. Everyone did an amazing job. I am so happy with everything in the book, the quality, the reproductions, the essays, and of course, how my work looks.
What was the most challenging thing about bringing your book to fruition?
The only thing that was challenging was my own crazy work schedule while we were trying to get the book done in time for my show. Bill and Sabrina Mansouri at tar[Art] were so understanding about my work that it really wasn't difficult in the end.
Which piece in the book could you single out as your favorite?

I love the way "Puritan's Delight," the black carriage from my last show, looks in the book. That is one of my favorite pieces and it looks great as a double page fold out. I also love seeing the installation shots spread out on a double page. Sculpture looks good with lots of room around it and you can only see that in a double page layout.
Can you tell me a bit about the image on the cover?
I made a series of old women painted on mirrors and drawn in pastels for my 2005 New York show. I had just done the Marc Jacobs campaign that fall and I was pregnant with my second child. I guess I was thinking about mortality, feminine beauty, my fears about being a mother and an artist. I hired elderly women and posed them in ornate operatic costumes and wigs and had them photographed. My original inspiration was Miss Havisham from Great Expectations. The woman on the cover was my favorite model, Eva, from Ireland. Maybe she is the closest thing to my muse if I had one.
Which artists do you admire, past or present?
Like everyone else, I believe that Picasso was such a genius that he must have been from another planet. I love his ability to make anything out of anything. The sculptors that I am inspired by are; Bernini, Pino Pascali, Elie Nadelman, Tilman Riemenschneider and Canova. I also love many painters: Pontormo, Odilon Redon, Dosso Dossi, Rosso Fiorentino, Francis Bacon and Willem De Kooning.
Who are your favorite designers at the moment?
Believe it or not, I don't really know what is happening in fashion. I love beautiful clothes but I am not a shopper. I get too sweaty trying on clothes, I guess. And I only go to see two shows every season, Marc Jacobs and L'Wren Scott, because too many shows take me out of the studio too much.
My favorite designers are the talented ones who take the most risks yet also make wearable clothes; Vivienne Westwood, Marc Jacobs, Stefano Pilati, L'Wren Scott, Phoebe Philo, Nicholas Ghesquiere, Alexander McQueen, Martin Margiela, John Galliano and Oscar de la Renta. They all make clothes that not only flatter a woman's shape but are also beautiful with gorgeous fabric, construction and sculptural shapes.
Any young designers on you radar we should be watching out for?
I think the Proenza Shouler boys are incredibly talented. I know that they are already very well known so I'm not telling you anything new. But I can't believe how young they are and how much they've got it together. Most people at their age are still picking their noses and living at home with their parents. Their clothes are so fresh and wonderful and if they have shown such talent, skill, and savvy at such a young age, we should watch their future collections closely.
Do you think of fashion as an art form? If not, what will take for it to get there? Will it ever get there?
Fashion is one of the art forms but it can't be compared to painting and sculpture. Fashion is more related to film. It is about the present, and art is about the future. When I am making a sculpture, I think about its construction and longevity since I hope to see it withstand the ages. How can a piece of clothing do that? It is meant to be worn, walked around in, danced in. Fashion is at its best when a woman and her outfit work together to make you stop and stare just like a great painting. Art should look amazing regardless of where it is, whether it is in a collector's home or a museum. A dress on a mannequin in a museum never makes me feel jealous and excited like seeing it on a model walking the catwalk. Fashion and Art both need to know their strengths and weakness and not try to do what the other does best.
Pictured above: James Frey with Rachel Feinstein; the book cover