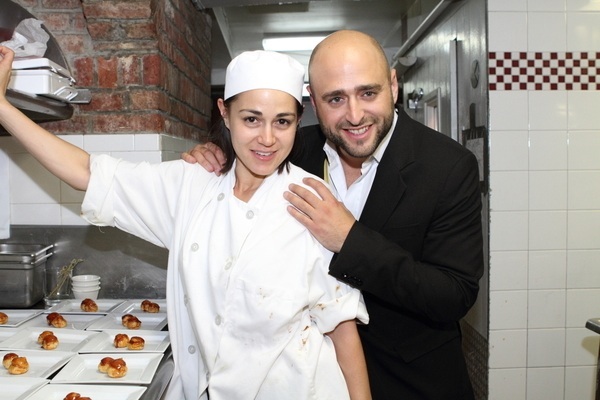 Last night, while most of the PAPER crew was dancing on stage with
Iggy Pop
at the
Ray Ban
party, I had a tamer time in a basement of Little Italy's Grotto Azzurra at the preview party for the pop-up restaurant series
The Hunger.
Apparently conceived over several bottles of Rioja wine (happy Rioja Restaurant Week!) by
Top Chef/
Paloma alum
Camille Becerra
and the SKY Group's
Alan Philips
(pictured above), The Hunger is based on the idea of creating "memorable culinary and social moments that exist briefly and then disappear." The New York installment of the dinner party series, sort of fingers-on-chalkboardily titled "A Bougie Moment in May," officially kicks off tonight and runs through Saturday. And last night an intimate group of food industry types and press peeps were able to sample the yummy six-course meal influenced by the casual French style of cooking, "Cuisine Bourgeoise." I was very excited that I was able to try duck heart for the first time (it tasted like chicken, obviously), and particularly enjoyed the lamb two ways (my favorite way was the braised shoulder with prunes and olives) and the crudo of fluke. Others carousing in the crowed were recent Beard Award winner Tom Colicchio, the Spotted Pig's Ken Friedman, Olives' Todd English,
Village Voice
scribe Michael Musto, nightlife honcho Steve Lewis, MTV News' Kim Stoltz,
The Post
's Neel Shah, College Humor-er Ricky van Veen, Texts from Last Night founder Lauren Leto,
Top Chef
's Lee Anne Wong, nightlife broker Steve Kamali and former president of the New York Nightlife Association David Rabin. It was safe to say that a bougie moment was had by all.
The Hunger starts tonight and runs through Saturday. Check out the menu and make a reservation here.